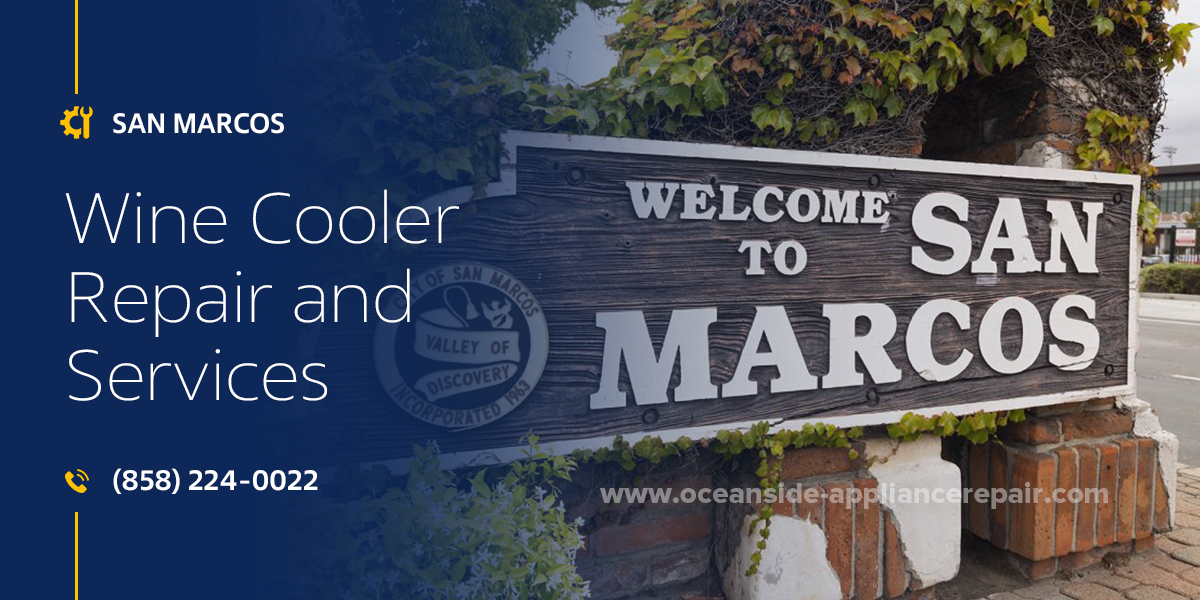 Wine Cooler Repair in San Marcos
When your wine cooler malfunctions, it is a reason to be concerned about the untouchability of your wine collection. But if you contact Oceanside Appliance Repair Service Center, this situation is easy to avoid or mend. If you want to get it proper care or if the item stopped maintaining the optimal temperature, we gladly help. Our friendly and proficient team conducts all types of Wine Cooler Repair in San Marcos, CA the best way! With us, you get a top-quality result in the shortest terms and the fairest price.
We understand that unexpected appliance repairs can put a strain on your budget. That is why we strive to offer our services at favorable prices without compromising on quality. Your appliance gets decent services at an affordable cost, as we are honest with you. No overcharging or hidden fees. 
Our company offers only cost-effective San Marcos Wine Cooler Repair and adjusts to any budget. For returning clients, we have an even more pleasant price, which is 15% lower. Seniors and veterans pay $30 less. And for online booking, you get a $25 discount.
When it comes to wine coolers, it is essential to get a fast and efficient solution. And with us, you get it sooner than expected! In the absolute majority of orders, our experts restore the proper functionality of your item within a single day. We have a department in your area that offers the swiftest Wine Cooler Repair in San Marcos, CA. Being open 24/7, we are also available during days off and non-working hours. If you need us urgently at that period, the specialist sets off to your address immediately. And the additional payment for such emergencies is little.
The proficiency of our technicians lets them quickly indicate the reason for the breakage even remotely. Thus, in some cases, we can provide you with instructions if you can safely eliminate the issue this way. To get a clear vision of the situation and its effective solution, you just need to contact us. Free consultations and remote diagnostics are the best way to plan a suitable San Marcos Wine Cooler Repair and Service. According to your situation and the condition of the appliance, we find a proper way out and its cost. Mostly, it means our arrival, but may also mean a replacement. The last option is rare and happens when the item is beyond repair or the work costs too much.
Tell us what you face, and we swiftly understand what happens. Since 2001, our team has reanimated tons of commercial and household wine coolers. Thus, we always know what do to. The most common troubles you may face with this appliance are listed below.
The appliance is making weird noises, like vibrating, bubbling, humming, buzzing, squealing, gurgling, knocking, etc.

The temperature is improper.

The item is not cooling at all.

The wine cooler goes on and off repeatedly or cannot turn on.

You cannot control the item, as the control panel fails.

The buttons, knobs, keys, touchpads, or switchers function incorrectly, do not respond, or are lost or damaged.

The screen shows the wrong information, an error code, or nothing at all.

The appliance produces a burning or electrical smell.

The refrigerant is missing or leaking.

Moisture is condensing under the item or inside of it, making corks and labels damaged.

The condenser coils are obstructed with dust or ice buildup.

The lamp inside the item or the indicator outside is going on and off or not glowing.

The condenser fan or ventilation is blocked with dust or debris.

The door fails to close, open, or latch because of the deformed hinges, gaskets, lid switches, latches, interlocks, joints, or springs.

The door glass or shelves are cracked.

The hardware components are out of order (fan, sensors, the Peltier modules, evaporator, condenser, compressor, thermostat, a process control block, capacitor, starter, etc.).

Damaged wires, isolation, or plug cause issues with the electricity supply.

The controllers, belts, leveling feet, fan blades, baffles, bearings, handles, or other details require replacement as they are spoiled or worn off.
Our technicians are equipped with the latest diagnostic tools, enabling accurate problem identification and efficient solutions. With their proficiency and our top-notch equipment, we fix a wide range of wine cooler issues. This way, each Wine Cooler Repair in San Marcos, CA is accurate, dustless, and precise. And, what goes without saying, with over 20 years of experience, we provide only high-quality services. Regardless of the brand and model of your item, we fluently make it back to normal. It means even luxury and the latest ones, as our team is licensed for coping with them.
There are many wine lovers on the list of our clients. We take pride in preserving their perfectly chilled moments and ensuring the longevity of their wine collections. With us, they not only get the best San Marcos Wine Cooler Repair but also get it in a stressless way. Thus, they also apply to us with other issues and recommend us to friends. There are tons of positive reviews about our work on the net. Always providing brilliant results, we successfully compete with other service centers for years.
For any Wine Cooler Repair in San Marcos, CA we use only perfectly fitting details and components. We stock a variety of original and alternative spare parts, so arrive at your place having the needed ones. It makes your appliance perform smoothly again and for a long time. We are in charge of our actions and always ready to prove our reliability. The guarantee for the details is 1 year and for our labor, it is 90 days.
Do not let a malfunctioning wine cooler put your cherished wine collection at risk. Oceanside Appliance Repair Service Center offers swift, high-quality, and affordable solutions for this amazing item. Our friendly, responsible, and qualified team easily copes with issues of any complexity. With us, you have nothing to worry about. We provide the best San Marcos Wine Cooler Repair and Service the way it is suitable and comfortable for you!
Our specialist carries out repairs, works carefully in the process, so as not to leave behind any traces of equipment repairs, and not to spoil the appearance. After the repair is completed, our company will back it up with a 90-day labor warranty. If you encounter the same problem during the warranty period, rest assured we will return to get an appliance back up to perfectly working condition.
$30 OFF ON FIRST TIME SERVICING
Frequently asked questions
What if I have a complex repair of equipment?
Our specialist will come to your home, conduct diagnostics and offer solutions to the problem. And only after your consent, the repair will begin.
Do you have customer support?
Our managers will always listen carefully to you and give you initial recommendations on the malfunction of your equipment to determine the cost of repair. Call:
(858) 224-0022
Is the expert's visit free of charge?
If you order a call to the master through our website, you are guaranteed to get a free diagnosis of your device, and detection of breakage.