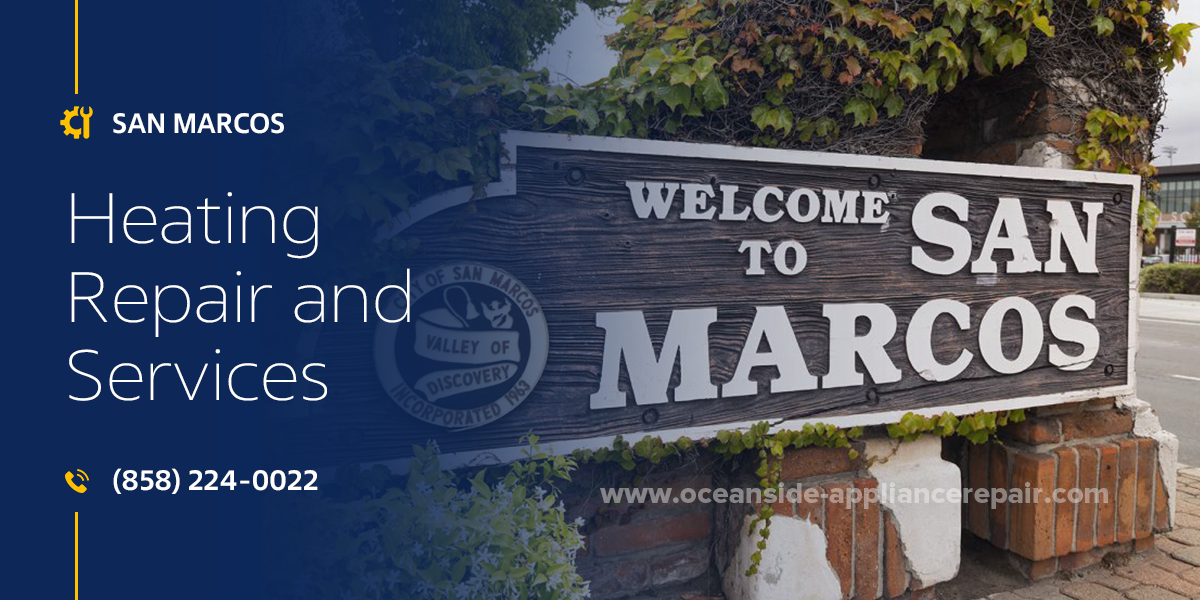 Heating Repair in San Marcos
There is no need to suffer from the cold if anything bad happened to your heater. You can just apply to Oceanside Appliance Repair Service Center and your item becomes able to warm you soon again. Our professional team serves and fixes heaters of all types, brands, and models. They do it successfully for over 20 years so far. By picking us, you get high-quality solutions in the shortest terms and at the most reasonable price. You can rely on us at any moment when you need the best Heating Repair in San Marcos, CA.
We know how bad and frustrating for you it may be when you cannot make your room warmer. Thus, we believe that everyone should be able to get affordable San Marcos Heating Repair. 
Our prices are the fairest, and you know upfront how much and what for do you pay. And if you apply to us again, the next order costs 15% less for you! For booking online, you get a $25 discount. And we have a $30 off price for veterans and seniors. Our solutions are only cost-effective and rational.
Clarifying the situation without specific knowledge is not always possible. Thus, we offer you a free consultation and remote diagnostic, included in the price of the repair. Just call us whenever you get any questions or notice your heater working wrong. 
Our specialists swiftly indicate the reason for the breakage and what way out is the best for you. Sometimes it may appear that fixing your appliance is too expensive or not advisable. We clearly inform you of such cases, as we never want you to waste time senselessly. A normal outcome of contacting us is arranging an effective and suitable for you Heating Repair in San Marcos, CA.
Some people think that small issues do not worth spending money for fixing them. But that is a huge mistake. When your heater makes wrong sounds, it is not just unpleasant but means that something is wrong inside of it. Thus, the situation may get worse or even more dangerous soon. We strongly recommend you contact us as soon as you notice these or other problems with your heater.
You cannot turn the heater on, it goes on and off repeatedly, or it shuts off itself.

It is not possible to adjust the needed temperature or switch the mode.

The control panel is not working properly, the controllers are malfunctioning, and the screen shows an error, or is blank.

The item does not react to the remote control.

There is no airflow from the heating vents, or it is too weak.

The item turns on but does not heat.

It heats not enough, too much, or not evenly.

Issues with the pilot light, gas valve, or ignition control, which cause difficulties with starting or maintaining a flame.

The heat transfer liquid leakage within the heating appliance.

Dust or debris blockage in HVAC filters, ducts, dampers, condensate drain, evaporator or condenser coils, ignition, flame sensor, flue pipe, outdoor unit, burner, air handler, or vents.

The appliance releases excessively humid air or an unpleasant filthy odor.

Weak or absent airflow from heating vents.

Damaged or worn bearings, belts, valves, leveling feet, buttons, knobs, switchers, registers, fan blades, or other details.

The appliance emits a burning, gas, or electrical smell.

The item operates too loudly, making humming, squealing, popping, knocking, grinding, hissing, buzzing, gurgling, or other weird noises.

Leakage in the ductwork.

Faulty compressor contactor, thermostat, sensors, fan motor, heat pump, limit switch, or other components.
Our team has eliminated tons of issues of different complexity since 2001. With their vast experience and outstanding proficiency, there is nothing they cannot deal with. Constant development and responsibility mean that our technicians conduct any San Marcos Heating Repair and Service at the top-quality level. They know the subtleties of working with any household and commercial heater. Qualification of our team is proven with licenses that let them easily reanimate even luxury and the latest appliances.
To provide the most high-quality and effective services, we also use the best professional equipment. With high-grade tools and materials, our Heating Repair in San Marcos, CA is neat and precise. For all the needed replacement of components, we have a wide choice of original spare details and their top-rank analogs. 
Our specialists pick the most suitable ones for any item and budget. It makes us confident in proper and durable results, which we back up with a long-term warranty. It covers 1 year for the details and 90 days for our labor.
Guarantees are one of the signs of our reliability. Another one is time and competition. Even having many other service centers around, our company keeps attracting clients. It happens because we care about delivering perfect San Marcos Heating Repair and other services in the most comfortable conditions. Each client is special, so you get a friendly attitude and brilliant results in any case. Our customers are absolutely satisfied with picking us, and you can see it on our Google page. There, they share positive experiences of applying to us and recommend us to others.
Paying much attention to your requirements and comfort, we always want to eliminate any issues in the quickest terms. Thus, over 90% of orders are completed the same day you apply. We also offer urgent Heating Repair in San Marcos, CA. If you pick this option, we rush to your address immediately. The cost of it is slightly higher. But it means that your heater gets back to normal in the soonest possible time. Our local department is open 24/7 and our team has perfect management, so we are always the swiftest!
A failed heater should not become a reason for getting cold! Just contact Oceanside Appliance Repair Service Center by phone or the application form on our website. With our client focus, proficient team, and favorable prices, we make the process of maintaining or fixing your item comfortable. Our specialists conduct the most reliable San Marcos Heating Repair and Service of top quality at a favorable price.
Our specialist carries out repairs, works carefully in the process, so as not to leave behind any traces of equipment repairs, and not to spoil the appearance. After the repair is completed, our company will back it up with a 90-day labor warranty. If you encounter the same problem during the warranty period, rest assured we will return to get an appliance back up to perfectly working condition.
$30 OFF ON FIRST TIME SERVICING
Frequently asked questions
What if I have a complex repair of equipment?
Our specialist will come to your home, conduct diagnostics and offer solutions to the problem. And only after your consent, the repair will begin.
Do you have customer support?
Our managers will always listen carefully to you and give you initial recommendations on the malfunction of your equipment to determine the cost of repair. Call:
(858) 224-0022
Is the expert's visit free of charge?
If you order a call to the master through our website, you are guaranteed to get a free diagnosis of your device, and detection of breakage.