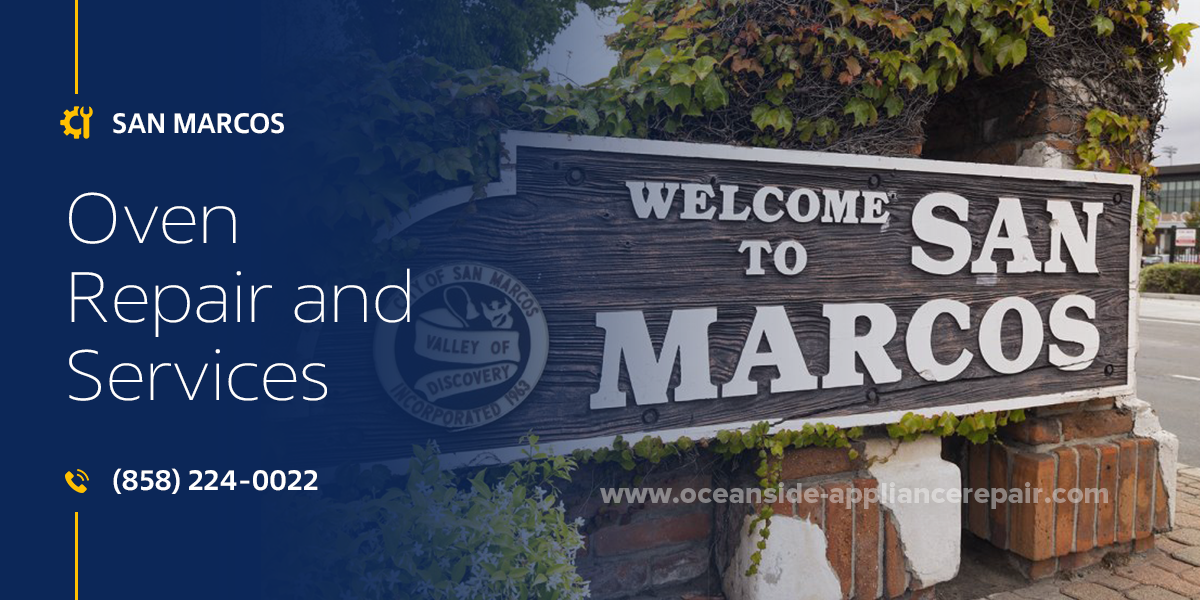 Oven Repair in San Marcos
Have you noticed your oven is not heating properly or not working at all? No need to worry, as you can anytime rely on Oceanside Appliance Service Center. We help in eliminating any issues you can experience with this item. We meet all the needs of our customers, including the highest speed, affordable price, and flawless quality. Our team of friendly, proficient, and responsible experts provides the most efficient maintenance and fixing services. With us, you can get any needed Oven Repair in San Marcos, CA in the best conditions.
Having the oven functioning properly is important for daily meals at home and serving orders in a bakery or restaurant. We understand that downtime is unwanted in any situation, and sometimes can be dangerous (with gas ovens). 
Therefore, we offer same-day services and complete over 90% of tasks within several hours. And if you need an urgent San Marcos Oven Repair, we can help with it as well. In this case, we depart to your address within 15 minutes. We are available for it even during non-working days and hours for a small additional payment.
When our technician arrives at your place, you have nothing more to worry about. Our experienced and responsible team eliminates any issues swiftly and fluently. Dealing with ovens of all types, brands, and models for over 20 years, there is nothing they cannot fix. We offer top-quality Oven Repair in San Marcos, CA as have the most qualified and skilled specialists. And they are developing and training all the time, being able to cope even with luxury and the latest units easily. They are licensed and insured, so you can be confident of getting the safest and most effective services.
Our technicians have all the needed equipment, tools, and materials to proceed with any San Marcos Oven Repair and Service. We use perfectly fitting details for any commercial and household oven, as have many original and alternative ones in stock. For all the spare parts we use, we also provide a 1-year guarantee. 
And we back up our labor with a 90-day warranty. This way, we take away your worries about our reliability and prove that we are responsible for our work. Any procedure we conduct is tidy, precise, and dustless.
Lots of customers are already confident in us. Since 2001, our company has provided many people with the best services, including Oven Repair in San Marcos, CA. Our clients are happy for picking us and share this opinion on the net in tons of 5-star reviews. They tell friends about us and return to us again. Their trust is our main pride and appraisal. And it makes our company successfully compete with other service centers and go on developing. We open new local branches in different areas to provide more people with the best services in the most comfortable conditions.
Before applying for San Marcos Oven Repair, a useful option is to get a consultation and remote diagnostic first. This way, we can swiftly find the problem and indicate the most effective solution to your situation. For that, just tell us what makes you worry. The list of possible troubles with ovens is pretty wide, and you should not ignore any of them. The most common ones you may face are…

The gas leakages (regardless of if the item is working or not).

Electrical or burning smells while the oven is on.

The appliance fails to turn on.

The burners or heaters do not produce flame or heat.

Insufficient or too high levels of heat or flame.

Uneven cooking.

Impossibility to control the temperature, time, mode, or other settings.

The screen is blank or shows an error.

Failed software, the control module requires recalibration.

Dysfunctional components (thermostats, convention fans, induction elements, electrical coils, burners, bake elements, broilers, tans, grills, energy regulators, motors, fuses, etc.).

Cracked surfaces or door glass.

A scratched induction surface causes temperature sensors to flip.

Failed self-cleaning function.

Deformed gaskets, latches, interlocks, lid switches, hinges, springs, or joints.

Impossibility to close, open, or latch the door.

Disrupted gas supply due to failed igniter, damaged gas valve, or clogged gas lines or gas ports.

Flickering or burned-out lamps or light indicators.

Faulty, worn off, or broken drawer mechanism, light socket/assembly, burner caps, grates, fan blades, baffles, handles, knobs, keys, buttons, etc.

Obstructed vent tube, convention fan, or filter.

Too loud functioning (squealing, rattling, knocking, pinging, buzzing, humming, hooting, gurgling, hissing, ticking, clicking, etc.).

The wrong color of flame (red, yellow, orange).

The flame is flickering, arcing, or sparkling.

Damaged power supply due to worn-off wiring, isolation, or plug.

The body of the unit gets extremely hot.
Our experts eliminate any of those and other problems in the best way! But it may happen that the work is not cost-effective, or the oven is beyond repair. In such cases, we clearly inform you and recommend a suitable replacement.
With us, you pay only for the best result. We never overcharge our clients or offer irrational services. The rates for our Oven Repair in San Marcos, CA are the most reasonable. And we make those prices even more pleasant for you, as have nice special deals. We have a 15% discount for returning clients, $25 off for booking online, and $30 off for veterans and seniors. The cost of our work is fair, and you get a report of what it consists of.
No matter how complex is the situation, Oceanside Appliance Repair Service Center makes things normal in the most comfortable way. Our team is friendly, responsible, and proficient. We can adjust to any of your requirements and provide a top-quality solution for any appliance. Just call us or place an online application if have any issues. With us, you get the quickest San Marcos Oven Repair and Service at the most favorable price.
Our specialist carries out repairs, works carefully in the process, so as not to leave behind any traces of equipment repairs, and not to spoil the appearance. After the repair is completed, our company will back it up with a 90-day labor warranty. If you encounter the same problem during the warranty period, rest assured we will return to get an appliance back up to perfectly working condition.
$30 OFF ON FIRST TIME SERVICING
Frequently asked questions
What if I have a complex repair of equipment?
Our specialist will come to your home, conduct diagnostics and offer solutions to the problem. And only after your consent, the repair will begin.
Do you have customer support?
Our managers will always listen carefully to you and give you initial recommendations on the malfunction of your equipment to determine the cost of repair. Call:
(858) 224-0022
Is the expert's visit free of charge?
If you order a call to the master through our website, you are guaranteed to get a free diagnosis of your device, and detection of breakage.