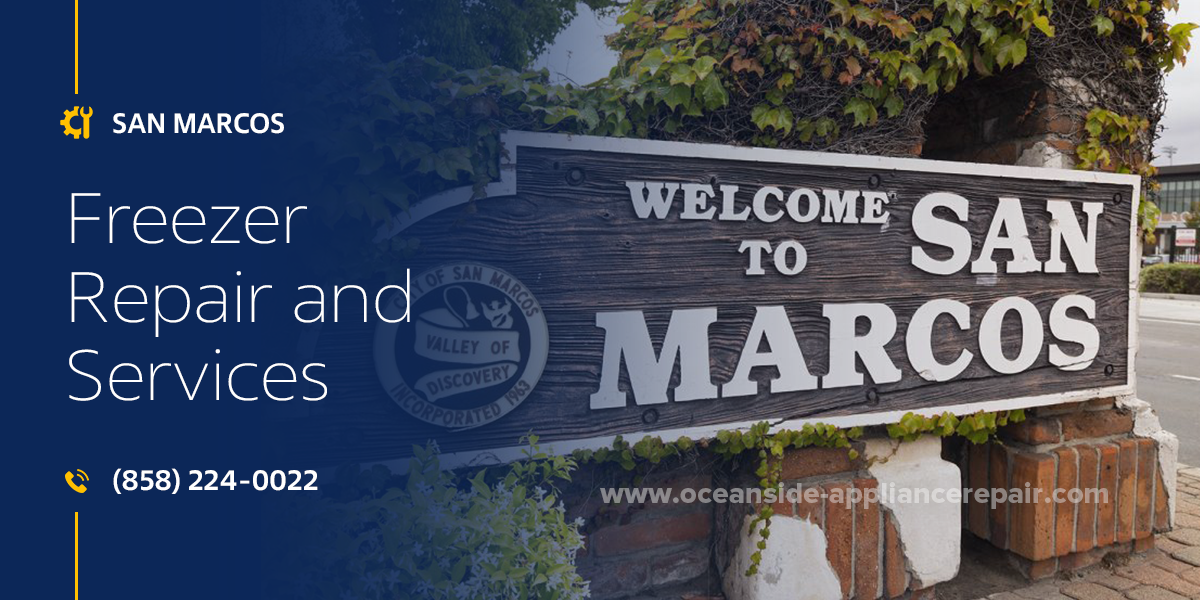 Freezer Repair in San Marcos
You may not use your freezer every day, but as you store your goods there, this item is working tirelessly. And there are so many factors that may cause it to function worse. To have it serve you properly for a long time, pick Oceanside Appliance Repair Service Center for maintenance and fixing. We know everything about these appliances, so can help you in any situation. Our technicians offer a whole range of high-quality services and conduct them swiftly and at a reasonable price. Our customers get the highest-quality Freezer Repair in San Marcos, CA in the most stressless way.
Our team reacts to all applications instantly. It is especially important if your freezer stopped freezing, as you hardly enjoy having a melt ice on the floor. In such cases, we can even offer an urgent arrival at a slightly higher price. If you pick this option, the specialist rushes to your address immediately even if it is a day off or a non-working hour. 
You get the swiftest San Marcos Freezer Repair in any situation if apply to us. We finish over 90% of tasks within a single day! The highest speed is conditioned by our convenient location, perfect management, and responsibility.
And surely, our specialists eliminate any issues fluently because of their highest proficiency. They find the reason for the breakage and the way to resolve it in counted minutes. With outstanding knowledge, huge experience, and endless love for their occupation, our team deals with anything! They fix freezers for over 20 years so far, so are perfectly aware of all subtleties of their functioning and structure. It means that our Freezer Repair in San Marcos, CA is done by highly qualified specialists and always has flawless quality.
We fix commercial and household freezers of all brands and models, including luxury and the latest ones. To be competent and up to date, our team undergoes regular training and licensing. We keep track of the constant development of our specialists and of the quality of the used equipment and details. Thus, our staff has the best professional tools and materials for any type of San Marcos Freezer Repair and Service. We also pick perfectly fitting original details or their analogs to ensure the smooth functioning of your appliance.
We believe that you can distinguish a reliable company by different signs. The best 3 of them are:
Time (experience and development in conditions of competition).

Opinion of clients.

Providing guarantees.
And we have all of them! We are making clients happy for picking us since 2001. And all this time, more and more people choose our company for the best conditions and brilliant results. They compare our attitude to other companies they applied to and conclude that we are the most responsible and client oriented. Thus, you can see tons of 5-star reviews on our Google page. And a bit about guarantees. We solidify each Freezer Repair in San Marcos, CA with a 1-year warranty for details and a 90-day labor one.
And for all those amazing services, we have a surprisingly affordable price. Unlikely some other companies, we do not have any hidden fees or overcharging. With us, you pay the fairest price for San Marcos Freezer Repair and clearly know what you pay for. You can also get a $25 discount for online booking. For veterans and seniors, the price is $30 lower. And returning customers pay 15% less the next time! We offer only cost-effective solutions, always focusing on your comfort first.
It is easy to find out what procedures are the best for your item and how much they would cost. For that, or to clarify any other information, you can call us and get a consultation or remote diagnostics. We gladly use our competence and professionalism to help you. When you let us know what makes you worry, we swiftly find a proper way out. Here is the list of the most common troubles with freezers where you may find similar signs to your situation.
The appliance cools not enough, too much, or not evenly.

It stopped freezing at all.

You cannot turn the freezer on or off.

The item goes on and off repeatedly or shuts off abruptly.

Some of the hardware parts are out of order (evaporator, condenser, compressor, ice maker, overload protector, thermostat, defrost heater or timer, compressor relay, relay switch, expansion device, motors, timers, fans, vents, coils, fuses, etc.).

The walls or coils have a layer of ice or snow-like accumulation on them.

The door seal is warped, or its joints, springs, hinges, latches, interlocks, or lid switches are out of shape.

Surface elements, door assembly, or shelves are damaged.

The appliance stopped defrosting automatically.

The water drops are condensing under the freezer.

The refrigerating coolant is leaking outside or requires refilling.

The unit is getting too noisy (squealing, buzzing, popping, bubbling, humming, thumping, gurgling, grinding, vibrating, etc.).

The freezer smells filthy inside.

It produces a burning or electrical odor.

Buttons, keys, knobs, switchers, leveling feet, seals, belts, handles, holders, compressor mounts, hoses, water inlet valves, or other components are broken, worn off, or lost.

The information screen is not glowing.

The light indicator or the bulb is faulty.

The control panel functions not properly, the controllers do not respond, have a loose connection, or are spoiled.

The item has issues with the electricity supply (damaged wiring, isolation, or plug).

Clogged, dirty, or obstructed drain tube, defrost drainer, drain pan, or condenser/evaporative coils.
We know what to do in any of those and other situations. Mostly, we just need to plan the Freezer Repair in San Marcos, CA when it is convenient for you. So, our technicians take all the needed components and equipment and arrive exactly on time. But if the needed solution is different, we clearly let you know. It may mean that your item is beyond repair, or the work is not cost-effective. In some cases, it is enough just to follow our instructions and make the issue vanish in minutes.
With Oceanside Appliance Repair Service Center, you get the most efficient, durable, and accurate solutions. Our team always knows how to reach brilliant results and make you feel comfortable. We offer the swiftest San Marcos Freezer Repair and Service at favorable prices. And, of course, of the highest quality! If you need a reliable service provider, just call us or make an online order on our website. We make your freezer back to normal shortly!
Our specialist carries out repairs, works carefully in the process, so as not to leave behind any traces of equipment repairs, and not to spoil the appearance. After the repair is completed, our company will back it up with a 90-day labor warranty. If you encounter the same problem during the warranty period, rest assured we will return to get an appliance back up to perfectly working condition.
$30 OFF ON FIRST TIME SERVICING
Frequently asked questions
What if I have a complex repair of equipment?
Our specialist will come to your home, conduct diagnostics and offer solutions to the problem. And only after your consent, the repair will begin.
Do you have customer support?
Our managers will always listen carefully to you and give you initial recommendations on the malfunction of your equipment to determine the cost of repair. Call:
(858) 224-0022
Is the expert's visit free of charge?
If you order a call to the master through our website, you are guaranteed to get a free diagnosis of your device, and detection of breakage.