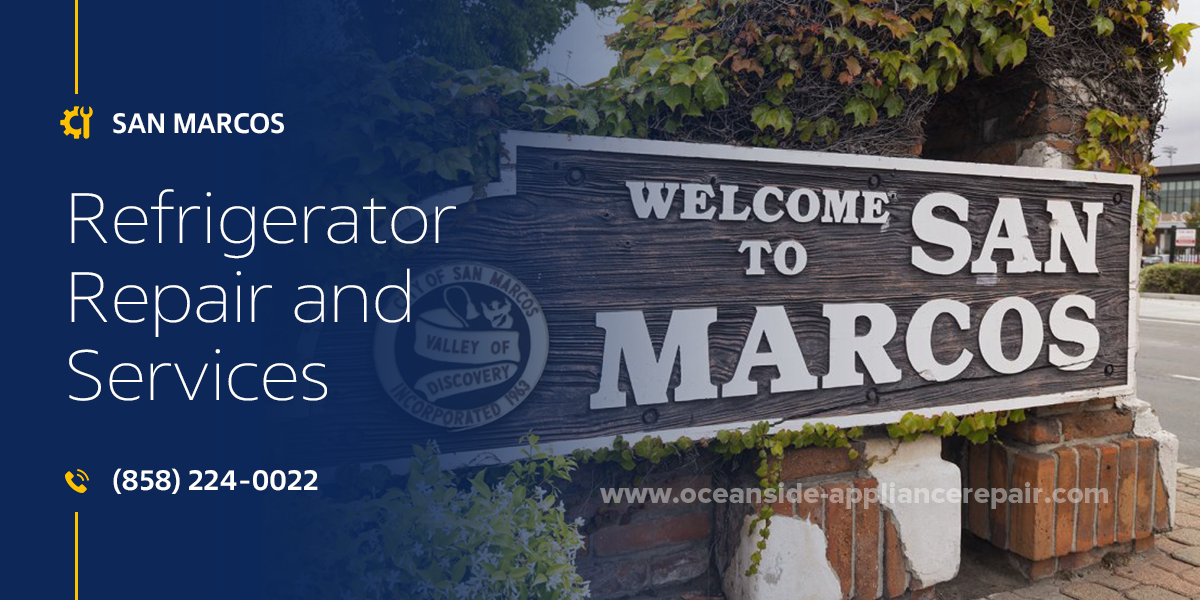 Refrigerator Repair in San Marcos
Healthy eating is an influential aspect of our well-being, vitality, and productivity. Having fresh products is essential for it, so we have refrigerators in our houses, at work, and in public places. The same as people attend doctors regularly, electronics require timely care and fixing. The best assistant for that is the Oceanside Appliance Repair Service Center. We work with fridges for over 20 years and know everything about them. Our team resolves any issues in the quickest way. Just apply to us and get the most affordable Refrigerator Repair in San Marcos, CA of the highest quality.
Reliable and durable services are what all people need for their electronics. It may seem difficult to find a decent company that offers the best San Marcos Refrigerator Repair in comfortable conditions. Our clients do not have to think about it anymore, as we fulfill all their requirements. Thus, they recommend us to others and entrust all their electronics to our reliable hands. Why? Because our company is client-focused and trustworthy. We have made tons of customers glad about all aspects of our work and this number is growing daily. You can check their honest opinion on our Google page.
First of all, we are always honest with our clients. It is important, as some companies aim to get more money but not your trust. But with us, you clearly know everything about your appliance. We offer only effective and rational solutions, even if it means recommending a replacement, but not our assistance. 
For clarifying the situation and planning the best Refrigerator Repair in San Marcos, CA, we offer phone consultations and diagnostics. They help save time and indicate the reason for the breakage in a few minutes. Thus, we can swiftly detect the needed solution and its approximate cost.
To have a fridge always in good working condition, you should contact a specialist before it gets too late. Perfectly, it means regular checkups and maintenance. But if the item starts behaving even a bit wrong, you should not ignore it. Even a failed indicator or damaged seal may influence the performance of a whole unit. Any changes deserve attention. Below, you can see the most common troubles that may happen to your fridge.
The door hinges, springs, joints, latches, interlocks, lid switches, or gaskets are out of shape, so cannot close tightly or open normally.

Shelves, doors, or body surfaces are damaged.

The item goes on and off repeatedly, runs non-stop, or shuts off abruptly.

You cannot turn the refrigerator on.

The appliance is buzzing, humming, vibrating, squealing, knocking, grinding, or making other unusual sounds.

It freezes insufficiently, too much, not even, or does not freeze at all.

The wiring, isolation, or plug is faulty, which means issues with the power supply.

Troubles with the software and the control panel (an error message on the screen or it is not glowing, the controllers do not respond, etc.)

You cannot change the temperature to the needed level.

Buttons, knobs, keypads, switchers, belts, leveling feet, fan blades, baffles, bearings, or other details are worn off or lost.

The freezer, water dispenser, ice maker, or other parts of the unit do not work.

The inner walls, coils, or products get a layer of ice or snow-like accumulation on them.

The refrigerating liquid requires refilling.

Water or freon is leaking, dripping, or accumulating under/inside the item.

The light indicator or bulb is burned out, flickering, or not glowing.

Some of the hardware parts function not properly, are damaged, or are worn (temperature control, thermostat, expansion device, compressor, condenser coils or tans, evaporator coils or tans, compressor, defrost heater or timer, control relay, etc.).
In any of those and other cases, we know what to do. Surely, if the work is not cost-effective or the item is beyond repair, we clearly inform you. It may also appear that to make your fridge back to normal, you just should follow our simple instructions. 
But mostly, a proper way out is arranging the most convenient and effective San Marcos Refrigerator Repair and Service. You just tell us the time and we arrive at your address whenever needed. Almost always, we finish the work the same day you apply. You can also request an urgent arrival. It means an instant departure to your address at any moment 24/7 for a small additional payment. Being perfectly organized, always around, and available anytime, the team from our local department offers the quickest solutions for you!
Working swiftly, we never sacrifice quality. Our technicians resolve any issues fluently. They have great experience in dealing with commercial and household fridges of all brands and models. They know all the subtleties, structure, and functioning of these units, so proceed with any service properly and easily. Outstanding skills and knowledge let them provide the highest quality Refrigerator Repair in San Marcos, CA. And do not worry if your item is a brand-new or a delicate luxury one. Our team is licensed for serving them too and has regular training to stay always up to date.
Each detail matters for the smooth functioning of appliances. Because of that, we carefully pick perfectly fitting ones for each fridge we are working with. Having a vast choice of original and alternative spare parts in stock, we have a match for any appliance and budget. Our team also uses the best professional tools, materials, and equipment for San Marcos Refrigerator Repair of any type. 
We proceed with each task precisely, neatly, and dustless. Brilliant results of our work are always backed up with a long-term guarantee. It covers our labor for 90 days and the details – for 1 year.
Getting the most efficient result may seem to be expensive. But if you apply to us, it is not the case. Our company has the most reasonable rates for any Refrigerator Repair in San Marcos, CA. We offer only cost-effective solutions and clearly report what you pay for. Thus, you get the best result at the best price! And if you book the order online, you get a $25 discount. For the returning clients we also have 15% off and for veterans and seniors, the price is $30 lower.
Applying to Oceanside Appliance Repair Service Center you get the best service and friendly attitude. Since 2001, our team offers the best conditions for all clients. We fix and maintain your electronics in the most high-quality, fair-priced, and fast way. Apply to us at any moment and get the most efficient San Marcos Refrigerator Repair and Service. Our reliable and proficient team will shortly make your fridge run like a clock again!
Our specialist carries out repairs, works carefully in the process, so as not to leave behind any traces of equipment repairs, and not to spoil the appearance. After the repair is completed, our company will back it up with a 90-day labor warranty. If you encounter the same problem during the warranty period, rest assured we will return to get an appliance back up to perfectly working condition.
$30 OFF ON FIRST TIME SERVICING
Frequently asked questions
What if I have a complex repair of equipment?
Our specialist will come to your home, conduct diagnostics and offer solutions to the problem. And only after your consent, the repair will begin.
Do you have customer support?
Our managers will always listen carefully to you and give you initial recommendations on the malfunction of your equipment to determine the cost of repair. Call:
(858) 224-0022
Is the expert's visit free of charge?
If you order a call to the master through our website, you are guaranteed to get a free diagnosis of your device, and detection of breakage.