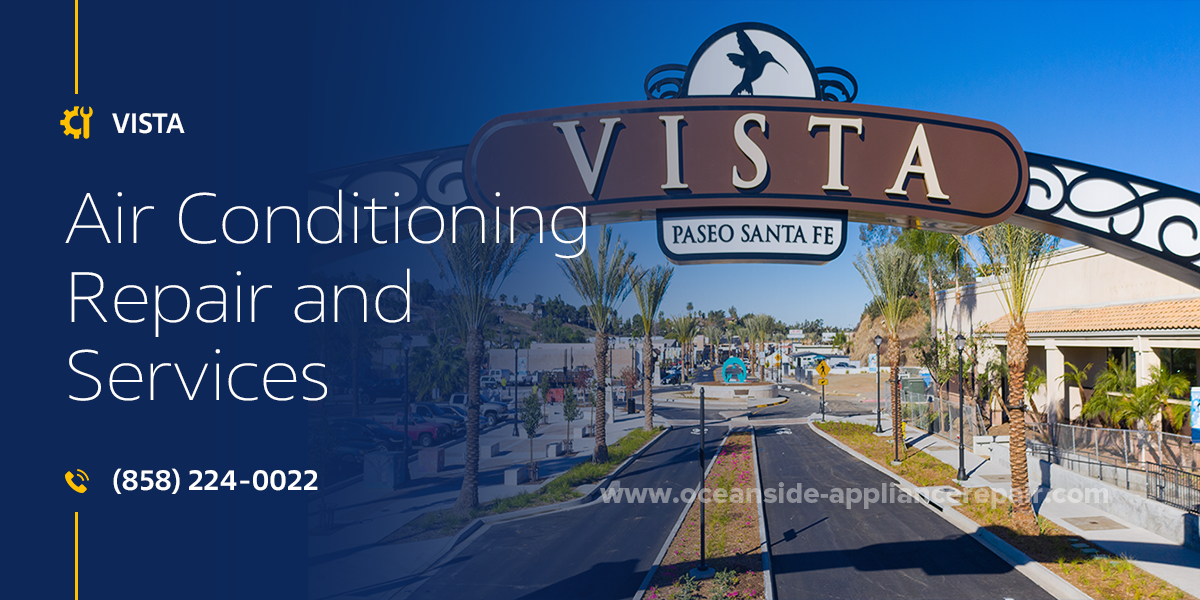 Air Conditioning Repair in Vista
If you are looking for high-quality services for your air conditioner, apply to Oceanside Appliance Repair Service Center. We have the best conditions for every single client. The team of top-level professionals makes any issues vanish in the quickest way. Our company offers the most reliable and durable Air Conditioning Repair in Vista, CA. With us, you get flawless results at the fairest price!
Since 2001, we offer the most effective and high-quality installation, maintenance, and fixing services. Our team has perfectly refined skills, which lets them deal with any procedure fluently. They have training and licensing to provide the best Vista Air Conditioning Repair even to luxury and the latest items. Thus, we quickly make any AC ready to perform properly for a long, regardless of its brand and model. Even the oldest or rarest commercial or household conditioners quickly get back to normal with us!
There is nothing that our technicians do not know about the functioning and construction of air conditioners. They quickly find the reason for the breakage even without touching your unit during remote diagnostics. We recommend that to clarify the condition of the appliance and plan the best Air Conditioning Repair in Vista, CA. It helps us pick proper details beforehand and announce the approximate cost of the needed work. If we indicate that the repair is not recommendable or cost-effective, we rather recommend you a replacement.
You can also get a free consultation if have any questions. It is the best first step when you notice the wrong behavior of your AC. You may face various issues with it and it is not always clear, how serious and complex is the breakage. But we can swiftly understand what happens when you explain what makes you worry. Here is the list of the most common troubles that may happen to air conditioners.

It produces the wrong smells while working, like burning, electrical, or filthy.

An indicator is blinking red, goes on and off, or not shining.

The condensate pump reservoir, condenser drainpipe, outdoor unit, evaporator, filters, or coils are obstructed, clogged, or dirty.

There is no airflow from the register, or it is too weak.

The AC is running on and off repeatedly without stopping, works without breaks, shuts off itself, or does not turn on at all.

The appliance cannot cool or heat the air at all.

It changes the temperature in the room too slowly, not enough, too much, or not evenly.

The item does not react to the remote control.

You cannot adjust the temperature to the needed level or change the mode.

The inner parts are damaged or dysfunctional, like the condenser, compressor, fuse, motor, outdoor unit fan, thermostat, thermometer, condensate pump, control board, start capacitor, etc.

Troubles with the electricity supply.

The item is working extremely loudly (vibrating, grinding, knocking, squealing, humming, buzzing, rattling, pinging, popping, hooting, etc.).

The refrigerant coolant is leaking, or it requires refilling.

Water is dripping inside or condensing on/in the AC.

Improper installation.

Some of the details should be replaced, as they are worn-off, damaged, or lost (registers, fan blades, blower belts, safety/power/relay switches, thermostat batteries, controllers, wires, plugs, contactors, ductwork, bearings, etc.).
In most of those or other situations, to make your appliance back to normal, we should replace a damaged component. We have a vast variety of spare parts from original and alternative manufacturers, so pick the best-fitting ones for each unit. It means that your item will perform smoothly after our Vista Air Conditioning Repair and Service. Our technicians also use the best materials and tools for the most precise and tidy proceeding with any task. We provide a 90-day labor and 1-year detail guarantee for each order we complete.
Our reliability is not only about a long-term warranty. We believe that the main indicator of a trustworthy company is its happy clients. In our case, the amount of them is growing every day. We provide everyone with the most effective services in the most comfortable conditions. Thus, our customers are happy for picking us and apply to us with other issues too. They recommend us to friends and leave numerous positive comments on the net. On our Google page, you can see their opinion about Air Conditioning Repair in Vista, CA, and other our services.
To make you feel comfortable in your room again, we complete any Vista Air Conditioning Repair as soon as possible. In over 90% of orders, it takes less than a single day! The highest speed of work is caused by incredible proficiency, perfectly customized management, and convenient location. We never make you wait long to get your item back to normal. Our company also has an option of urgent arrival at a slightly higher price. If you request it, we rush to your address within 15 minutes even on a day off or after hours.
By applying to us, you get the most effective solution. It is also about the price of our Air Conditioning Repair in Vista, CA. We offer you only rational way-outs, so if the repair is not advisable, we clearly inform you. You always know what you pay for, as we are honest with you. Plus, we have discounts for returning clients, which are 15%. Veterans and seniors get $30 off, and for booking online, the price is $25 lower. We have the most affordable rates and can adjust to any budget!
Oceanside Appliance Repair Service Center can help you in any situation with your AC. Regardless of what happened, our friendly and proficient team always knows what to do. We provide the most effective Vista Air Conditioning Repair and Service for over 20 years so far. The highest quality of work and the most stressless solution are our main principles. Thus, you get the best result in the shortest terms and at the most favorable price. Just call us or place an online application and your conditioner will run like a clock again soon!
Our specialist carries out repairs, works carefully in the process, so as not to leave behind any traces of equipment repairs, and not to spoil the appearance. After the repair is completed, our company will back it up with a 90-day labor warranty. If you encounter the same problem during the warranty period, rest assured we will return to get an appliance back up to perfectly working condition.
$30 OFF ON FIRST TIME SERVICING
Frequently asked questions
What if I have a complex repair of equipment?
Our specialist will come to your home, conduct diagnostics and offer solutions to the problem. And only after your consent, the repair will begin.
Do you have customer support?
Our managers will always listen carefully to you and give you initial recommendations on the malfunction of your equipment to determine the cost of repair. Call:
(858) 224-0022
Is the expert's visit free of charge?
If you order a call to the master through our website, you are guaranteed to get a free diagnosis of your device, and detection of breakage.