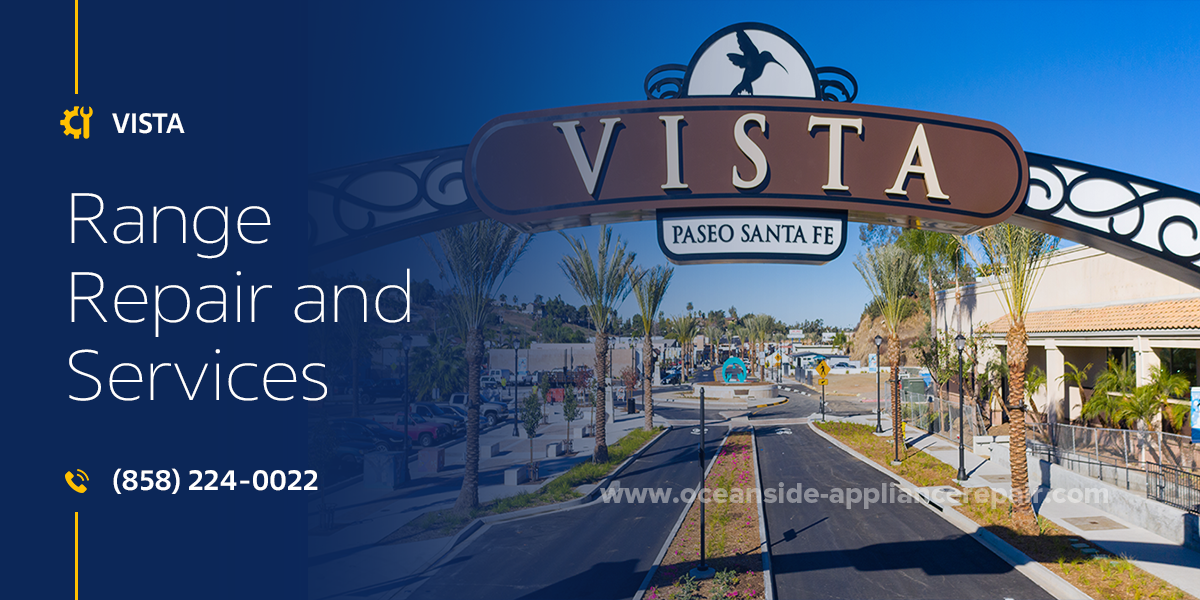 As a range has many variants of how to use it, it is a convenient and popular kitchen appliance. And it requires a proper attitude if you want it to serve you for long years. You can always rely on Oceanside Appliance Repair Service Center for the best maintenance and fixing of your range. Our friendly and proficient team fluently deals with any issues in the shortest terms. If you are looking for the best Range Repair in Vista, CA, just contact us! We offer the highest quality at the most affordable price!
A range is a complex appliance that deals with high temperatures and gas. It means that you never should try to fix it on your own unless you have specific knowledge. To get a safe and effective solution, you should apply only to qualified specialists. As soon as you notice your range working wrong, just contact us. 
Our team provides the best Vista Range Repair since 2001. Thus, we certainly know how to help you! Plus, a consultation is free, so you can get any needed information without wasting much time and money.
We also conduct remote diagnostics as the best way to plan any Range Repair in Vista, CA. When we find the reason for the breakage, we can indicate what solution is the most effective. Sometimes, such a solution is to get a replacement. In other cases, we can recommend you clean some parts or do other simple and safe actions. But mostly, we announce the cost of the needed work and arrange the arrival when it is convenient for you.
And we actually mean you can pick ANY timing you need! Our local office is open round the clock to offer you even an urgent arrival. An absolute majority of regular orders take less than a day to complete. And when you request an urgent one, the specialist leaves the office within 15 minutes! It is available at any moment of day and night for a small additional payment. Our organized and proficient team provides the swiftest Vista Range Repair and Service in any situation!
The skills and knowledge of our technicians are at the highest level. Thus, the highest is also the quality of the Range Repair in Vista, CA they conduct. They have licenses for dealing with luxury and the latest items and always go on developing their craftsmanship. Our team has resolved tons of issues of different complexity in 20 years. Thus, they can cope with anything! Here is the list of the most common issues that happen to ranges.
The appliance fails to turn on.

The range turns on, but the heating elements (all or some of them) do not heat.

You cannot control the temperature, time, level of flame, or other settings.

Buttons, knobs, switchers, or touchpads are damaged, lost, or do not respond.

The display board or information screen is not glowing or shows an error code.

Convection fans, thermostats, timers, grills, bake elements, broiler elements, induction elements, electrical coils, control modules, or other components function wrong, so require fixing or replacement.

When you are turning the burners on, they are hissing, clicking, or sparkling.

The flame is red, yellow, or orange, goes off itself, or flickers.

The appliance cooks or heats too slowly, too weakly, or not evenly.

The range produces bad smells, like electrical, gas, or burning.

The door assembly is faulty (cracked glass or deformed interlocks, springs, hinges, lid switches, gaskets, joints, or latches).

Interior or exterior lamps/bulbs/indicators are blinking or not glowing.

While the range is on, it produces loud noises, like squealing, thumping, grinding, hooting, buzzing, humming, knocking, vibrating, etc.

The gas or electricity supply is disrupted or not stable.

The gas lines or gas ports are clogged with grease or crumbs.

The convention fan or vent tube is obstructed with dust or debris.

Igniters, safety valves, wires, plugs, handles, belts, leveling feet, bearings, fan blades, baffles, burner caps, grates, drawer mechanisms, or other details require replacement.
Our technicians make any of these and other issues vanish immediately! They use the best professional tools, materials, and equipment, which ensures precise and durable Vista Range Repair. Our team perfectly knows all the subtleties of the construction and functioning of ranges. Thus, they easily reanimate commercial and household ones of all brands and models. 
We solidify the brilliant results of our work with a long-term guarantee. It is 90 days for labor and 1 year for the details. Using only perfectly suitable original and alternative parts, we are confident in the smooth functioning of your range.
The chief proof that our company is a reliable one is the opinion of our clients. And this opinion is reflected in hundreds of positive comments they leave on our Google page. Being happy about picking us, they return with other tasks too. Our customers also recommend us to friends and other people. Our client focus, responsibility, and proficiency make them fully satisfied with our attitude and results of work. A perfect combo!
And that are not all pleasant points of applying to us! We also have the fairest prices for Range Repair in Vista, CA. You clearly know what you pay for and what is the condition of your unit. With us, you get the most rational solution and useful advice. No hidden fees, useless service, or overpaying. The best result for the best price! Our favorable prices get even more pleasant with the special deals we have! The discounts are $25 for booking online, $30 for veterans and seniors, and 15% for returning clients.
Flawless quality. Reasonable price. Quickest arrival. Friendly attitude. Vast experience. Those things create a perfect service provider but rarely can go all together. And they all describe Oceanside Appliance Repair Service Center! We have the best conditions for each client and always reach brilliant results. Feel free to contact us whenever you need any Vista Range Repair and Service. We make your electronics run like a clock again in the most comfortable way for you!
Our specialist carries out repairs, works carefully in the process, so as not to leave behind any traces of equipment repairs, and not to spoil the appearance. After the repair is completed, our company will back it up with a 90-day labor warranty. If you encounter the same problem during the warranty period, rest assured we will return to get an appliance back up to perfectly working condition.
$30 OFF ON FIRST TIME SERVICING
Frequently asked questions
What if I have a complex repair of equipment?
Our specialist will come to your home, conduct diagnostics and offer solutions to the problem. And only after your consent, the repair will begin.
Do you have customer support?
Our managers will always listen carefully to you and give you initial recommendations on the malfunction of your equipment to determine the cost of repair. Call:
(858) 224-0022
Is the expert's visit free of charge?
If you order a call to the master through our website, you are guaranteed to get a free diagnosis of your device, and detection of breakage.