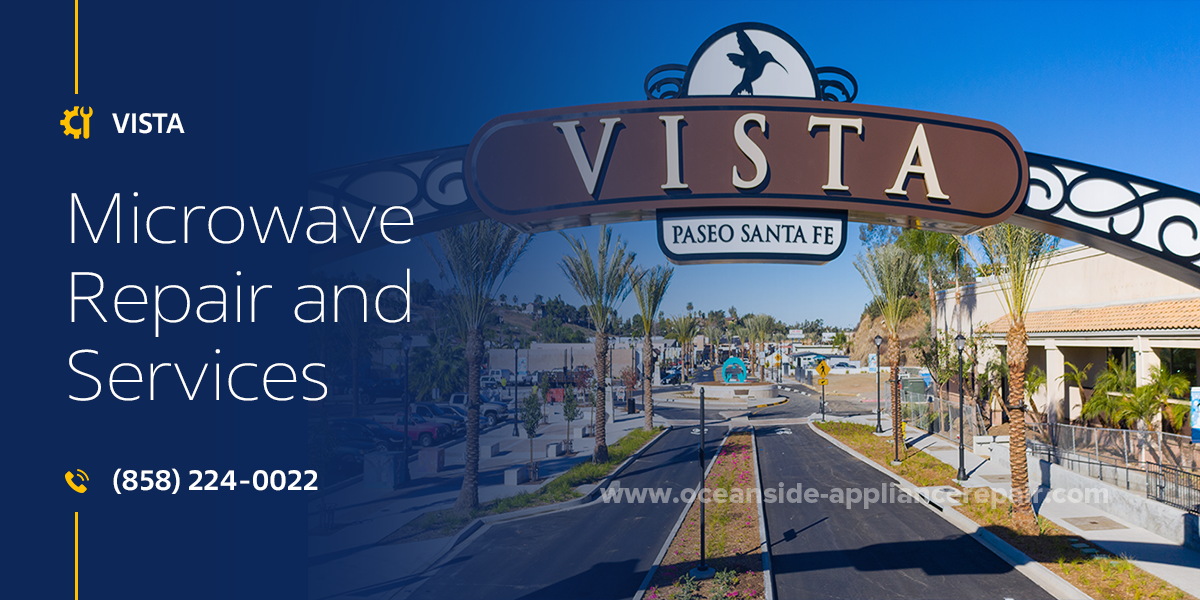 Microwave Repair in Vista
The best Microwave Repair in Vista, CA should be swift, reliable, and fair-priced. And that is about the services Oceanside Appliance Repair Service Center provides! Each client of our company gets the best result because we have the most proficient and responsible team. We install, maintain, and fix microwaves of all types, brands, and models since 2001. Anytime you need high-quality services, we are available and ready to help!
Making electronics perform perfectly for a long and leaving clients satisfied with our work – those are our main principles. And we always reach it, as our customers are happy to pick us. On our Google page, you can see tons of positive reviews about Vista Microwave Repair and other services we provide. 
Our customers confidently trust all electronics in our reliable hands, as they know that we reach the best results! And that is the reason why our company successfully competes with other local service providers.
We have many benefits, and the first of them is the highest quality of all procedures. The solid ground for that is the amazing skills and constant development of our technicians. They regularly undergo training and get licenses for dealing with the latest and luxury items too. With us, you get the most effective Microwave Repair in Vista, CA. Our team makes each commercial and household appliance perform like a brand-new one!
We cooperate with the best manufacturers of details and equipment to use top-rank stuff for each order. Our team uses the best professional tools and materials. And we pick perfectly fitting parts for any item and budget. It means that your item will perform perfectly for a long without any unpleasant signs. We are confident in the reliability of our Vista Microwave Repair and Service. Thus, we back up our work with a 1-year guarantee for details and 90-day ones for our labor.
Besides brilliant quality, we offer the swiftest implementation for each order. If you want us to be at your place right here and now, we will be! The option of urgent arrival is available on non-working days and hours too and costs just a bit more. And for regular Microwave Repair in Vista, CA, you also do not have to wait long. We make your item back to normal within a single day in over 90% of cases. The fluency, perfect management, and responsibility of our team make us always aim to assist you ASAP!
One more feature we should mention is the most affordable price for any Vista Microwave Repair. We do not overcharge, as fixing your unit should not bankrupt you. We rather take a reasonable price and motivate you to come back to us for other services too. And it happens often, as our customers are satisfied with our attitude and get a 15% discount for the next order. 
With us, you can have regular checkups and maintenance for your electronics in the most suitable conditions! It means less chance of having your appliances fail. Thus, you save a lot of money if get our assistance! Plus, we have discounts for veterans, seniors, and online booking. 
Our company adjusts to all your requirements, providing the most stressless, cost-effective, and suitable solutions. We never offer to fix your microwave if it is beyond repair or the work costs irrationally much. To find that out in several minutes, you can call us and clarify the situation swiftly!
For that, we provide free consultations and remote diagnostics. Your task is just to tell us what makes you worry. Talking about the troubles with microwaves, you can see the list of the most common ones below.
The appliance is smoking, sparkling, or arcing while you are using it.

The microwave cannot turn on.

It stops before the timer goes off or cannot start or stop heating.

Some of the details are worn off, lost, or damaged (leveling feet, buttons, knobs, handles, waveguide cover, fan blades, turntable ring, coupler, rack mount, or other components).

The roller ring is not rotating.

The microwave stopped heating at all or started heating worse, slower, or unevenly.

The item turns off itself or is not turning on.

The control pad, display, or controllers have issues with connection, do not work, or are damaged.

The screen shows an error.

The heating tan and air vent are obstructed with debris or pieces of food.

The door cannot close or open normally due to damaged gaskets, joints, springs, hinges, interlocks, lid switches, or latches.

The door glass or turntable glass plate is cracked.

The item cannot be supplied with electricity because of damaged wiring.

While you are using the microwave, it produces an electrical or burning smell or strange sounds, like knocking, buzzing, humming, grinding, thumping, squealing, etc.

The inner bulb or outer indicator is going on and off or not glowing.

Faulty hardware (heating element, thermal fuse, cooling fan, diode, waveguide, magnetron, air vent, high-voltage transformer or capacitor, dive motor, thermal protector, etc.).
By naming the symptoms, you let us understand the reason for the problem. Thus, we pick the most effective way out and announce its approximate cost. After that, we can arrange the most suitable Microwave Repair in Vista, CA for you! But if we conclude that the replacement is the only recommendable solution, we honestly let you know. In some cases, we can also instruct you by phone on a swift eliminating the minor issue. But remember that you should not try to fix your item without the proper knowledge or supervision of the specialist!
Oceanside Appliance Repair Service Center is a trustworthy guard for your electronics. We know how to cope with issues of any complexity and always do our best to make you feel comfortable. Thus, we have the most affordable prices and resolve any breakages in the quickest way. Our Vista Microwave Repair and Service are top-quality and easy to get! For that, you only need to call us or place an online application.
Our specialist carries out repairs, works carefully in the process, so as not to leave behind any traces of equipment repairs, and not to spoil the appearance. After the repair is completed, our company will back it up with a 90-day labor warranty. If you encounter the same problem during the warranty period, rest assured we will return to get an appliance back up to perfectly working condition.
$30 OFF ON FIRST TIME SERVICING
Frequently asked questions
What if I have a complex repair of equipment?
Our specialist will come to your home, conduct diagnostics and offer solutions to the problem. And only after your consent, the repair will begin.
Do you have customer support?
Our managers will always listen carefully to you and give you initial recommendations on the malfunction of your equipment to determine the cost of repair. Call:
(858) 224-0022
Is the expert's visit free of charge?
If you order a call to the master through our website, you are guaranteed to get a free diagnosis of your device, and detection of breakage.