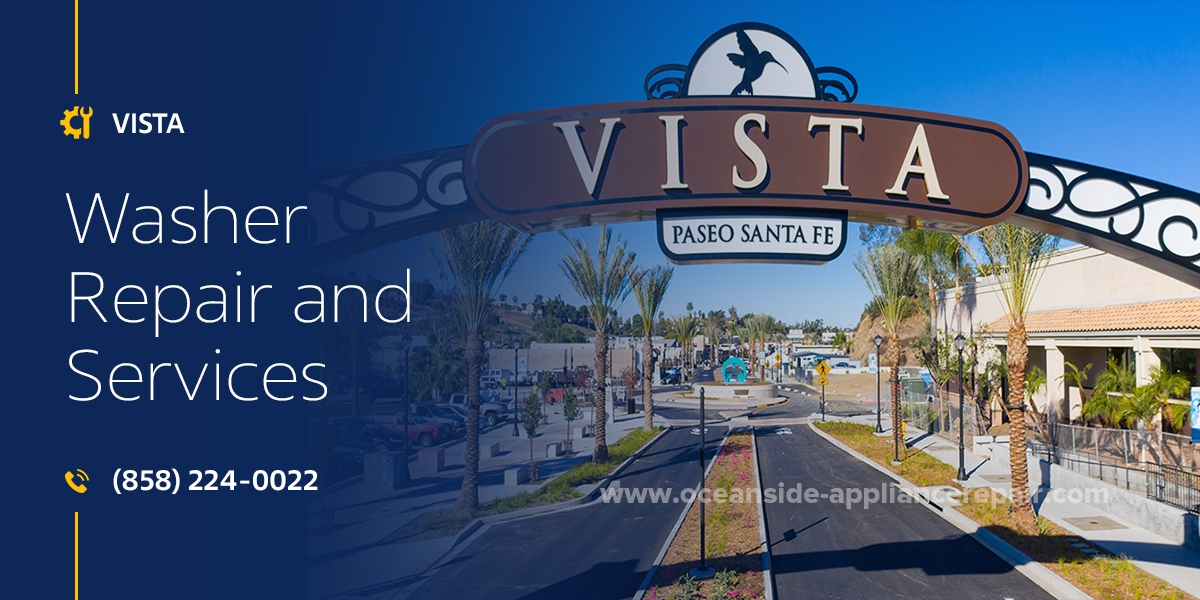 Washing Machine Repair in Vista
Washing machines are the best friends of many people, as their assistance is significant. These appliances are obligatory for houses, hospitals, hotels, and launderettes, where they have a leading role. And a breakage of a washer is an unwanted and frustrating situation. To avoid or fix it in the most effective way, apply to Oceanside Appliance Repair Service Center. Our company offers the best condition for high-quality services of any type. With us, you get the most reliable and swift Washing Machine Repair in Vista, CA at a favorable price.
When it comes to Washing Machine Repair in Vista Near You, it is important to remember that no troubles should be deemed unimportant. It is a common mistake to overlook issues that may not bother you much during the use of your washer. However, this can lead to the situation worsening and potentially resulting in a complete failure of the appliance. To ensure your washing machine performs properly for an extended period, it is crucial to pay attention to its condition. 
As soon as you notice any irregularities or it is not working as it should, simply contact us! Our specialists are dedicated to providing the most useful consultations, and this service is offered free of charge. It is an excellent way to clarify the situation, understand the root cause of the problem, and determine the appropriate course of action for repair.
There is a long list of troubles that may happen to your washer. The most common of them are…
The motor, pump, agitator, transmission, thermostat, heating element, fuse, or other parts are out of order.

The appliance is tripping the power.

It is not heating water.

Troubles with water supply, so the item does not fill with water or does not stop filling.

You cannot adjust the temperature, time, speed, or water level, as controllers have a loose connection with a control panel or do not respond.

The control module requires recalibration.

The screen/control board shows an error or is blank.

The drum is unbalanced, cracked, or not spinning.

The door is not closing, latching, or opening properly because of deformed interlocks, lid switches, hinges, latches, springs, joints, hooks, or gaskets.

The door glass is cracked.

A puddle of water or foam appears under the washer.

Clothes remain dirty, covered with foam, soaking wet, or get ripped.

The appliance is washing too long, goes non-stop, stops without completing, cannot start, goes on and off repeatedly, shuts off itself, or does not turn on.

The washer cannot drain.

The tub smells filthy or is covered with mold.

The detergent cannot be supplied into the tub.

The washing machine is making wrong noises, like popping, humming, squealing, squeaking, grinding, thumping, gurgling, bubbling, buzzing, vibrating, knocking, clicking, etc.

The body of the appliance heats too much while it is on.

It makes burning or electrical smells.

While spinning, the washer is jumping, bouncing, or moving around the room.

Certain details are spoiled or lost (seals, belts, leveling feet, water inlet valves, knobs, buttons, switchers, water level control assemblies, handles, dispensers, filters, hoses, pipes, off-balance switches, connectors, etc.).

The indicator is not shining.

The timers are faulty.

It was installed improperly.

Damaged wiring, isolation, or plug causes issues with the electricity supply.
We recommend you request remote diagnostics to plan the most effective Vista Washing Machine Repair. It is an option, included in the cost of work and helping us get an understanding of the situation. Just let us know what exactly is going wrong. After it, we can announce the approximate cost of the needed procedures, unless the repair is not recommended. You pick the time, and we arrive at your address with all the needed equipment and details prepared.
Talking about the details, we always care about picking the top-quality and perfectly fitting ones for each unit and budget. Having a vast amount of various original parts and their analogs in stock, we always pick perfect matches! Together with using the best professional tools and materials, we proceed with each Washing Machine Repair in Vista, CA perfectly. Our work is always fluent, accurate, and dustless. Thus, you get your item back to normal without leaving any dirt or rubbish. 
Still, the main reason for the highest quality of our Vista Washing Machine Repair and Service is our team. Our technicians are top-level professionals with over 20 years of experience. Their skills are perfectly refined and mean they easily deal with anything, regardless of the complexity of the issue. 
Our specialists know all the subtleties of dealing with commercial and household washers of all brands and models. They cope even with luxury and the latest units flawlessly, as have corresponding licenses and regular training.
You can be calm about the smooth and durable performance of your washer if apply to us. We have lots of proof of our reliability. First of all, we back up each Washing Machine Repair in Vista, CA with a long-term guarantee. It is 90 days of our labor and 1 year for the details we use. 
Providing the best results in the most comfortable conditions, we have gained the trust of thousands of clients. They recommend us to friends and leave many 5-star reviews on the net. The best attitude, reliability, and top-quality services are the reasons why we compete with other companies successfully since 2001.
We adjust to any requirements of our customers to make you feel less stressed if your electronics fail. We can adjust to any budget, offering the most affordable Vista Washing Machine Repair for everyone. For the returning clients, the price is also 15% lower. 
Seniors and veterans get a $30 discount, and we offer $25 off for online booking. You always know what you pay for, as we clearly report all the expenses to you. We also do not offer you useless or not cost-effective services.
Besides the most reasonable price, many people want to get the shortest terms of completion of their order. And it is about the swiftest Washing Machine Repair in Vista, CA we conduct! In over 90% of cases, we make your washer run like a brand-new one the same day you apply. Our local office is conveniently situated and is available 24/7. Thus, you can rely on us during days off and non-working hours too. For such urgencies, we offer an instant reaction for a little additional payment. In this case, the technician leaves the office within 15 minutes.
When you apply to Oceanside Appliance Repair Service Center, you have nothing to worry about. Our friendly team offers the best way to maintain or fix your washer in any case. There is nothing we cannot deal with! Our team offers the quickest high-quality results and makes you happy for picking us. You can get the best Vista Washing Machine Repair and Service at the fairest price by just contacting us. Make a call or place an online application and we provide you with the best solution shortly!
Our specialist carries out repairs, works carefully in the process, so as not to leave behind any traces of equipment repairs, and not to spoil the appearance. After the repair is completed, our company will back it up with a 90-day labor warranty. If you encounter the same problem during the warranty period, rest assured we will return to get an appliance back up to perfectly working condition.
$30 OFF ON FIRST TIME SERVICING
Frequently asked questions
What if I have a complex repair of equipment?
Our specialist will come to your home, conduct diagnostics and offer solutions to the problem. And only after your consent, the repair will begin.
Do you have customer support?
Our managers will always listen carefully to you and give you initial recommendations on the malfunction of your equipment to determine the cost of repair. Call:
(858) 224-0022
Is the expert's visit free of charge?
If you order a call to the master through our website, you are guaranteed to get a free diagnosis of your device, and detection of breakage.