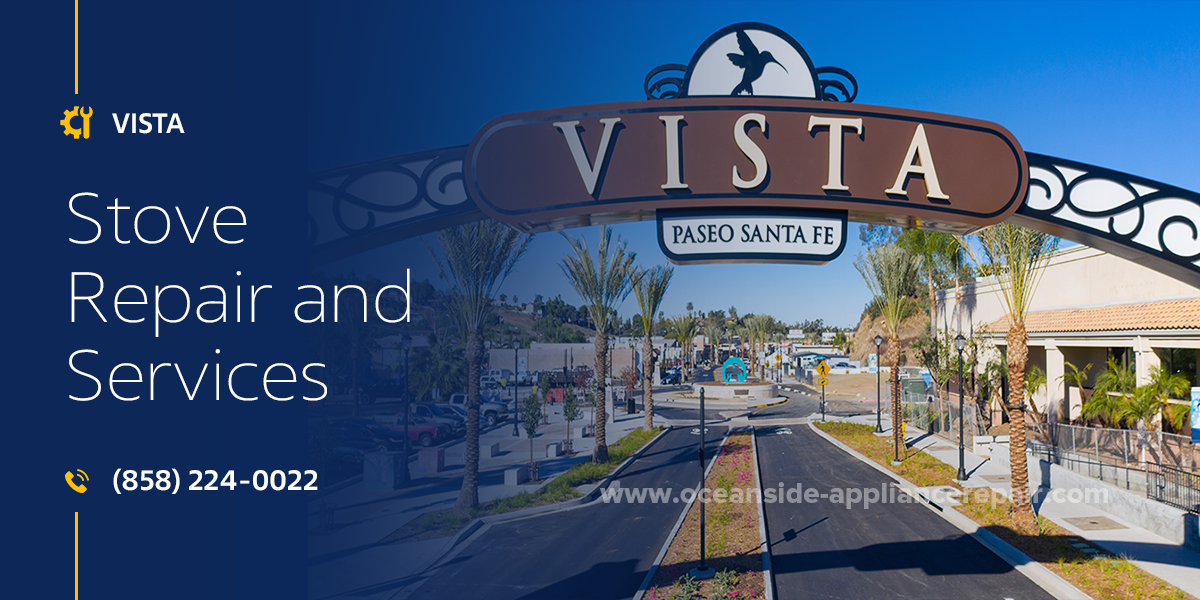 If you have a stove and use it often, you probably want it to serve you properly for long years. Oceanside Appliance Repair Service Center will gladly help you with it! Our team offers the best installation, maintenance, and fixing works at the most favorable price. We always know what to do, as we have over 20 years of experience in this field. Our reliable and responsible team provides the highest-quality Stove Repair in Vista, CA swiftly and at the fairest price.
Applying for the repair when the item fails completely is a common mistake. Much better for you and your stove is not ignoring even the smallest issues. Here are the most common troubles that may happen to your stove.
Parts such as grates, burner caps, light assembly, fan blades, baffles, leveling feet, belts, switches, knobs, or buttons may require replacement over time.

Failed inner lamp causes inconveniences during using the stove.

The LED indicator shines red, is blinking, or is not glowing.

The controllers are lost, damaged, have a loose connection, or do not function properly, so you cannot control the functioning of your item.

The control panel is not working properly.

The information screen or display board stopped glowing or shows an error.

Troubles with the gas supply (damaged ignitor or gas valve), so burners do not produce any flame, the gas is leaking, or the flame is red/yellow/orangs or is flickering, sparkling, or arcing.

The door glass is cracked.

The appliance is not turning on or off.

The entire unit or some heating elements shut off abruptly.

The heating elements (burners, broilers, bake elements, grills, induction or electrical coils, tans) do not heat or do it improperly (not evenly, too much, not enough, etc.).

Burners are clicking, ticking, or hissing during ignition.

The unit is knocking, grinding, humming, buzzing, gurgling, squealing, popping, vibrating, or making other weird noises.

The stove produces a burning or electrical smell while on.

Spoiled parts require replacement (motor, convection fan, heating element, thermostat, etc.).

Drawer mechanism is spoiled, so the racks cannot roll out.

Pans develop blackened bottoms after use.

The door cannot properly close or open, as its latches, interlocks, lid switches, hooks, joints, springs, hinges, or gaskets are warped.

Issues with the electricity supply due to damaged wires, isolation, or plug.

The gas lines, grates, gas ports, convention fans, or ventilation tubes require cleaning.
Our team keeps developing all the time to prevent you from facing additional issues. While you already have troubles with your electronics, we believe that the solution should come in the most comfortable way.  
Our customers get the best Vista Stove Repair and are happy with the result. They appreciate our attitude, professionalism, and responsibility. Thus, they apply to us with other issues and recommend the same to other people. The number of 5-star reviews from them on our Google page is growing daily!
People often stress about a failed stove not only because they cannot cook or heat. The very process of getting the repair seems so long, expensive, and stressful. But not with us! We call you back in minutes and never make you queue on the phone. Our specialists arrange the quickest Stove Repair in Vista, CA whenever you need it. We aim to help you sooner, so complete an absolute majority of orders the same day you apply. 
To get your appliance back to normal even sooner, you can pick an option of an urgent arrival. It costs slightly more, but in this case, the technician comes ASAP even during non-working periods.
We resolve any issues swiftly also because our technicians are fluent and highly qualified. They know everything about stoves, their construction, and their proper functioning. Thus, we offer the most effective Vista Stove Repair and Service to items of all brands and models. Our responsible team knows what to do with any commercial or household units, including luxury and the latest ones. Their outstanding skills and knowledge always mean the exceptional quality of each procedure.
In any electronics, each detail plays an important role. Thus, we pay much attention to picking the best ones for your stove. Perfect fitting and decent quality of spare parts makes each item perform smoothly for a long. We also have the best professional tools and equipment for the neatest and most accurate Stove Repair in Vista, CA. We solidify it with a 1-year guarantee for details and a 90-day one for our labor.
One more thing which makes people worry is that top-quality work may cost a fortune. But it is not matching our price policy. We provide the most affordable Vista Stove Repair without sacrificing quality. Our rates are the most reasonable as overcharging clients is not in our rules. We do not offer you our services if they are not rational or recommendable in your case. You always know what you pay for and get only a reliable and cost-effective solution with us. 
For online booking, veterans, seniors, and returning clients, we have special offers. Plus, you can always request a free consultation and find out the approximate cost of the needed work beforehand.
Our specialists are the most proficient and friendly, so they are always ready to provide you with any needed information. Feel free to call us at any moment if you want to clarify the condition of your item or apply for Stove Repair in Vista, CA. 
We also offer remote diagnostic which helps find the reason for the breakage in minutes. After it, we clearly know what we should do to fix your appliance in the most effective way. And, surely, we let you know if we indicate that your stove is beyond repair.
Having Oceanside Appliance Repair Service Center around, you should never be afraid of any problems with your electronics. Our team helps to prevent them and eliminates the existing ones in the most effective way since 2001. With us, you get amazing results at the most suitable time and the best price. Regardless of the difficulty of the issue, we provide the most reliable Vista Stove Repair and Service. All you need to do for that is just call us or place an application online.
Our specialist carries out repairs, works carefully in the process, so as not to leave behind any traces of equipment repairs, and not to spoil the appearance. After the repair is completed, our company will back it up with a 90-day labor warranty. If you encounter the same problem during the warranty period, rest assured we will return to get an appliance back up to perfectly working condition.
$30 OFF ON FIRST TIME SERVICING
Frequently asked questions
What if I have a complex repair of equipment?
Our specialist will come to your home, conduct diagnostics and offer solutions to the problem. And only after your consent, the repair will begin.
Do you have customer support?
Our managers will always listen carefully to you and give you initial recommendations on the malfunction of your equipment to determine the cost of repair. Call:
(858) 224-0022
Is the expert's visit free of charge?
If you order a call to the master through our website, you are guaranteed to get a free diagnosis of your device, and detection of breakage.