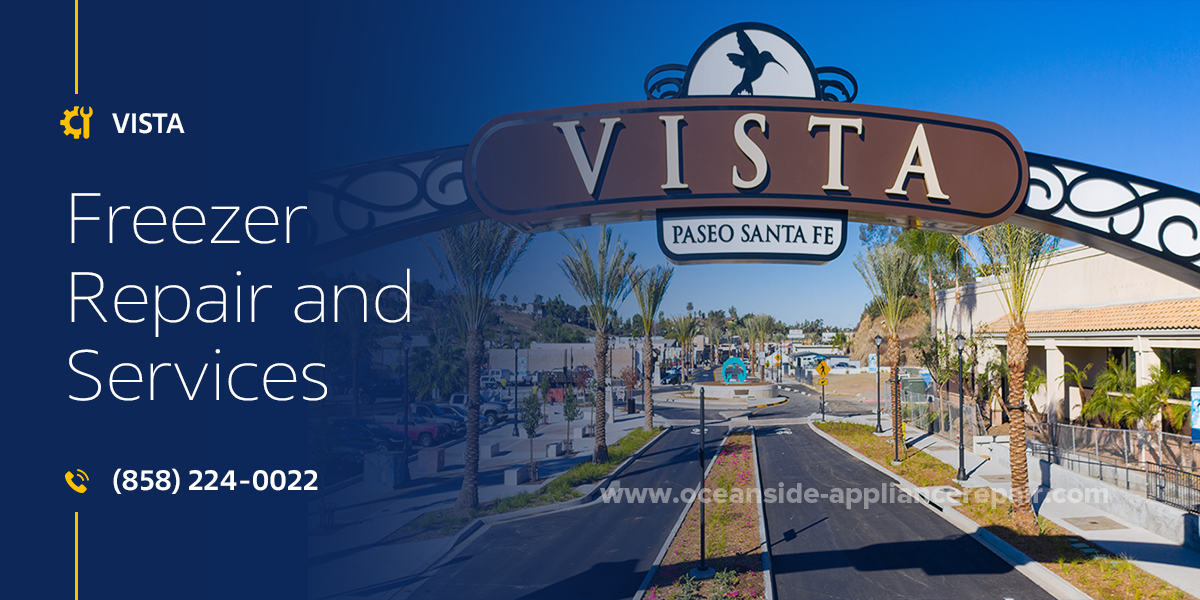 People tend to procrastinate in any possible situation. But it is hard to do when your freezer failed, and you risk getting your goods and floor spoiled. No need to worry, just apply to Oceanside Appliance Repair Service Center. We arrive at any required moment and swiftly eliminate any issue! Our team provides a wide range of services of the highest quality and at the most reasonable prices. If you apply to us, you get the best Freezer Repair in Vista, CA!
Surely, not freezing is not the only trouble that may happen to your freezer. Some issues may seem minor but ignoring them causes more serious problems later. Thus, do not hesitate to apply to us if you notice any of these or other troubles…
The door cannot close tightly or open easily because of the warped gasket, joints, springs, hinges, latches, interlocks, or lid switches.

The doors, shelves, or body surfaces/walls are cracked.

The appliance cannot turn on.

It goes on and off repeatedly or shuts off abruptly.

The freezer is on, but it fails to freeze.

Some of the components are dysfunctional, like the overload protector, evaporator, condenser, compressor, fans, coils, motors, vents, thermostat, defrost timer or heater, icemaker, compressor relay, fuse, relay switch, etc.

The item has a filthy smell inside or produces burning/electrical smells while on.

Leakage or accumulation of water drops or refrigerating coolant appears under the item or inside of it.

The freezer stopped defrosting automatically.

Troubles with software or control module, so the screen is blank or shows an error, the controllers do not react, and you cannot change any settings.

Lamps or indicators are burned out.

The appliance is buzzing, bubbling, popping, squealing, humming, thumping, grinding, knocking, vibrating, gurgling, or making other unusual noises.

The item freezes unevenly or too much.

The condenser/evaporative coil, defrost drainer, drain tube, or drain pan has an accumulation of ice or dust.

Electricity supply is faulty, the wiring is damaged.

Spoiled or lost details (plugs, cords, switches, knobs, buttons, handles, leveling feet, belts, bearings, fan blades, baffles, screws, water inlet valves, compressor mounts, hoses, etc.).

Snow-like accumulation, pieces of ice, or snow mold cover the walls and products.
Conducting the best Vista Freezer Repair for over 20 years, we have eliminated issues of any complexity many times before. Our team has vast experience and undergoes training to be able to deal with any unit. They have a proper approach to any commercial and household freezer of any brand and model. It includes luxury and the latest ones too. So, we confidently claim that our technicians are highly qualified and can resolve any problem!
The brilliant skills and knowledge of our technicians always bring flawless, accurate, and neat Freezer Repair in Vista, CA. As a booster for that, we select top-notch equipment and materials. The choice of spare parts matters much too. We have all the needed original and alternative details in stock to be ready for serving any appliance you have. With all these aspects, the quality of our work is always at the highest level. For your calmness, we provide it with a 90-day labor and a 1-year details guarantee.
The proficiency of our specialists also lets us provide any Vista Freezer Repair and Service in the shortest terms. We never spend much time finding and eliminating the issue. Plus, we have great management and logistics, so the road to your place does not take long too. 
Thus, we finish over 90% of orders the same day we get an application. In some cases, you may want to get your freezer back to normal even sooner. And we can help with it too. An option of emergent arrival is available round the clock for a small extra payment.
Our prices are much more pleasant than people usually expect. You face no overcharging with us, as our company honestly informs you what you pay for. We believe that loyal prices comfort people and make them return to us if they get a decent result. And there is the next time to get surprised, as the returning clients have a 15% discount! 
We offer no useless services, so our Freezer Repair in Vista, CA is the most cost-effective and affordable. If you book the order online, the price is $25 lower. Veterans and seniors get $30 off.
Plus, we announce the approximate cost of the needed work beforehand, unless the repair is not recommendable. To clarify this situation, you can call us at any moment and get a free consultation with our friendly specialists. They help you arrange the best Vista Freezer Repair, provide any information, and diagnose your appliance. Surely, we let you know if the best solution is to get a replacement. But it happens rarely as our team can deal with anything!
And only being the most reliable and responsible company, we can successfully compete with other service providers since 2001. The same is why our clients are absolutely satisfied with picking us. And, as the best proof of that, they apply to us again to install, maintain, or fix other appliances. Our Google page has tons of 5-star reviews about our brilliant Freezer Repair in Vista, CA, and other services.
Ones who applied to Oceanside Appliance Repair Service Center once, do not need to look for other service centers. Our team provides each client with high-quality solutions swiftly and at the fairest price. With us, you never have to worry about the proper performance of your electronics. We conduct any Vista Freezer Repair and Service perfectly! Feel free to call us whenever needed or place an order on our website.
Our specialist carries out repairs, works carefully in the process, so as not to leave behind any traces of equipment repairs, and not to spoil the appearance. After the repair is completed, our company will back it up with a 90-day labor warranty. If you encounter the same problem during the warranty period, rest assured we will return to get an appliance back up to perfectly working condition.
$30 OFF ON FIRST TIME SERVICING
Frequently asked questions
What if I have a complex repair of equipment?
Our specialist will come to your home, conduct diagnostics and offer solutions to the problem. And only after your consent, the repair will begin.
Do you have customer support?
Our managers will always listen carefully to you and give you initial recommendations on the malfunction of your equipment to determine the cost of repair. Call:
(858) 224-0022
Is the expert's visit free of charge?
If you order a call to the master through our website, you are guaranteed to get a free diagnosis of your device, and detection of breakage.