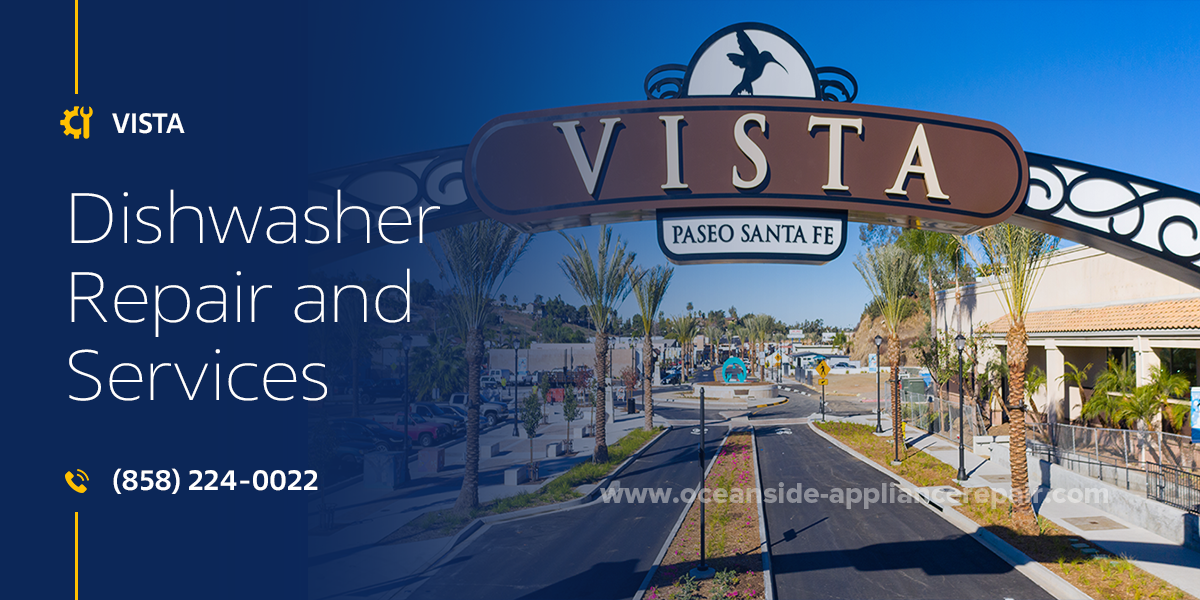 Dishwasher Repair in Vista
You have probably seen tons of offers while looking for decent Dishwasher Repair in Vista, CA. It may be hard to pick a proper one, but now you are looking at the best option! Oceanside Appliance Repair Service Center is a company with over 20 years of providing the highest quality services. Our clients never wait long or pay much. Once you apply to us, you will never stress about your electronics anymore!
What are the indicators of a reliable service center? First of all, it is about the experience. And experience, in its turn, is a result of wisely used time. Since 2001, our team gets better daily and competes with other companies easily. We get better in all aspects to provide our clients with stressless and effective solutions. 
As a result of that, our customers are happy with our work and trust all their electronics to us. We provide an excellent Vista Dishwasher Repair, so they confidently recommend it to other people too! You can see their honest opinion on our Google page.
One more thing, gained with time and experience, is the high level of fluency of every technician in our company. It lets them easily detect the problem and quickly solve it. Regardless of what country you got it from, what is its brand or model – they deal with everything! Owing to outstanding skills and brilliant knowledge, our team reaches a perfect quality for each Dishwasher Repair in Vista, CA. They have regular training and licensing, thus are highly qualified and up to date. Our team serves even luxury and the latest items in the most effective and fluent way. 
We heal all types of household and commercial applications with original, perfectly fitting details and materials. Our team provides Vista Dishwasher Repair and Service using professional tools and equipment, leaving no dust and rubbish. Perfect work, isn't it? Plus, we always provide our labor with a 90-day guarantee and details – with a 1-year one.
The best way to care for your appliance is to have a regular checkup and maintenance. It helps avoid many issues with electronics. And if you notice the smallest changes in the behavior of your dishwasher, do not postpone applying to specialists. There are many things that may go wrong with this appliance. Here is the list of the most common troubles you may face.
A puddle of foam or water appears under the dishwasher.

The appliance cannot fill the water in or cannot stop filling it, thus it has issues with the water supply because of the defective water inlet valve.

The appliance is not draining.

The door glass is cracked.

The door cannot latch, close, or open as it should, as it has deformed or missing springs, hinges, gaskets, joints, latches, lid switches, hooks, or interlocks.

The detergent cannot reach the tub.

Dishes remain dirty, oily, wet, or covered with foam or leftovers.

The slide arm malfunctions, so the racks cannot roll out.

The filters, spray arms, sump strainers, hoses, or pipes are clogged and dirty.

Some of the details are worn off, broken, or lost (float switch, cutlery baskets, holders, switchers, knobs, buttons, handles, leveling feet, belts, filters, hoses, pipes, etc.).

Timers or controllers do not function properly, or the entire control panel fails.

The screen is blank or shows an error code.

It cannot complete the wash cycle, stops midway, does not start it, washes too long or endlessly, shuts off abruptly, or does not turn on at all.

The body of the dishwasher gets extremely hot when it is on.

You notice burning or electrical smells when the appliance is working.

The tub has a filthy smell or mold inside.

The electricity supply is disrupted due to damaged wires, isolation, or plugs.

The item is vibrating, bubbling, humming, thumping, buzzing, knocking, squealing, grinding, gurgling, or making other loud, improper noises.

The lamps are flickering or not glowing.

Faulty hardware, like heating element, motor, pump, thermostat, etc.
Surely, the effectiveness of work is not only about its quality. There are cases when the needed services cost more than getting a new appliance due to expensive details. Surely, in such a case, we would rather recommend you a replacement. We are honest about everything related to your order. Thus, we have the fairest prices for Dishwasher Repair in Vista, CA. They are even more pleasant for the returning clients, who get a 15% discount. We also have $30 off for veterans and seniors and $25 off for booking online. We adjust to any budget and have the most affordable offers for everyone.
To get an approximate vision of the cost of the needed work, you can contact us at any moment. We provide free consultations, so you get any information you are interested in. Our friendliest managers help you arrange the most comfortable and suitable Vista Dishwasher Repair. 
But firstly, it is important to clarify the condition of your appliance. For that, we offer remote diagnostics. By your explanation, we quickly find the reason for the breakage. Thus, our technicians know what to do and what details to us even before they come to your address.
The time of arrival is the point that you name us. We are 24/7 ready to provide you with the swiftest Dishwasher Repair in Vista, CA. With fluency, organization, and responsibility, we never make you expect long for getting things back to normal. Our team finishes with over 90% of orders within a single day. Urgent cases take even less, as then the specialist rushes to your address immediately. It costs a little more but means an instant reaction at any moment of day and night. 
Not to make you wash dishes by hand, Oceanside Appliance Repair Service Center offers great ways to fix your item. Our team always provides the quickest solutions for fixing, installing, and maintaining any dishwasher. By applying to us, you get the most high-quality services at a reasonable price. Just call us or place an online application and get the best Vista Dishwasher Repair and Service!
Our specialist carries out repairs, works carefully in the process, so as not to leave behind any traces of equipment repairs, and not to spoil the appearance. After the repair is completed, our company will back it up with a 90-day labor warranty. If you encounter the same problem during the warranty period, rest assured we will return to get an appliance back up to perfectly working condition.
$30 OFF ON FIRST TIME SERVICING
Frequently asked questions
What if I have a complex repair of equipment?
Our specialist will come to your home, conduct diagnostics and offer solutions to the problem. And only after your consent, the repair will begin.
Do you have customer support?
Our managers will always listen carefully to you and give you initial recommendations on the malfunction of your equipment to determine the cost of repair. Call:
(858) 224-0022
Is the expert's visit free of charge?
If you order a call to the master through our website, you are guaranteed to get a free diagnosis of your device, and detection of breakage.