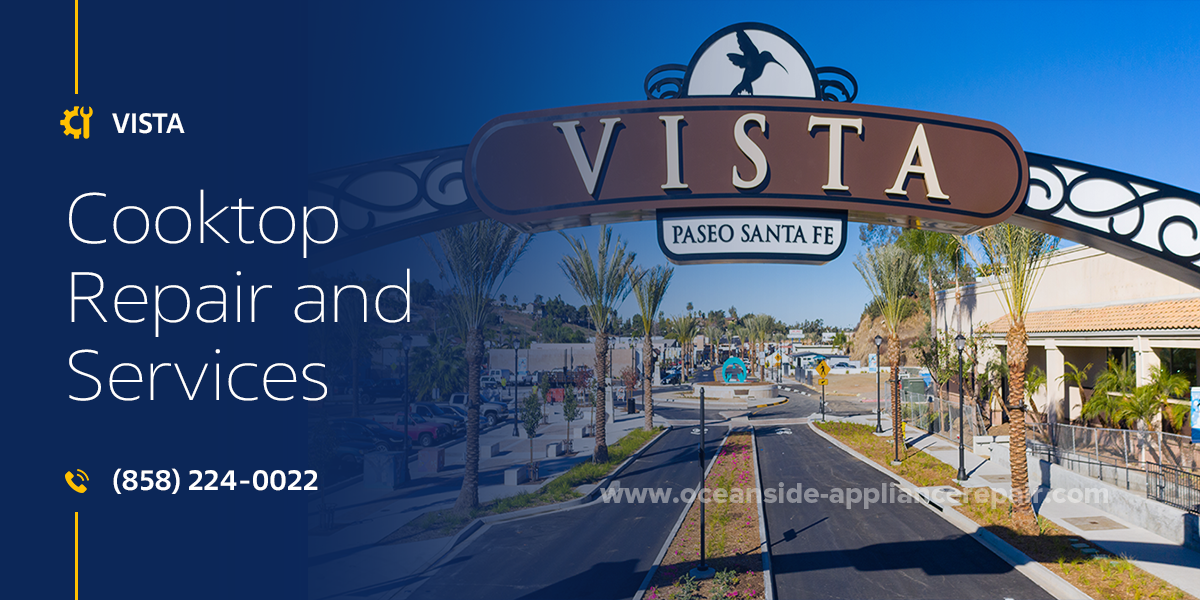 Once you get electronics to your home or workplace, you accept their positive and negative aspects. It means if you want to be always able to use your cooktop properly, you should care about its condition. A wise owner knows that for proper maintenance and timely fixing, the best solution is Oceanside Appliance Repair Service Center. Our specialists find the best way to make any item back to normal. We provide the most cost-effective and swiftest Cooktop Repair in Vista, CA at top quality!
How do we ensure the highest quality of work? Owing to a complex approach. First of all, it is about the proficiency of technicians. Our team has been providing the best Vista Cooktop Repair for over 20 years so far. All this term they are developing their skills and knowledge to be maximum useful and efficient. 
Our team knows all the subtleties of cooktops of all types. Thus, they fluently serve appliances of all brands and models. Their qualification lets them work properly with luxury and the latest items too. And they have licenses that prove it.
Another point is the usage of top-notch professional equipment. The best tools and materials let us conduct each Cooktop Repair in Vista, CA precisely and neatly. Plus, we have all the needed original and high-quality alternative details in stock. Their role is essential for the smooth and durable performance of your cooktop. And we guarantee the best quality and endurance of everything we do, so provide a long-term guarantee for our work. It is 1 year for details and 90 days for our labor.
Our clients deserve even more. You hardly feel comfortable if your cooktop is not working for long. Thus, we conduct the best Vista Cooktop Repair and Service in the shortest terms. In over 90% of orders, we make your appliance back to normal the same day you apply. The location of our office and the organization of our team let us spend minimum time fixing your item. If you want us to set off to your address immediately, just request an urgent arrival. It costs just a bit more but is available during days off and after hours too.
Before applying for Cooktop Repair in Vista, CA, you can also find out more details first. We offer free consultation and remote diagnostics to detect the expediency of work. This way, we quickly find the reason for the breakage and announce the approximate cost of work. But if it is not advisable, we would rather recommend a replacement. 
To get those things clear, you can just tell us what goes wrong with your cooktop. The list of issues is pretty wide, but none of them is irresolvable for our team! Here are the most common troubles that may happen to this appliance.
Troubles with connection to the control module and heating element or controllers.

The level of flame or temperature is insufficient or too high.

Some of the heating parts or all of them do not produce flame or heat.

It heats too slowly or not evenly.

The appliance is producing unusual noises, like clicking, hissing, ticking, buzzing, humming, squealing, vibrating, etc.

The induction surface is scratched, so the temperature sensors flip.

The flame is flickering, sparkling, arcing, or having a wrong color, like red, orange, or yellow.

Damaged heating elements (electrical or induction coils, burners), sensors, igniters, or control modules require fixing or replacement.

Troubles with electricity or gas supply.

The gas is leaking, so you can smell it regardless of if the appliance is on or off.

It produces an electrical or burning smell.

Spoiled, worn off, or lost components, like buttons, knobs, switches, gas lines, grates, burner covers, safety valves, plugs, wires, etc.

The cooktop turns off itself or cannot turn on.

Issues with controlling and using your item because of a malfunctioning control panel and failed screen or timers.

The light indicator is faulty or burned out.

Gas lines or gas ports are clogged.
Facing any of those or other problems, do not postpone applying to us. Our technicians have been dealing with issues of any complexity successfully since 2001.
In the long term, our activity has made many clients happier. Everyone who applies to us for Vista Cooktop Repair or other services gets the best results. We satisfy all the requirements of our customers, making them trust all electronics in our reliable hands. Thus, they confidently recommend us to friends and share their opinion on the net. Just visit our Google page and check, as there we have tons of 5-star reviews!
As a pleasant bonus to the best conditions, we offer is the fairest price. With us, you get the most affordable Cooktop Repair in Vista, CA. No hidden fees or overcharging. We clearly report what you pay for. A favorable price for our work gets even more pleasant when you apply the next time. Together with brilliant services, returning customers get a 15% discount! For online booking, the price gets $25 lower. And veterans and seniors pay $30 less.
A decent client-focused company is one that offers the best services. It means the highest quality, most reasonable prices, and the shortest terms of completion of work. Plus, a polite and friendly attitude, flexibility, and responsibility. That is an exact description of the Oceanside Appliance Repair Service Center. To get the most reliable Vista Cooktop Repair and Service in a stressless way, just call us or apply online!
Our specialist carries out repairs, works carefully in the process, so as not to leave behind any traces of equipment repairs, and not to spoil the appearance. After the repair is completed, our company will back it up with a 90-day labor warranty. If you encounter the same problem during the warranty period, rest assured we will return to get an appliance back up to perfectly working condition.
$30 OFF ON FIRST TIME SERVICING
Frequently asked questions
What if I have a complex repair of equipment?
Our specialist will come to your home, conduct diagnostics and offer solutions to the problem. And only after your consent, the repair will begin.
Do you have customer support?
Our managers will always listen carefully to you and give you initial recommendations on the malfunction of your equipment to determine the cost of repair. Call:
(858) 224-0022
Is the expert's visit free of charge?
If you order a call to the master through our website, you are guaranteed to get a free diagnosis of your device, and detection of breakage.