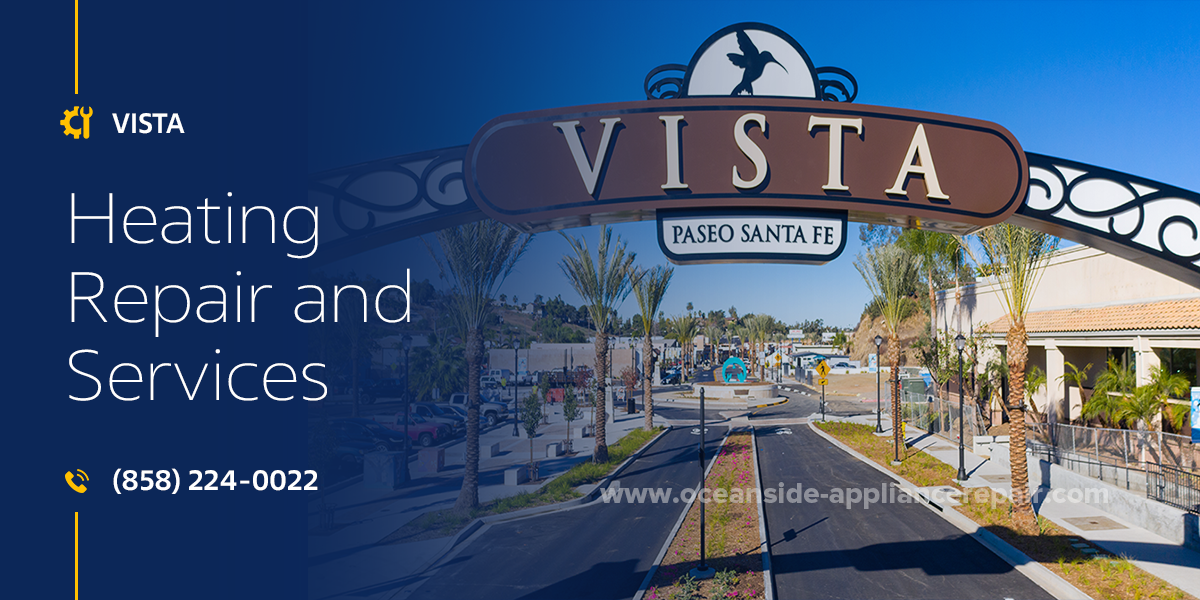 There are various types of heating appliances, and each of them has its benefits and bad sides. Regardless of which you prefer, you can rely on Oceanside Appliance Repair Service Center if it requires maintenance or fixing. Our specialists provide dustless and high-quality services of all types. And the price for our work is always reasonable. Our team has provided tons of reliable Heating Repair in Vista, CA, so always knows what to do. We make any item back to normal in the shortest terms!
People often notice issues with their heaters too late. Downtime and lack of care are common reasons for any breakages and malfunctions. But if you pay attention to the condition of your item, you can prevent many serious breakages. And in such a case, feel free to call us for a free consultation. Our specialists can help you understand how complex is the issue and what you should do further. Another helpful and swift service is remote diagnostics. To find out the best solution and its approximate cost, tell us what does wrong with your heater. The most common complaints are…
Weird loud noises (popping, pinging, rattling, squealing, hooting, knocking, gurgling, grinding, humming, buzzing, clicking, vibrating, etc.).

Impossibility to turn the heater on or off.

Unstable functioning, the unit is turning off itself or going on and off repeatedly.

Lack of heating.

Wrong temperature or mode, which is not possible to adjust.

Leaking, clogged, or damaged ductwork.

Lack of airflow from the heating vents.

Dysfunctional fan motor, compressor contactor, sensor, heat pump, coil (or another heating element), thermostat, evaporator, condenser, ignition control, or other hardware.

Uneven, too long, or too weak heating.

Total inability to heat.

Obstructed or dirty coils, flue pipe, flame sensor, ignition, burner, air handler, outdoor unit, damper, condensate drain, HVAC filter, valves, or vents.

Leakage or lack of heat transfer liquid.

A burning, gas, or electrical smell from the heater.

A filthy or humid air going out of the registers.

Failed control panel, controllers, timers, display board, or information screen.

Worn off, damaged, or lost touchpads, buttons, knobs, switches, bearings, belts, flaps, fan blades, registers, grates, reversing/gas valves, limit switches, wires, or other details.

Unstable or ruined electricity supply.
In any of those and other cases, we provide the most effective Vista Heating Repair!
Only a highly qualified and insured people, like our technicians, should deal with heaters, as these items can be really dangerous. But there is nothing to worry about if you apply to us for Heating Repair in Vista, CA. We know all the safety measures and subtleties of working with these units of all brands and models. Our team also has licenses for serving luxury and the latest appliances. Their outstanding skills and knowledge are constantly developing, so we guarantee the highest quality for each procedure we complete!
For over 20 years so far, we have been proving to be a decent service provider. We successfully withstand competition with other companies and open branches in different cities. Our customers are absolutely satisfied with Vista Heating Repair and Service we conduct. 
They get not only brilliant results but also a friendly attitude, honesty, and useful advice. Thus, our clients trust all electronics to our reliable hands and recommend the same to friends. More of their honest opinion you can see on our Google page, where we have hundreds of 5-star reviews.
Plus, the returning clients get a 15% discount when apply to us again. It is especially pleasant as our rates are already the most affordable. We report to you about the expediency of the repair and all expenses for it. Thus, you surely get the most fair-priced Heating Repair in Vista, CA. You can get a $25 discount for online booking. And for veterans and seniors, it is $30 off. And surely, we do not waste your money by offering our work if the item is beyond repair. The same is when the cost of work overweighs at least half of the price of a new heater. 
Such a situation may happen if the failed part is too expensive (like a motor). We clearly inform you in such cases. Our team has only the best original and alternative details to make your item run smoothly for a long. To conduct each Vista Heating Repair neatly and accurately, we also have top-notch tools, materials, and equipment. Together with the amazing craftsmanship of our team, it brings flawless results! And we are confidently back it up with a 1-year detail and a 90-day labor warranty.
You can get the needed services at any moment. We are always around and available for you! In over 90% of orders, we complete your task the same day you apply. For urgent situations, we have a special offer for a small additional payment. It means an instant departure of the technician to your address even during non-working hours and days. We provide the swiftest Heating Repair in Vista, CA in any situation! With us, you never have to be cold for long, as we reanimate your item shortly.
Oceanside Appliance Repair Service Center adjusts to all the needs of customers. With us, you never have to worry about the future functioning of your heater. All you need to do is just contact us whenever need our assistance. We provide the best Vista Heating Repair and Service in the most comfortable conditions. You get brilliant results swiftly and at a favorable price.
Our specialist carries out repairs, works carefully in the process, so as not to leave behind any traces of equipment repairs, and not to spoil the appearance. After the repair is completed, our company will back it up with a 90-day labor warranty. If you encounter the same problem during the warranty period, rest assured we will return to get an appliance back up to perfectly working condition.
$30 OFF ON FIRST TIME SERVICING
Frequently asked questions
What if I have a complex repair of equipment?
Our specialist will come to your home, conduct diagnostics and offer solutions to the problem. And only after your consent, the repair will begin.
Do you have customer support?
Our managers will always listen carefully to you and give you initial recommendations on the malfunction of your equipment to determine the cost of repair. Call:
(858) 224-0022
Is the expert's visit free of charge?
If you order a call to the master through our website, you are guaranteed to get a free diagnosis of your device, and detection of breakage.