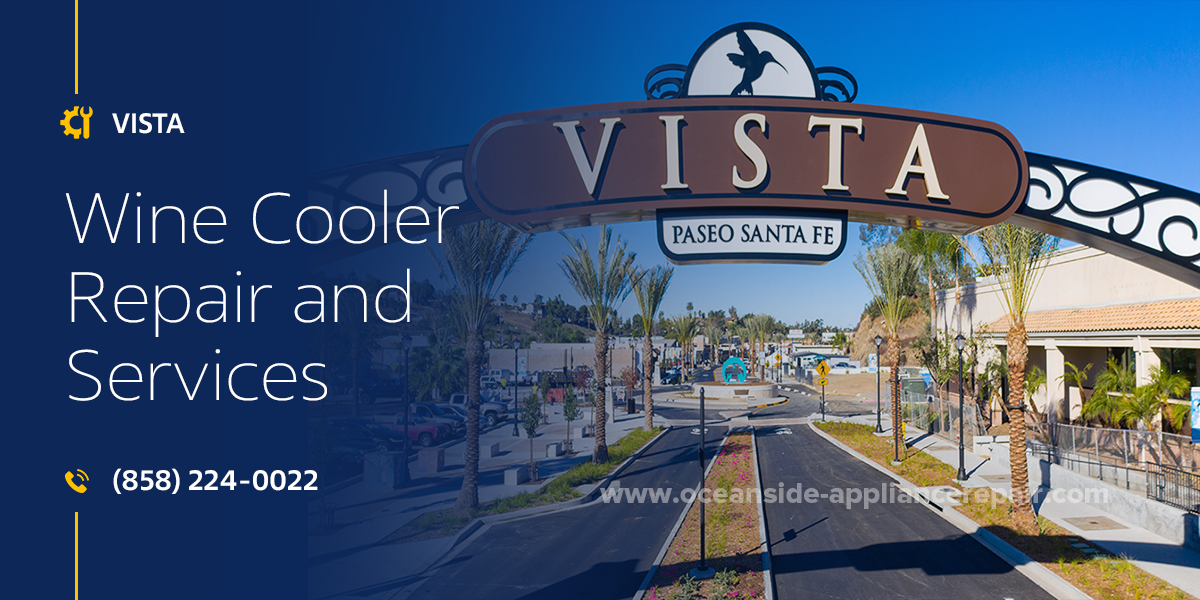 Wine Cooler Repair in Vista
People buy wine cooler to provide stable and precise conditions for their beverages. And if it functions wrong, you cannot substitute it with any other appliance. Thus, everyone who cares for their units and seeks the best Wine Cooler Repair in Vista, CA, applies to us. Why us? Because Oceanside Appliance Repair Service Center has the most proficient team and offers the most comfortable conditions. Our customers get their wine coolers back to normal swiftly and at the most reasonable price.
We understand the importance of a wine cooler for each wine lover. Thus, we are always ready to react to your application and not let your collection lose its refinement. An option of an urgent arrival is available 24/7, including days off, for a small additional payment. In this case, the technician sets off to your address immediately and makes your unit work properly again shortly. And for regular orders, we still do not waste time. We complete over 90% of them within a single day. Our local branch provides the quickest Vista Wine Cooler Repair!
The highest speed of work never influences its quality. On the contrary, it means that our specialists are fluent and proficient. They have over 20 years of providing the best Wine Cooler Repair in Vista, CA. Thus, their skills and knowledge are brilliant. Our technicians keep developing all this time, so regularly undergo training and have licenses for their highest qualification. That lets them effectively cope with the latest and the most delicate luxury wine coolers too. We readily make any commercial and household appliances of all brands and models perform like brand-new ones.
With us, you always clearly know the condition of your unit. Unfortunately, sometimes we can help you only with picking the best replacement. It happens if your wine cooler is beyond repair or work is not cost-effective. In such cases, we do not provide useless services or try to take all your money. 
Our team provides only efficient and rational Vista Wine Cooler Repair and Service. And to find out what is the best solution for your situation, you can call us first. We offer free consultations and remote diagnostics. We answer any of your questions and arrange the best solutions for you.
The longer you ignore issues with your wine cooler, the higher the chance of total failure. We recommend you apply to specialists as soon as notice the smallest changes in its behavior. This way, the solution will be easier and cheaper, and your appliance will serve you properly for longer. In the list below, you can see the most common troubles that you may face with your wine cooler.
The body of the wine cooler gets extremely hot while it is on.

The appliance shuts off itself or goes on and off repeatedly.

You cannot turn the item on.

Some of the hardware components are faulty (fan, process control block, thermostat, the Peltier module, evaporator, starter, compressor, capacitor, sensors, motor, etc.).

The refrigerating coolant leaks or is missing.

The water drops are condensing inside the item or under it.

The ventilation or condenser fan is blocked with dust.

The door is not closing tightly or opening easily because of damaged or deformed gaskets, joints, springs, hinges, lid switches, interlocks, or latches.

Door/body surfaces or shelves are cracked.

The wine cooler is bubbling, gurgling, humming, squealing, grinding, buzzing, vibrating, or making other weird noises.

It stopped cooling at all.

The temperature is higher or lower than it should be, and you cannot set it as needed.

Labels and corks get spoiled and wet as the humidity level is too high.

The interior lamps or exterior LED indicators are blinking or not shining.

A snow-like accumulation, pieces of ice, or ice mold are covering the inner walls, condenser coils, or the bottles inside the wine cooler.

The electricity supply is unstable or disrupted.

Bearings, fan blades, baffles, belts, seals, leveling feet, buttons, switches, knobs, handles, or other details are worn off, damaged, or lost.

The control panel malfunctions.

The controllers do not respond.

The screen is not shining or shows an error.
Since 2001, our team has eliminated these and other troubles many times. In most cases, the needed solution is to replace a certain detail. We have a vast selection of original parts and their analogs in stock. Thus, we always take perfectly suitable ones for each appliance we work with. We conduct each Wine Cooler Repair in Vista, CA with the best equipment and materials. Altogether, that means the neatest and most precise completion of any procedure.
We have no doubts about the qualification, responsibility, and craftsmanship of our technicians. And we want you to be calm about the future functioning of the wine cooler we fixed for you. Therefore, we back up our work with a long-term guarantee. It lasts 90 days for our labor and 1 year for the details we use. We reach flawless quality for each order and are in charge of our promises and actions!
A reliable service provider is one who gains the trust of clients even in conditions of constant competition with others. And that is about us! Our clients always get the friendliest attitude and the most convenient solutions. They apply to us again because the experience shows that we can deal with anything. Plus, we adjust to all the requirements of our clients. It makes them happy with the Vista Wine Cooler Repair and other services we provide. They share their positive opinion in tons of 5-star reviews on our Google page and recommend us to friends.
You may think that the price for all those benefits should be high. But no! We often pleasantly surprise our clients with the most affordable rates for Wine Cooler Repair in Vista, CA. Our company provides only efficient and rational solutions, clearly informing you about everything regarding your appliance. You know what you pay for, and this price is always the fairest! For returning clients we have even more pleasant offers, which mean a 15% discount. If you book an order online, you get $25 off the price. And for veterans and seniors, the price is $30 lower.
Oceanside Appliance Repair Service Center cares for your comfort, as your wine cooler cares for your bottles of wine. For any maintenance and fixing works, we provide the quickest top-quality solutions. Contact us anytime and we conduct the best Vista Wine Cooler Repair and Service at the most favorable price.
Our specialist carries out repairs, works carefully in the process, so as not to leave behind any traces of equipment repairs, and not to spoil the appearance. After the repair is completed, our company will back it up with a 90-day labor warranty. If you encounter the same problem during the warranty period, rest assured we will return to get an appliance back up to perfectly working condition.
$30 OFF ON FIRST TIME SERVICING
Frequently asked questions
What if I have a complex repair of equipment?
Our specialist will come to your home, conduct diagnostics and offer solutions to the problem. And only after your consent, the repair will begin.
Do you have customer support?
Our managers will always listen carefully to you and give you initial recommendations on the malfunction of your equipment to determine the cost of repair. Call:
(858) 224-0022
Is the expert's visit free of charge?
If you order a call to the master through our website, you are guaranteed to get a free diagnosis of your device, and detection of breakage.