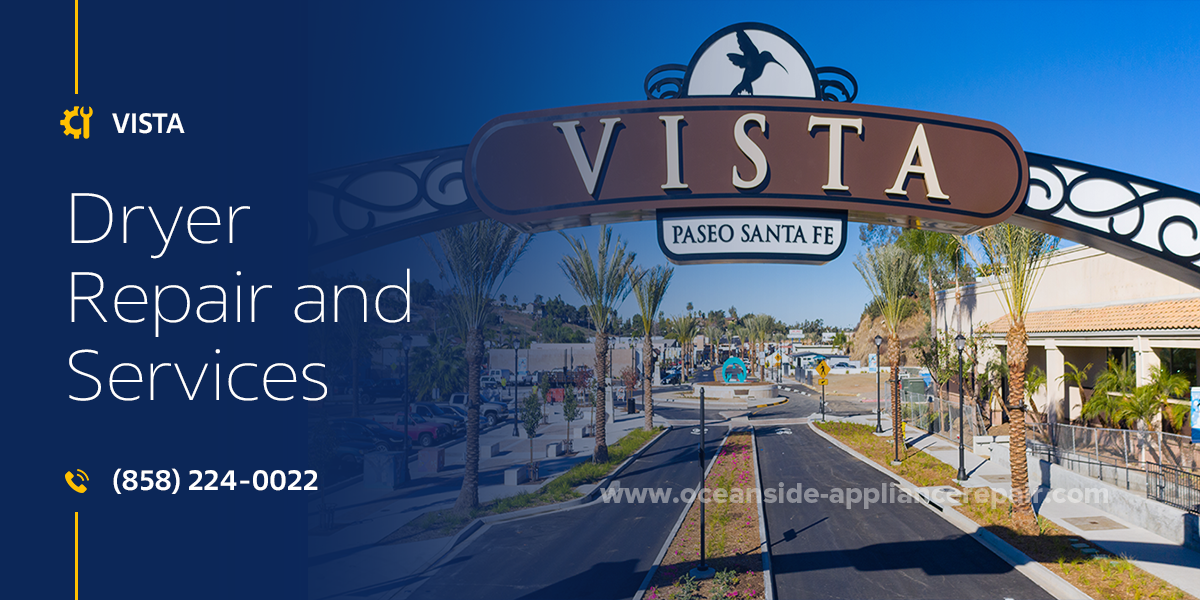 Various electronics aim to make our life more comfortable and help us use time more efficiently. A dryer is a great example. This appliance prevents us from hanging clothes around, waiting long till they dry, and wetting the air in the room. Thus, each owner of a dryer should pay proper attention to the condition of this item. With Oceanside Appliance Repair Service Center, you get the highest-quality services in the shortest terms and at the best price. Our team provides a whole range of Dryer Repair in Vista, CA in the most suitable way for you!
If something is wrong with your dryer, the first step is to clarify how serious is the issue. And to do that, you need to contact qualified specialists. Our team is able to indicate the condition of electronics even without touching them. Thus, we offer you to call us for consultation and diagnostics whenever you have any questions or issues. It is the best way to plan the most effective Vista Dryer Repair for you! This way, we swiftly conclude if there is a need to fix your item and how much it will cost. 
Not to face a situation when the repair is not recommendable or costs too much, don't forget about regular maintenance. Without proper care, a dryer can soon start working worse or totally fail. The same happens if you ignore minor issues. Each detail matters for the smooth functioning of a whole unit. Thus, do not delay calling us if notice any changes. Below, you can see a list of the most common troubles that happen to dryers.
The appliance does not heat.

The drum is not spinning.

The item is creating weird noises while working, like knocking, thumping, buzzing, rumbling, humming, grinding, gurgling, clicking, squealing, vibrating, etc.

For gas dryers – failed gas supply or ignition control.

The tub is uncentred, misplaced, or cracked.

Burned-out lamps or LED indicators.

The indicator goes red, indicating a problem.

The information screen or control board shows an error or is not working.

The controllers and timers do not respond or function incorrectly.

Failed software.

Buttons, knobs, switches, fan blades, baffles, drum support rollers, leveling feet, wires, belts, glides, handles, start switches, or other details require replacement.

The item was installed wrong.

The body of the heater gets extremely hot while it is on.

The item produces a burning, gas, or electrical smell.

You cannot close or open the door.

The door glass is cracked, or joints, springs, hinges, joints, latches, interlocks, hooks, or lid switches are deformed.

Clothes remain wet, get unevenly dry, or become damaged after drying.

The appliance shuts off itself or does not turn on.

The drying cycle does not start, takes too long, stops without completing, or runs non-stop.

Troubles with electricity supply.

Faulty hardware (thermal resistor, cycling/high-limit thermostat, heating element, motor, timer, blower wheel, start/circuit breaker, etc.).

The tube smells filthy and makes the clothes smell bad too.

Dirty and obstructed pipes, hoses, moisture sensor strips, ducting systems, lint filters, or exhaust vents require cleaning.
Those and other issues disappear quickly after we arrive. There is no such trouble that our team could not deal with. If we do not recommend you our services, it means that the dryer is beyond repair, or it is not cost-effective. Our Dryer Repair in Vista, CA is only high-quality and efficient. Outstanding skills and brilliant knowledge of our team let us fluently make all commercial and household dryers back to normal. 
Regardless of the brand, model, cost, or oldness of your item, we cope with anything. Our specialists have always up-to-date and top-level qualifications, as they have regular training and licensing. You can confidently trust even luxury and the latest units to us! Our specialists know everything about dryers, their construction, and their functioning. 
Thus, they find the best solution and approach in any case. For each item, we pick perfectly fitting details, as it is essential for durable and efficient results.
Taking top-rank components, materials, and tools, we ensure the highest quality of each procedure. Our team conducts each Vista Dryer Repair and Service precisely and neatly. And not to let you worry about the result, we provide a long-term guarantee for each order. It is 1 year for spare parts and 90 days for our labor. We are in charge of our actions and our clients do not hesitate our reliability!
For over 20 years, we provide many people with the best Dryer Repair in Vista, CA. And after picking us for this mission, they trust other appliances to us too! Our friendly team offers the most suitable conditions for everyone. Thus, our customers get the best results and confidently recommend us to friends. You can see their honest opinion on our Google page, where we have tons of 5-star reviews from satisfied customers.
Flawless quality is a determinative feature of a decent service provider, but not the only one. A responsible and client-focused company never makes you wait long to get a result. Applying to us, you get the best Vista Dryer Repair the same day you apply! We are flexible about timing, so you can pick any suitable moment. It includes emergencies during days off and after hours. In such situations, we immediately rush to your place and arrive swiftly, as have a convenient location and perfect logistics. An urgent arrival costs a bit more but means an instant reaction 24/7.
And even in this case, the price of our work is the most affordable. We offer the best cost for each Dryer Repair in Vista, CA. You know what you pay for, and it is never any senseless or irrational services. We do not offer to fix your unit if it is not cost-effective. With us, you do not waste money in vain, but pay for the best result. Additionally, we have special offers, which make our rates even more favorable. They mean 15% off for returning clients, $30 off for veterans and seniors, and $25 off for booking online.
Since 2001, Oceanside Appliance Repair Service Center offers the best solutions for installing, maintaining, and fixing electronics. Our team consists of top-level professionals with the greatest qualification levels. They fluently deal with tasks of any complexity. Thus, we offer the most effective and swift Vista Dryer Repair and Service! Just call us or fill in the contact form on our website to get the highest quality result at the fairest price.
Our specialist carries out repairs, works carefully in the process, so as not to leave behind any traces of equipment repairs, and not to spoil the appearance. After the repair is completed, our company will back it up with a 90-day labor warranty. If you encounter the same problem during the warranty period, rest assured we will return to get an appliance back up to perfectly working condition.
$30 OFF ON FIRST TIME SERVICING
Frequently asked questions
What if I have a complex repair of equipment?
Our specialist will come to your home, conduct diagnostics and offer solutions to the problem. And only after your consent, the repair will begin.
Do you have customer support?
Our managers will always listen carefully to you and give you initial recommendations on the malfunction of your equipment to determine the cost of repair. Call:
(858) 224-0022
Is the expert's visit free of charge?
If you order a call to the master through our website, you are guaranteed to get a free diagnosis of your device, and detection of breakage.