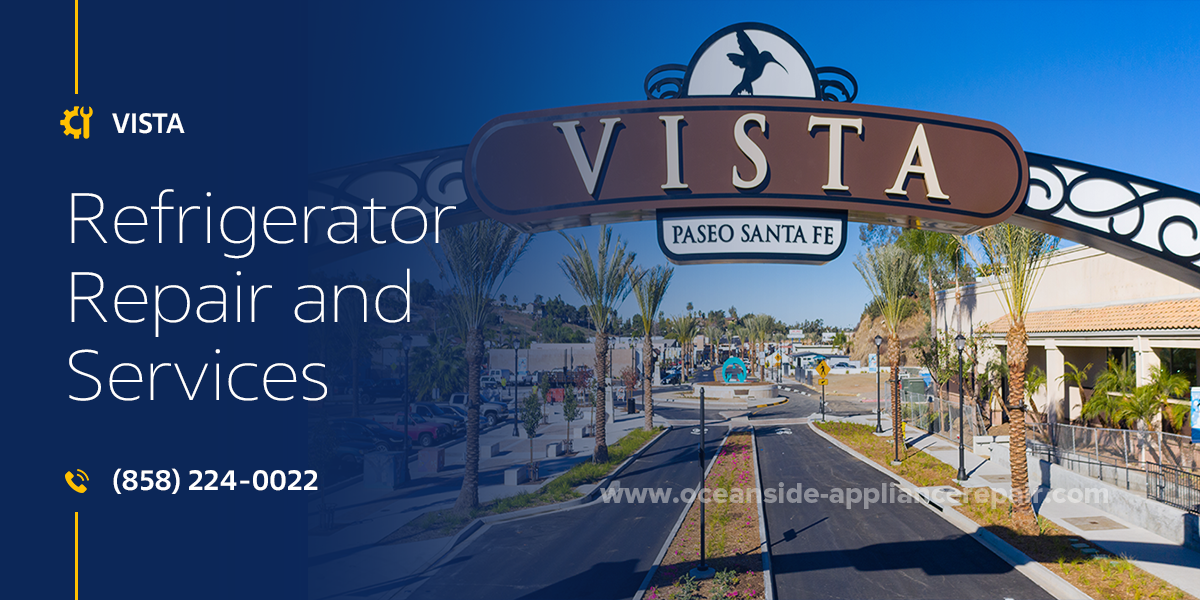 Refrigerator Repair in Vista
And here comes the moment when you think that your fridge needs help. Better if the talk is about regular maintenance. And if the item is broken, you can still get a swift and effective solution. Just apply to Oceanside Appliance Repair Service Center! Our company provides the best services at the shortest terms and the most affordable prices. Your appliance serves you smoothly for a long if you apply for Refrigerator Repair in Vista, CA to us!
When your fridge is out of order, there should be no delay in fixing it. And it never happens with us that you have to wait long. A rare Vista Refrigerator Repair takes us longer than a day to complete. 
Our fluent and responsible team arrives and completes your task in the quickest way. The best management and location let us be available at any moment and spend time wisely. You can also rely on us if your case is urgent. The specialist sets off to your address immediately for a small additional payment at any moment of day and night.
Timing is one of those aspects we are flexible at. We also can adjust to any budget and offer the most favorable price personally for you. Our company is always informing you about the condition of your unit and the real expenses of its fixing. Thus, our Refrigerator Repair in Vista, CA is always fair-priced and cost-effective. We do not recommend services that are too costly or senseless. Plus, our regular customers get a 15% discount. For online booking, the price is $25 less and for veterans and seniors, it is $30 off.
Surely, suitable time and price are pleasant, but the quality is the main priority. And our team successfully offers the best in all of those due to outstanding proficiency. Our technicians provide the greatest Vista Refrigerator Repair and Service for over 20 years so far. There is nothing they cannot deal with. 
Our specialists know the subtleties of fridges of all brands and models, including luxury and the latest ones. Their qualifications have solid proof: licenses from the best manufacturers. The highest quality and durability are obligatory features of our work.
It all may sound too good, but you have to reason to doubt. We solidify each Refrigerator Repair in Vista, CA we conduct with a 1-year guarantee for details. There is also a 90-day one for labor. We are in charge of our actions and never doubt that can reanimate any commercial and household item. 
Thus, we constantly develop and carefully select the best working materials. Our technicians use top-quality equipment and materials, which helps proceed with all the tasks maximum neat and precise. 
One of the most frequent procedures is the replacement of certain details. We use only the best original parts of their alternatives to ensure the smooth and durable performance of your fridge. To clarify quickly what the needed solution is in your situation, you can get a free consultation and remote diagnostic. This way, you can consult on any issues with appliances or arrange the most suitable Vista Refrigerator Repair for you. 
Our specialists understand the problem and the proper solution in counted minutes. You only need to let us know what makes you worry. The most widespread troubles with fridges are…

It ran out of refrigerating liquid.

The refrigerant or water is leaking, dripping, or condensing inside or under the unit.

The ice maker, freezer, or water dispenser malfunctions.

The door hinges, springs, joints, latches, interlocks, lid switches, or gaskets are damaged, so you cannot close, open, or latch the door.

Body/door surfaces or shelves are cracked.

The temperature in the fridge is too high or too low and you cannot change it.

The control module fails and requires recalibration.

Buttons, knobs, switches, or touchpads have a loose connection, work wrong or do not respond, are damaged, or are lost.

The screen shows an error, incorrect information, or is blank.

The light indicator goes red, is flickering, or does not glow at all.

Faulty hardware (control relay, expansion device, condenser coils or tan, evaporator coils or tan, defrost heater or timer, temperature controls, compressor, etc.).

The inner walls have got a layer of snow or ice on them.

The item stopped freezing.

You cannot turn the refrigerator on or off, or it goes on and off repeatedly.

Handles, controllers, belts, bearings, leveling feet, fan blades, baffles, or other details are worn off or lost.

Spoiled wiring causes troubles with the electricity supply.

The item is humming, squealing, buzzing, grinding, thumping, gurgling, ticking, knocking, or making other weird sounds or vibrations.
We have resolved these and other issues perfectly many times and gained the trust of numerous clients since 2001. As a customer, you are looking for minimum stress and maximum effectiveness. And that is about each Refrigerator Repair in Vista, CA we provide. The best proof of that is the opinion of our clients, which they often share on our Google page. 
They are always satisfied with our attitude and the results of our work. The most significant indicator of our reliability is the fact that our customers apply to us again and recommend us to friends.
Your fridge has an important mission, so deserves to get proper attention and care. With Oceanside Appliance Repair Service Center, you will never worry about having any issues with it. The team of real professionals provides you with the most effective procedures whenever needed and at the fairest price. We offer the best Vista Refrigerator Repair and Service in the most comfortable conditions for you!
Our specialist carries out repairs, works carefully in the process, so as not to leave behind any traces of equipment repairs, and not to spoil the appearance. After the repair is completed, our company will back it up with a 90-day labor warranty. If you encounter the same problem during the warranty period, rest assured we will return to get an appliance back up to perfectly working condition.
$30 OFF ON FIRST TIME SERVICING
Frequently asked questions
What if I have a complex repair of equipment?
Our specialist will come to your home, conduct diagnostics and offer solutions to the problem. And only after your consent, the repair will begin.
Do you have customer support?
Our managers will always listen carefully to you and give you initial recommendations on the malfunction of your equipment to determine the cost of repair. Call:
(858) 224-0022
Is the expert's visit free of charge?
If you order a call to the master through our website, you are guaranteed to get a free diagnosis of your device, and detection of breakage.