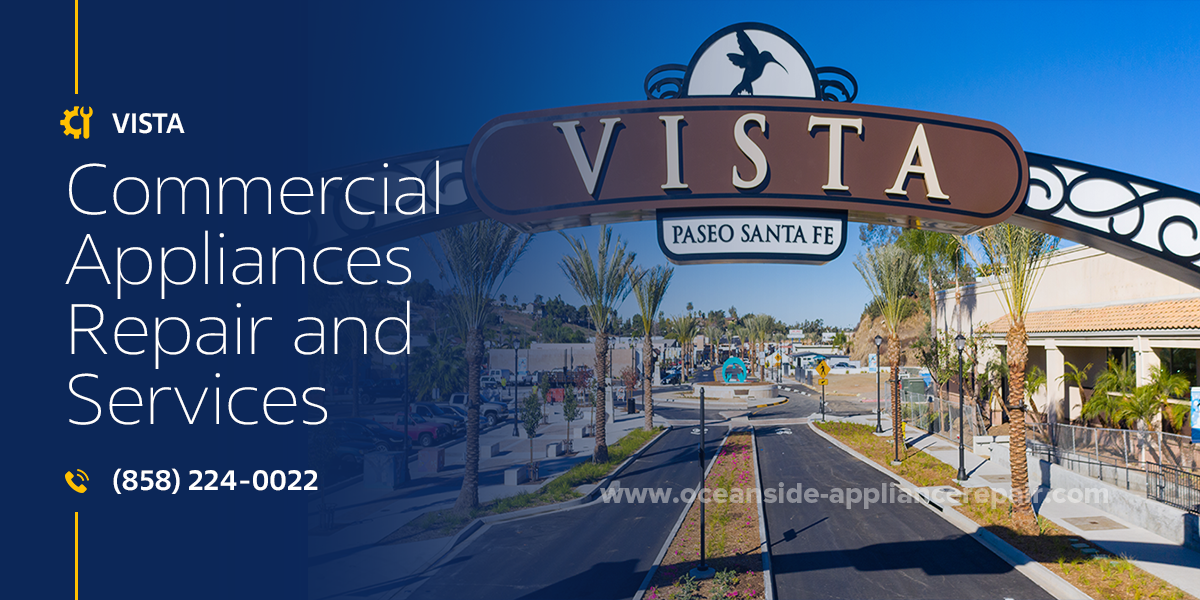 Commercial Appliances Repairs in Vista
Surely, it is not acceptable not to care properly about the condition of electronics at any workplace. As an owner, manager, or worker, you have many tasks, so checking the electronics regularly may bother your obligations. Thus, it often happens that some item fails unexpectedly. You can delegate maintenance and timely fixing of your appliances to the Oceanside Appliance Repair Service Center. Our responsible and proficient team resolves issues of any complexity swiftly. With us, you get the quickest top-quality Commercial Appliances Repair in Vista, CA at the fairest price.
Signing a long-term contract with us is an option that makes you never worry about your units. We have other ways of cooperation too and pick the most suitable for you personally. We offer the most comfortable conditions for the most effective results. Our prices for Vista Commercial Appliances Repair are reasonable and affordable for everyone. You always know what you do, and we offer only cost-effective solutions. And we are always honest about the condition of your unit and how much it costs to fix it. 
You can find out an approximate price of the needed work beforehand. We can announce it after remote diagnostics, which helps to find the best solution. Just call us and tell us what is wrong with the behavior of your electronics. You can also request a free consultation and get any needed information about our Commercial Appliances Repair in Vista, CA. Our friendly staff answers any of your questions and helps find the proper way out. We honestly tell you if it happens that the only solution is a replacement. In some other cases, we can help you with a few simple costless instructions.
After you apply, we make any issues vanish in the quickest way. Our organized team spends minimum time on any Vista Commercial Appliances Repair and Service. In over 90% of orders, it takes less than a single day to complete your task. We also offer an urgent arrival during days off and after hours for a small extra payment. In such a case, our technician (or several) sets off within 15 minutes! We understand the importance of electronics for each business and company, so never make you have a long downtime!
We offer the best price and highest speed without sacrificing the quality. Offering the most durable and efficient Commercial Appliances Repair in Vista, CA is our main rule. Our team consists of the most skilled technicians with over 20 years of experience in all types of electronics repairs. They know all the subtleties of commercial and household items of all types, brands, and models. You can expect the best result if entrust to us yours…

Refrigerators.

Freezers.

Stoves.

Ovens.

Cooktops.

Ranges.

Dishwashers.

Washing machines.

Dryers.

Microwaves.

Air conditioners and climate control systems.

Humidifiers.

Thermometers.

Scales.

Vacuum cleaners.

Office equipment.

Wine Coolers.

Ice Makers.

Hoods, or any other units.



We make any aitem run like a brand-new one regardless of the complexity of the issue. Our team serves effectively even luxury and the latest appliances! They are highly qualified, have regular training, and get licenses proving their proficiency.
We provide each Vista Commercial Appliances Repair in the neatest, most fluent, and most accurate way. Besides the outstanding craftsmanship of our team, they have the best equipment, tools, and materials. We also stock numerous original and alternative details to pick perfectly suitable for each appliance. Altogether, it ensures the highest quality of all procedures. We solidify everything we do with a 1-year guarantee for details and a 90-day one for our labor.
Applying to us for Commercial Appliances Repair in Vista, CA, you pick the most trustworthy service provider. Our reliability is proven with time and an ever-growing number of happy clients. They get the best result and never regret that trust their electronics to us. They recommend us to others and post numerous positive reviews on the net. You can see their honest opinion on our Google page.
If you are looking for the best Vista Commercial Appliances Repair and Service, just contact us! Our team offers the highest quality, the most favorable prices, and the highest speed for each order. Since 2001, we keep getting better daily to be maximum useful for each client. Oceanside Appliance Repair Service Center arranges the most effective solution in the most suitable way for you. For that, just call us or place an online application on our website!
Our specialist carries out repairs, works carefully in the process, so as not to leave behind any traces of equipment repairs, and not to spoil the appearance. After the repair is completed, our company will back it up with a 90-day labor warranty. If you encounter the same problem during the warranty period, rest assured we will return to get an appliance back up to perfectly working condition.
$30 OFF ON FIRST TIME SERVICING
Frequently asked questions
What if I have a complex repair of equipment?
Our specialist will come to your home, conduct diagnostics and offer solutions to the problem. And only after your consent, the repair will begin.
Do you have customer support?
Our managers will always listen carefully to you and give you initial recommendations on the malfunction of your equipment to determine the cost of repair. Call:
(858) 224-0022
Is the expert's visit free of charge?
If you order a call to the master through our website, you are guaranteed to get a free diagnosis of your device, and detection of breakage.