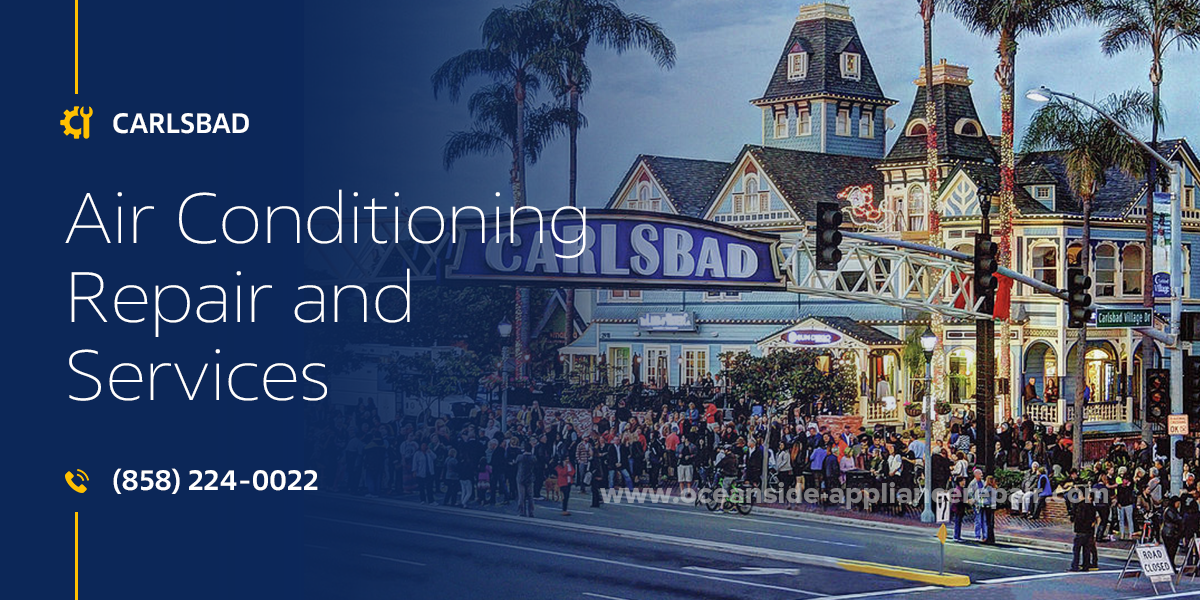 Air Conditioning Repair in Carlsbad
Almost every modern flat, house, office, mall, and other place has air conditioning there. It has a great beneficial impact on your well-being and productivity. To have this item always in perfect condition, you can anytime apply to Oceanside Appliance Repair Service Center. Our team installs, maintains, and fixes conditioners for over 20 years so far. We offer the highest quality solutions in the shortest terms and at the most favorable prices. Our clients always get the best Air Conditioning Repair in Carlsbad, CA!
And first of all, we mean the reliability of each Carlsbad Air Conditioning Repair we conduct. With amazing skills and knowledge, our specialists deal with tasks of any complexity. Their qualification is rising all the time, as they regularly have training and never stop developing. Thus, our team has licenses for coping even with luxury and the latest items. No matter what the brand or model of your AC is, we always know what to do. Each procedure by our professionals has flawless quality!
To conduct any Air Conditioning Repair in Carlsbad, CA tidily and accurately, we also use the best equipment. With the proper tool and materials, we fluently make any breakage vanish. Plus, we carefully pick perfectly fitting details for each unit. As we stock a vast variety of original spare parts and their analogs, we have a match for any AC. Therefore, we make your appliance perform like a brand-new one for a long without tottering, squealing, or other unpleasant things. And we back up the results of our work with 1-year detail guarantee and a 90-day one for our labor.
We provide you with the best Carlsbad Air Conditioning Repair and Service in the shortest terms. You just tell us when you want us to come, and we will be near your door on time. Outstanding proficiency, great organization, and responsibility are the reasons why we deal with any issues in the quickest way. 
Over 90% of orders take less than a day to finish. With us, you never have your AC down for a long! Our specialist leaves the office immediately if your situation is urgent. This option is available during days off and after hours too for a small additional payment.
You always know what you pay for, and this price is the fairest. We have the most reasonable rates for any Air Conditioning Repair in Carlsbad, CA. Our company prefers making more people comfortable and happy for picking us than overcharging and tricking a few. Our clients also get a $25 discount for online booking and pay 15% less when apply to us again. For veterans and seniors, the cost of work is $30 lower. We adjust to any budget and set the most affordable prices.
You can get a free consultation and ask anything about your AC or cooperation with us. We find the best solution in any case. Often, we recommend remote diagnostics to find out beforehand the reason for the breakage and the approximate cost of its solution. It helps us plan the most effective Carlsbad Air Conditioning Repair personally for you. 
But if your item is beyond repair, or the needed work is not cost-effective, we immediately let you know. Our team provides only efficient and rational solutions. In some cases, it may appear that we just give you a few simple instructions.
To clarify the situation swiftly just tell us what makes you worry. Here is the list of the most common troubles that may happen to your AC.

Missing or leaking refrigerant.

Some of the details are damaged, worn off, or lost, and require replacement (registers, safety switches, contactors, fan blades, baffles, blower belts, thermostat batteries, bearings, ductwork, wires, plugs, controllers, power switch, etc.).

The fan in the outdoor unit is not turning or is blocked with sticks, leaves, or dirt.

The appliance cannot cool or heat.

It changes the temperature in the room too slowly, too weakly, or unevenly.

You cannot turn the AC on or off.

The item goes on and off repeatedly, runs non-stop, or shuts off itself.

The air is not going out of the registers, or the airflow is weak.

You cannot set the needed temperature or mode.

The controllers function wrong, or the item does not react to remote control commands.

The display board or information screen shows an error or is not glowing.

The indicator is red, goes on and off, or does not shine.

The control board, compressor, condenser, condensate pump, relay switch, thermostat, thermometer, fuse, start capacitor, motor, fan, or other hardware components are out of order.

The AC produces a burning or electrical smell.

The moisture is condensing inside or under the appliance or water is dripping from the unit.

The item gives out humid air or makes it smell filthy.

The appliance is grinding, humming, buzzing, popping, pinging, rattling, knocking, squealing, squeaking, hooting, vibrating, or making other weird noises.

It was installed improperly.

Troubles with the electricity supply due to damaged wiring.

Obstructed or dirty coils, condensate pump reservoirs, condenser drainpipes, filters, or evaporators.
We eliminate any of those or other troubles in household and commercial conditioners fluently and easily!
The comfort and trust of our clients are our main goals and motivators for tireless development. Thus, we provide flawless Air Conditioning Repair in Carlsbad, CA according to all your requirements. Our customers return to us with other tasks and entrust all their electronics to our reliable hands. They recommend us to friends as a trustworthy provider of top-quality services. And they also share this opinion in numerous positive reviews on our Google page.
With Oceanside Appliance Repair Service Center, you never stress about issues with your air conditioner, as we make them vanish. Our team is the friendliest, the most proficient, and responsible. This, we conduct top-quality Carlsbad Air Conditioner Repair and Service in the best way. To get your item back to normal swiftly, just call us or place an online application. We provide you with the most effective professional assistance at the most reasonable price.
Our specialist carries out repairs, works carefully in the process, so as not to leave behind any traces of equipment repairs, and not to spoil the appearance. After the repair is completed, our company will back it up with a 90-day labor warranty. If you encounter the same problem during the warranty period, rest assured we will return to get an appliance back up to perfectly working condition.
$30 OFF ON FIRST TIME SERVICING
Frequently asked questions
What if I have a complex repair of equipment?
Our specialist will come to your home, conduct diagnostics and offer solutions to the problem. And only after your consent, the repair will begin.
Do you have customer support?
Our managers will always listen carefully to you and give you initial recommendations on the malfunction of your equipment to determine the cost of repair. Call:
(858) 224-0022
Is the expert's visit free of charge?
If you order a call to the master through our website, you are guaranteed to get a free diagnosis of your device, and detection of breakage.