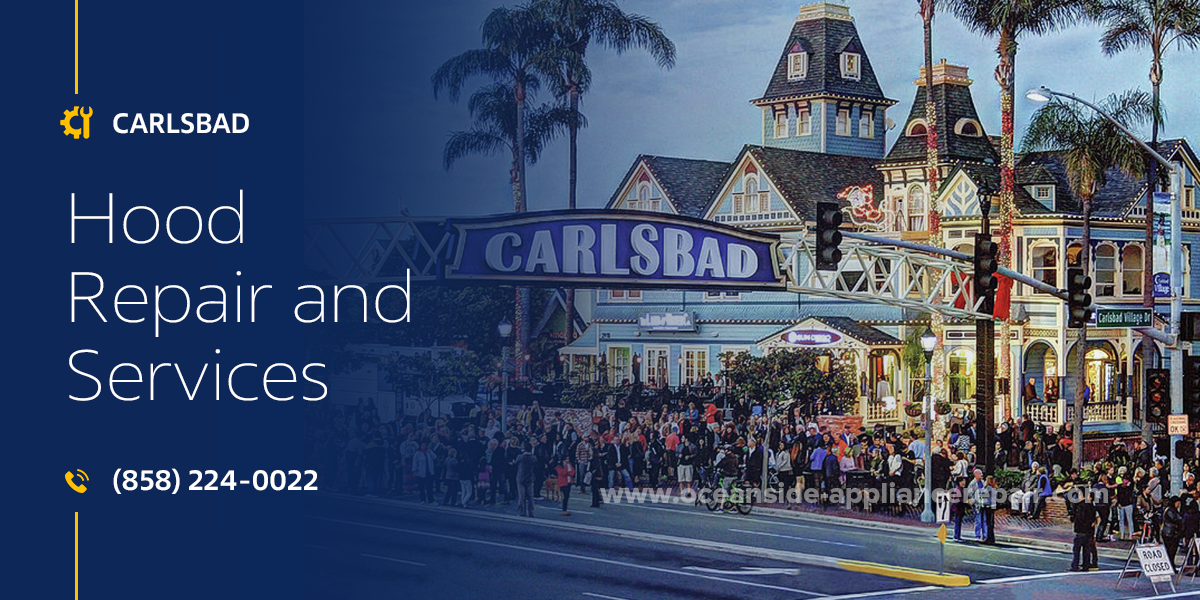 Once it happened that you are looking for the best Hood Repair in Carlsbad, CA, pick the most reliable company. If you entrust the installation, fixing, or maintenance of this appliance to professionals, it will serve perfectly for a long. And for any of those tasks, there is no better option than applying to Oceanside Appliance Repair Service Center. We provide top-quality solutions for issues of any complexity for over 20 years so far. With us, you get a solid and durable result in the shortest terms and at the most reasonable price.
Having vast experience, we always know what to do. Our specialists even do not need to touch your hood to understand what is wrong with it. Thus, we offer remote diagnostics to make things clear and plan effective Carlsbad Hood Repair in minutes. Explain to us what makes you worry, and we swiftly find the solution. The most common troubles you may face with your hood are…
The appliance does not absorb smoke, moisture, steam, or smells.

It was installed improperly.

The controllers (keys, buttons, knobs, switchers, touchpads) do not respond.

The display board/screen is not working.

The main control board, driver, fan, or blower motor failed.

The downdraft does not go up, stay up, or shift down.

Worn off, damaged, or lost details, like fan blades, controllers, wiring, light assembly, switches, blower wheel, ducting system, motor shaft bearings, grates, etc.

The lamps or indicators are flickering or not glowing.

The item gives out a foul odor or humid air.

While the hood is on, it produces a burning or electrical smell.

The hood is grinding, gurgling, humming, buzzing, squealing, hooting, vibrating, or making other loud or unusual noises.

The airflow is too weak or missing.

Moisture is accumulating on the hood or under it.

The grate, filters, or ventilation is obstructed with debris or dust.

You cannot turn the hood on or off, it goes on and off repeatedly or shuts off abruptly.
We cope easily with any of those and other issues. In some cases, we can just provide you with simple instructions, when the solution is simple. But never try to fix it yourself, as you can make things worse this way. Contact us whenever you have any questions, as consultations are free, and we are always ready to assist you. 
Your comfort means much to us. Thus, we are always honest with you and do not offer useless solutions. When the hood is beyond repair or it is not cost-effective, we explain why the replacement is the best option. That happens rarely, but we are clear in any case. 
Getting any Hood Repair in Carlsbad, CA from us, you know what you pay for. We report all the expenses, and you see brilliant results of our work. The rates for our services are the most affordable and pleasant, as we never overcharge or trick you. Plus, we have discounts for our dear clients. They are $25 for online booking, 15% for returning customers, and $30 for veterans and seniors. We offer the fairest prices and adjust to any budget.
Another thing we are flexible about is timing. Our team arrives at your place at any moment you pick. In over 90% of cases, we reanimate your hood the same day you apply. Our local department in your area is open 24/7 and our team is perfectly organized. Thus, we never waste time! We also are anytime ready to rush to your place immediately for urgent Carlsbad Hood Repair and Service. It costs slightly more but ensures the swiftest solution even during non-working days and hours. You can rely on us at any moment.
Fluent and swift completion of any task is the result of our proficiency and responsibility. The outstanding skills and knowledge of our technicians are developing all the time. They have licenses for dealing with hoods of all brands and models, including luxury and the latest ones. Our team finds the best approach to any commercial and household unit. No matter how complex is the issue, we provide you with the highest-quality Hood Repair in Carlsbad, CA. 
To make our work even more precise and tidy, we use only the best professional tools, equipment, and materials. It means also original and top-rank alternative spare parts. Picking perfectly matching ones for each unit ensures smooth and long performance for your hood. We back up the reliability and quality of our Carlsbad Hood Repair with a long-term warranty. For our labor it is 90 days, and for the details – 1 year. We are in charge of what we do and say!
Guarantees are a good indicator of a trustworthy company. But we believe that the opinion of customers is an even better one. Our clients rate our Hood Repair in Carlsbad, CA with 5 stars. You can see it in tons of positive reviews on the net. They entrust other electronics to us too, as they get flawless results, a friendly attitude, and comfortable conditions. Seeing our clients happy is the greatest appraisal for us!
With Oceanside Appliance Repair Service Center, you never have to worry about the condition of your hood. Our team knows how to care for and fix it in the most efficient way. And it is easy and stressless for you, as we complete any tasks quickly and at the most favorable price. At any moment when you need a reliable and top-quality Carlsbad Hood Repair and Service, just contact us. Our friendly and proficient team eliminates any issues and makes your item perform like a brand-new one again!
Our specialist carries out repairs, works carefully in the process, so as not to leave behind any traces of equipment repairs, and not to spoil the appearance. After the repair is completed, our company will back it up with a 90-day labor warranty. If you encounter the same problem during the warranty period, rest assured we will return to get an appliance back up to perfectly working condition.
$30 OFF ON FIRST TIME SERVICING
Frequently asked questions
What if I have a complex repair of equipment?
Our specialist will come to your home, conduct diagnostics and offer solutions to the problem. And only after your consent, the repair will begin.
Do you have customer support?
Our managers will always listen carefully to you and give you initial recommendations on the malfunction of your equipment to determine the cost of repair. Call:
(858) 224-0022
Is the expert's visit free of charge?
If you order a call to the master through our website, you are guaranteed to get a free diagnosis of your device, and detection of breakage.