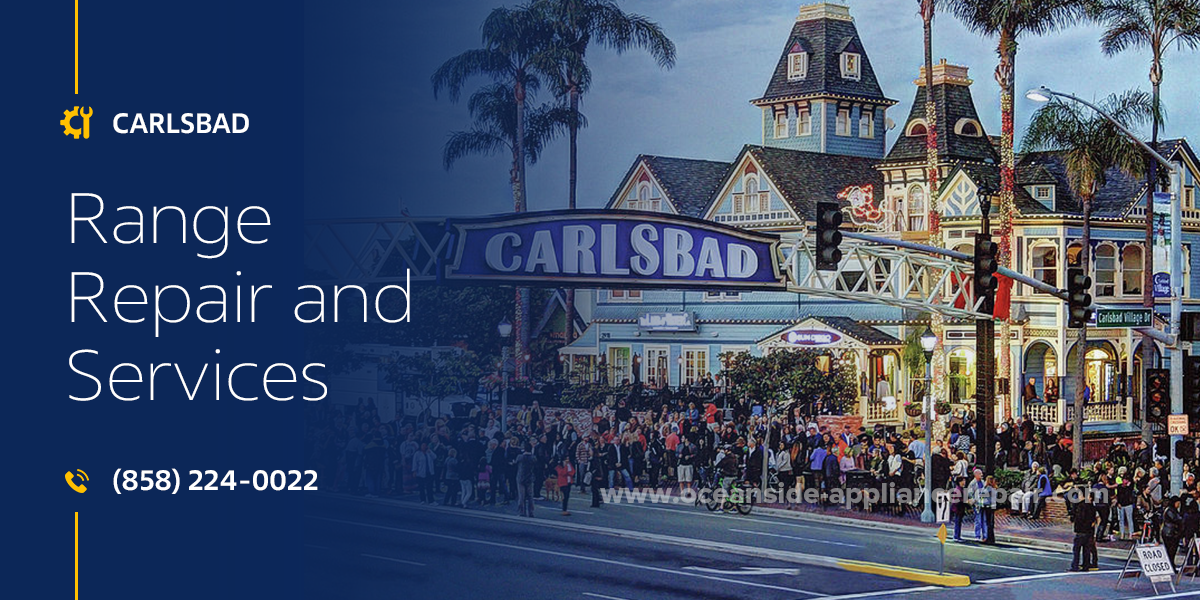 What is your first thought when you notice that your electronics work wrong? It should be about Oceanside Appliance Repair Service Center, as we make such situations back to normal effectively. It is especially important when the failed item is a range. This unit can be dangerous because it deals with gas and high temperatures. Our experienced and insured team resolves any issues in a swift and safe way. We provide the most high-quality and reliable Range Repair in Carlsbad, CA at the fairest price.
Some situations may require an urgent solution, like if you notice a gas leakage. Our team is always ready to react to your request. In such cases, the specialist sets off within 15 minutes. An emergent arrival costs slightly more and is available at any moment of day and night. Over 90% of regular orders take us less than a day to complete. We provide the quickest Carlsbad Range Repair due to our professionalism and organization. We are always close to you and eliminate any troubles sooner than they cause inconvenience to you.
Sometimes you may need advice. When you are not sure what is wrong with your range or how to care for it, we gladly help. Calling us for a free consultation or remote diagnostic, you get any needed information swiftly. Our specialists find the reason for a malfunction even without touching your appliance. It means that we can find a way out and announce its approximate cost during a swift phone call. The last step is to arrange the best Range Repair in Carlsbad, CA when it is suitable for you.
But if we detect that the appliance is beyond repair, we do not recommend useless services to you. Our aim is to make you feel comfortable working with us and using your electronics. Thus, we recommend only efficient and rational solutions. 
You may face issues of different complexity with your range. And our team has resolved any of them many times in over 20 years of experience in this field. The most common troubles that happen to ranges are…

Troubles with ignition and flame
The burners are hissing or clicking.

The flame is flickering, arcing, or sparkling.

Failed pilot light.

Damaged igniter or gas valve.

Disrupted gas supply.

Wrong color of flame (red, yellow, orange).

The flame goes off on its own.
Troubles with heating elements
Induction elements work wrong, as damaged surface causes sensors to flip.

Electrical coils have a loose connection.

Burners, coils, tans, bake elements, broiler elements, grills, or other heating components do not heat.

They produce too little or too much heat/flame and you cannot adjust it.
Maintenance issues
Clogged gas lines, gas ports, ventilation, or convention fan.

Incorrect installation.
Damaged components
Burned-out lamps or indicators.

Worn off wires, isolation, seals, gaskets, belts, or leveling feet.

Warped or spoiled door springs, joints, latches, springs, interlocks, hinges, or lid switches.

Deformed drawer mechanisms.

Lost or broken buttons, knobs, switches, keys, handles, plugs, grates, burner caps, fan blades, baffles, etc.

Cracked door glass or body surface.

Timers, thermostats, convention fans, fan motors, or other parts are out of order.
Wrong functioning
Weird noises (humming, buzzing, vibrating, gurgling, grinding, thumping, squealing, etc.).

Uneven or too long cooking.

The appliance shuts off itself or cannot turn on.

The controllers do not respond or work incorrectly.

You cannot see or change any settings.

Failed display board or information screen.

The control panel required recalibration.

Electrical, burning, or gas smells.
With the outstanding proficiency of our team, any of those and other problems vanish in no time! We reanimate any commercial and household ranges, regardless of their type, brand, and model. Our technicians have the highest qualification levels, which always means the highest quality of work. 
To conduct the best Carlsbad Range Repair and Service in any case, they always keep developing. Thus, our team has licenses for serving even luxury and the latest items. To make you confident in it too, we provide our work with guarantees. It backs up our labor for 90 days and the details we use – for 1 year. 
The spare parts and equipment play a significant role in any repair. Thus, we use only the best ones. With proper professional tools and materials, we make each Range Repair in Carlsbad, CA dustless, accurate, and tidy. For any procedure, appliance, and budget, we pick a perfect match!
We believe that the failure of your appliance is already a stress. And we do not want you to feel even more uncomfortable. Thus, we do not cheat or overcharge you. Our clients get a full report of the expenses on their orders. It means that with us you get the most affordable and reasonably priced Carlsbad Range Repair. The returning clients also have a 15% discount for their next applications. For booking online, you pay $25 less. And for veterans and seniors, the price of our work is $30 lower.
Our friendly and responsible attitude makes it pleasant for you to apply to us. As our clients get the best results in the most comfortable conditions, they are happy with such a choice. They recommend our Range Repair in Carlsbad, CA to other people too, which is a great appraisal for us! We are also happy to see a huge number of positive comments that our customers leave on the net. Their trust is the best motivation to become even better daily. 
We know what our clients want. And we do it in the best way! Since 2001, Oceanside Appliance Repair Service Center offers high-quality, quick, and cost-effective solutions. Regardless of the situation, we easily make your range run like a clock again. To get the most effective and reliable Carlsbad Range Repair and Service, just contact us. With us, you quickly forget what the troubles with electronics are!
Our specialist carries out repairs, works carefully in the process, so as not to leave behind any traces of equipment repairs, and not to spoil the appearance. After the repair is completed, our company will back it up with a 90-day labor warranty. If you encounter the same problem during the warranty period, rest assured we will return to get an appliance back up to perfectly working condition.
$30 OFF ON FIRST TIME SERVICING
Frequently asked questions
What if I have a complex repair of equipment?
Our specialist will come to your home, conduct diagnostics and offer solutions to the problem. And only after your consent, the repair will begin.
Do you have customer support?
Our managers will always listen carefully to you and give you initial recommendations on the malfunction of your equipment to determine the cost of repair. Call:
(858) 224-0022
Is the expert's visit free of charge?
If you order a call to the master through our website, you are guaranteed to get a free diagnosis of your device, and detection of breakage.