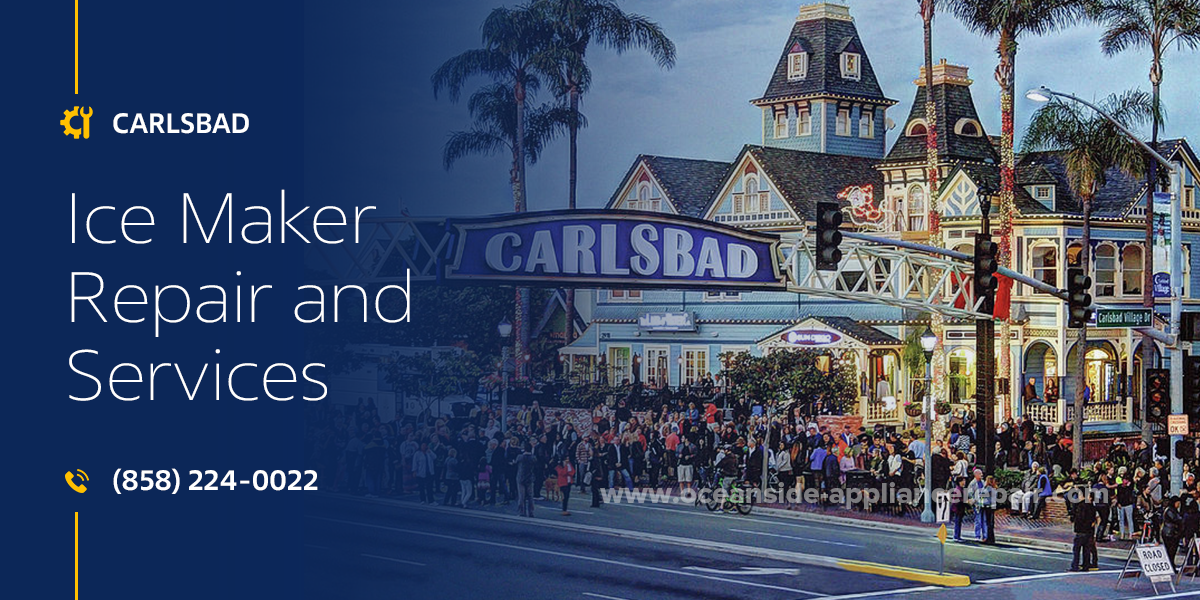 Ice Maker Repair in Carlsbad
Oceanside Appliance Repair Service Center cares for the stable functioning of your electronics since 2001. You can be sure that your failed ice maker gets the best care if you entrust it to us. Our company offers the best results and the most suitable conditions for each situation for over 20 years so far. With us, you get top-quality Ice Maker Repair in Carlsbad, CA in the shortest terms and at the fairest price.
Regardless of the type, brand, and model of your ice maker, we know how to cope with it. Our team of highly qualified, skilled, and competent technicians faces no trouble with fixing and maintaining any ice makers. They have insurance and licenses, which means their ability to provide decent assistance to any appliances. And their development never stops! We serve even luxury, the latest, the oldest, or rare items perfectly. Our Carlsbad Ice Maker Repair is always on the highest quality level!
To be sure of the most effective and durable results, we have not only brilliant proficiency. We also carefully select the best manufacturers of materials, equipment, and details. Picking top-rank ones, we conduct each Ice Maker Repair in Carlsbad, CA tidily and precisely. 
Thus, your unit performs smoothly for a long time! Have any doubts? You do not have to. We provide a long-term guarantee for all our work, as we are in charge of it. It lasts 90 days for our labor and 1 year for the details. We stock various original and alternative spare parts to match each item and wallet.
The financial aspect of any service often makes clients feel stressed. And it is clear, as no one likes spending much money on fixing an appliance which you bought. We aim to make it less stressful for you. Thus, we offer the most affordable Carlsbad Ice Maker Repair and Service. 
We also have a $25 discount for online booking and $30 off for veterans and seniors. Returning clients get a special deal with 15% off. The price of our work is clear, as we report all the expenses. And we do not have any hidden fees. You know beforehand how much approximately the work will cost if get a remote diagnostic first.
Our specialists know everything about ice makers, so they can easily find the problem even during phone talks. Let us know what makes you worry, and we indicate what solution is the best. Mostly, we arrange our arrival after it and conduct proper Ice Maker Repair in Carlsbad, CA swiftly. But in some cases, it may appear that we do not have to arrive. If we can instruct you on a simple way to eliminate an issue, we do it and save you time and money. And if we indicate that the repair is not cost-effective or advisable, we honestly recommend you a replacement.
Often, you can avoid such serious breakages if timely pay attention to the condition of your ice maker. Noticing even the smallest issues, just contact us. The consultation is free, and we are also happy to provide you with any information you need. We share advice about maintenance, help arrange suitable arrival timing, and clarify the situation quickly. Just let us know what issues you have faced. There are many of them and below you can see the list of the most common troubles with ice makers.

The ice does not fall to the ice basket, and you cannot easily eject it.

The cubes are too big, too small, too solid, too soft, have the wrong shape, or are covered with ice mold.

The temperature is too high or too low and you cannot change it.

Troubles with water supply (damaged or dirty water supply valve, filter, water reservoir, water line, or water pump).

The ice tastes or smells bad.

The moisture is condensing underneath the ice maker.

The refrigerating coolant or water is leaking or dripping.

The cubes keep falling into the ice basket when it is already filled up completely.

Dysfunctional components (like sensors, thermostat, ice-cutting mechanism, fan, control panel, control arm, gearbox, compressor, motor, etc.).

The ice maker is not turning on or off or it shuts off abruptly.

It cannot start producing any ice.

The appliance is buzzing, humming, knocking, whistling, squealing, rattling, gurgling, bubbling, vibrating, or making other extrinsic noises.

The controllers do not respond.

The screen/display board is blank or shows an error.

Some of the details require replacement (wires, isolation, plug, power switch, seals, inlet pipes, leveling feet, belts, bearings, baffles, fan blades, screws, flaps, door hinges, springs, joints, or lid switches, buttons, knobs, switchers, connectors, etc.).
Our highly qualified specialists make any of them vanish in the most efficient, dustless, and proficient way.
We aim to be the best for you in everything. And thus, we provide the quickest Carlsbad Ice Maker Repair. We do not want you to feel uncomfortable having your appliance down for a long. That is why we complete an absolute majority of orders within a single day. We also remember that sometimes you may need your ice maker back to normal urgently. Especially if it is an appliance in your cafe or bar, where it has an important role. We serve commercial and household ice makers and can do it urgently when needed. For a small additional payment, the specialist rushes to your place at any moment 24/7.
Our clients have no doubts about our reliability, as we always do our job great! We adjust to any requirements and offer the most comfortable conditions and flawless results. Thus, they recommend our Ice Maker Repair in Carlsbad, CA, and other services to others. Our customers apply to us again to install, maintain, and fix all electronics. And they are always happy with our work, so post tons of positive reviews on our Google page. 
Oceanside Appliance Repair Service Center is more than just a service center. We are friendly, stress-resistant, client-oriented, and proficient. We care for your comfort first, and it determines the approach to each customer and appliance. You get the most effective solution in the shortest terms and never stress about your electronics if apply to us. Just call us or place an online application. This way, you get the best Carlsbad Ice Maker Repair and Service at the most reasonable price!
Our specialist carries out repairs, works carefully in the process, so as not to leave behind any traces of equipment repairs, and not to spoil the appearance. After the repair is completed, our company will back it up with a 90-day labor warranty. If you encounter the same problem during the warranty period, rest assured we will return to get an appliance back up to perfectly working condition.
$30 OFF ON FIRST TIME SERVICING
Frequently asked questions
What if I have a complex repair of equipment?
Our specialist will come to your home, conduct diagnostics and offer solutions to the problem. And only after your consent, the repair will begin.
Do you have customer support?
Our managers will always listen carefully to you and give you initial recommendations on the malfunction of your equipment to determine the cost of repair. Call:
(858) 224-0022
Is the expert's visit free of charge?
If you order a call to the master through our website, you are guaranteed to get a free diagnosis of your device, and detection of breakage.