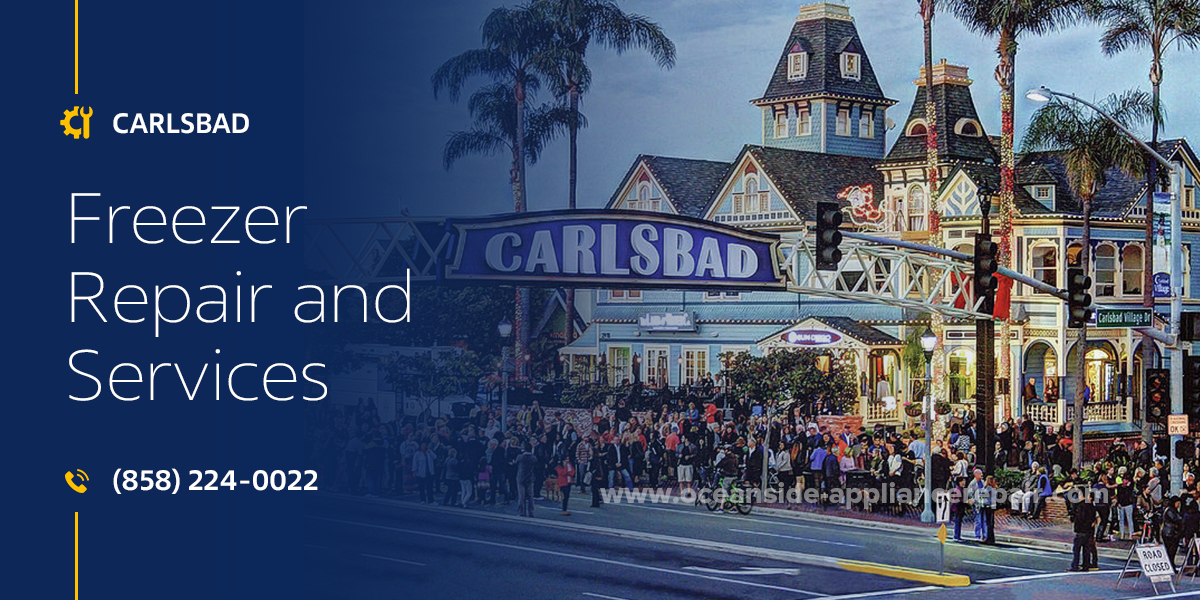 Freezer Repair in Carlsbad
Owing to Thomas Midgley Jr. we have an opportunity to have our food stored unspoiled for months. Since he invented the first modern freezer in the 1930s, people got a longer lifetime for fresh meat and greens. It is very efficient and convenient. But if you have your freezer stuffed and it fails abruptly… No need to explain how bad such a situation is. But it can get back to normal swiftly if you apply to Oceanside Appliance Repair Service Center. We provide the quickest high-quality Freezer Repair in Carlsbad, CA at the most reasonable prices.
You may face different situations with your freezer, but in any of them, you probably want to get the solution soon. And if you apply to us, you will not have to wait for a long time. We complete any Carlsbad Freezer Repair the same day you apply in an absolute majority of orders. We also know that sometimes you need your freezer running normally again right now not to get the products spoiled. So, we also provide urgent arrival for a small additional payment. It means that our technician departs at your address within 15 minutes, even during non-working hours or days off.
The professionalism of our team also matters much for the fluent and swift resolution of any issues. And we have no trouble with it, as our team is highly qualified. Each of our technicians has perfectly refined skills as a result of over 20 years of experience. They know the subtleties of dealing with luxury and the latest items too, as they get regular training and licensing. We conduct the best Freezer Repair in Carlsbad, CA regardless of the brand or model of your item. Our team always provides the highest quality for each procedure they deal with!
And there is nothing we would not resolve. Since 2001, we have reanimated tons of freezers and have faced various breakages in them. The most common troubles that happen to these appliances you can see in the list below.

The defrost drainer, drain pan, or drain tube is choked, which may cause issues with the water supply or leakages.

The refrigerant is dripping, leaking, or missing.

The hardware components are faulty, like defrost timer or heater, icemaker, compressor relay, condenser fan, relay switch, thermostat, compressor motor, evaporator, condenser, fan, coils, vents, overload protector, etc.

The freezer does not defrost automatically.

The item is not freezing, freezes worse, too much, or not evenly.

The appliance is producing the wrong noises, like vibrating, clicking, ticking, buzzing, humming, grinding, gurgling, knocking, bubbling, grinding, thumping, etc.

You notice a burning or electrical smell from the freezer.

The timers, controllers, setting screen, or entire control panels work wrong, do not respond, and do not let you control the item.

The light indicators outside or lamps inside the item are blinking or not shining.

Frost buildup, pieces of ice, or snow-like accumulation cover the evaporative/condenser coils or the freezer from the inside.

The appliance smells filthy inside.

The door is not closing or opening properly (due to bent-out hinges, springs, joints, gaskets, lid switches, or interlocks) so the item loses the cold.

The shelves, door, or body surfaces are damaged.

You cannot turn the freezer on.

The item goes on and off or shuts off abruptly.

Damaged or lost details require replacement (water inlet valve, hose, compressor mounts, handles, screws, bearings, fan blades, baffles, leveling feet, seals, belts, buttons, knobs, switches, keys, wires, fuse, etc.).

Troubles with electricity supply.
Our team makes any of those and other problems vanish in the most accurate and tidiest way.
We solidify our responsibility, quality, and reliability with a long-term guarantee. It covers 90 days for our labor and 1 year for the details we use. We are in charge of what we promise and never doubt offering you the best. The amazing craftsmanship of our team is the main reason for the best Carlsbad Freezer Repair and Service. But we also have picked the best professional materials and equipment. Our technicians select perfect matching details for any unit. Thus, we reach smooth and durable functioning for each appliance.
To find out beforehand what procedures and details are needed for your item, you can get remote diagnostics. By your explanation, we swiftly detect the reason for the breakage, the best solution, and its approximate price. You can also request a free consultation. It helps clarify any information and plan the best Freezer Repair in Carlsbad, CA with us. And in those cases, when we can help you with simple instructions, we kindly do it. Our team offers the most efficient solutions for you, even if they mean that we recommend you a replacement.
The last option happens when the price of work is too high, or the freezer is beyond repair. We offer only cost-effective Carlsbad Freezer Repair. Thus, no senseless services, hidden fees, or overcharging. With us, you pay the fairest money and always know what they go for. If needed, we report all the expenses for your order. Honesty with clients is one of our principal rules. We also have special deals, which make our rates even more pleasant. They mean $25 off for online booking, $30 off for veterans and seniors, and 15% off for returning clients.
It happens often that the clients come back to us. And the reason is that we provide them with the best services, including Freezer Repair in Carlsbad, CA. Being happy for picking us, our customers trust all electronics to our reliable, friendly, and proficient team. Our company got tons of 5-star reviews on the net because we offer comfortable conditions and the best results. We do our best to be useful to our customers and we know that they notice and appreciate it!
Are you looking for the most reliable Carlsbad Freezer Repair and Service? Here it is! We offer the highest quality work the way it is suitable for you. Our prices are the most affordable, and we complete any tasks fluently and swiftly. The local office of Oceanside Appliance Repair Service Center in your area is open round the clock. Thus, we are ready to assist you in the fastest way. Just call us or place an online application and your freezer runs like a clock soon again!
Our specialist carries out repairs, works carefully in the process, so as not to leave behind any traces of equipment repairs, and not to spoil the appearance. After the repair is completed, our company will back it up with a 90-day labor warranty. If you encounter the same problem during the warranty period, rest assured we will return to get an appliance back up to perfectly working condition.
$30 OFF ON FIRST TIME SERVICING
Frequently asked questions
What if I have a complex repair of equipment?
Our specialist will come to your home, conduct diagnostics and offer solutions to the problem. And only after your consent, the repair will begin.
Do you have customer support?
Our managers will always listen carefully to you and give you initial recommendations on the malfunction of your equipment to determine the cost of repair. Call:
(858) 224-0022
Is the expert's visit free of charge?
If you order a call to the master through our website, you are guaranteed to get a free diagnosis of your device, and detection of breakage.