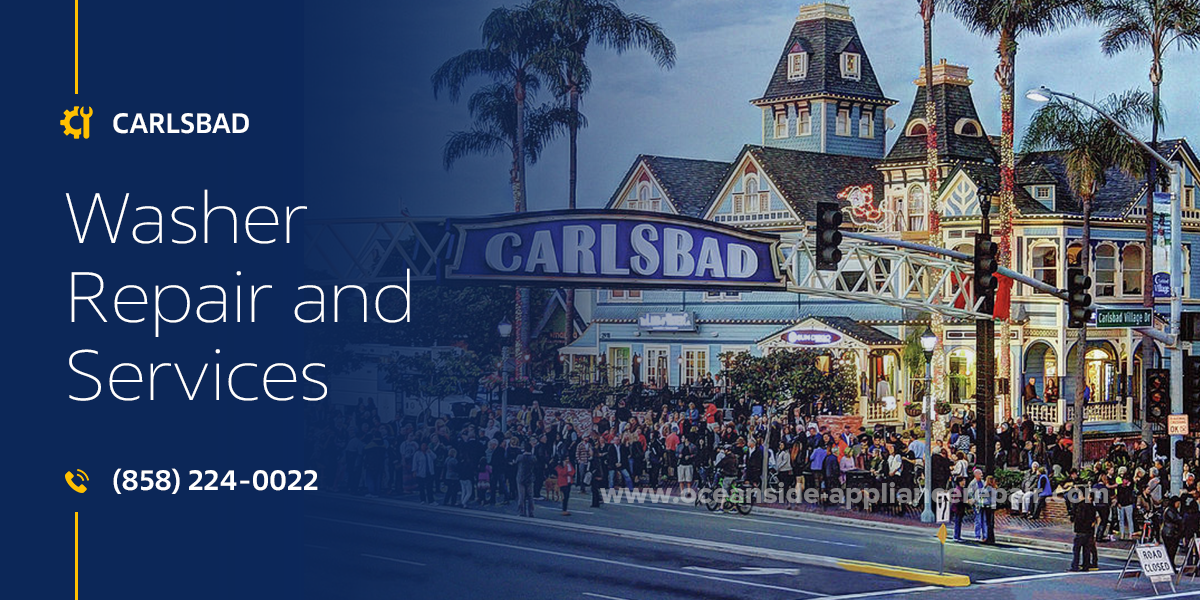 Washing Machine Repair in Carlsbad
The moment when people get their first washer may change their whole life. This appliance saves so much time and effort that it has its place not only in residential flats and houses. But many internal factors, like time, physical impact, hard water, or others, may cause your washer to work worse. Oceanside Appliance Repair Service Center offers the best ways to avoid or resolve such situations. We provide the highest quality services at the fairest prices. With us, you get the most reliable Washing Machine Repair in Carlsbad, CA in the shortest terms.
As soon as you notice a wrong behavior of your appliance, you should react. Otherwise, even a small malfunction can become a reason for serious breakage. Some troubles are pretty obvious, and others are hidden inside. Below, you can see the list of the signs you should not ignore.
Time/water level/temperature control, wash selector, or other controllers (buttons, knobs, switchers, keys, touchpads) do not respond, so you cannot adjust any settings.

The display board/screen is not working or shows an error code.

The control panel is faulty and requires a rebooting or reinstallation of the software.

The water inlet valve is defective, so the washer cannot fill with water or cannot stop filling.

It cannot start or complete the wash cycle, washes too long, or does not stop washing.

The item goes on and off, shuts off itself, or cannot turn on.

It is not heating water.

The drum is not spinning.

It is not wringing the clothes, so they remain soaking wet.

The tub is not centered, or it is cracked.

While it is spinning, the washer is jumping, bouncing, or moving around the room.

The washing machine produces loud unusual noises when working, like vibrating, buzzing, humming, thumping, grinding, knocking, ticking, squealing, rattling, hooting, etc.

It does not wash clothes properly, so they remain dirty or covered with foam.

The appliance makes the clothes damaged or ripped.

The tube smells filthy or has mold inside.

It does not drain.

You cannot close, open, or latch the door as it has deformed hinges, springs, joints, interlocks, lid switches, latches, gaskets, or hooks.

The door glass is cracked or the whole door assembly is damaged.

Faulty hardware (transmission, motor, agitator, timer, pump, thermostat, fuse, heating element, etc.).

The light indicator is flickering, blinking red, or not shining.

Foam or water pours outside the appliance.

The detergent cannot reach the tube.

Details and components are damaged, worn off, or lost (connectors, water level control, hoses, pipes, water inlet valve, off-balance switch, buttons, knobs, keys, switches, seals, belts, leveling feet, bearings, filters, etc.).

Troubles with power supply, plug, wiring, or isolation.

The item is tripping the power.

The washer gets extremely hot while working.

The dispenser, tub seal, water inlet valve, hose, pipe, or filter is clogged or dirty.

The appliance makes our burning or electric smell.

The installation was incorrect.
We can talk about the issues you face during free consultations or remote diagnostics. It leads us to an understanding of the reason for the problem and its solution. We clearly tell you about the expediency and approximate cost of the needed Carlsbad Washing Machine Repair. And mostly, after it, you just need to pick the time for our arrival. Sometimes, we have to recommend a replacement, if the work is not cost-effective or advisable.
Surely, we do not pretend to fix your unit if we see that it will fail soon. Some other companies try to make more money this way. But for us, your trust means more. Thus, we are honest with you and clearly report what you pay for. It makes the rates for our Washing Machine Repair in Carlsbad, CA the most reasonable and affordable. And when you apply to us the next time, you pay 15% less. We also have a constant $30 discount for veterans and seniors. For online booking, the cost of work is $25 lower.
Actually, the work cost depends on the issue's complexity and the price for the needed details. We have a wide choice of original spare parts and their analogs to fit any budget. And, surely, it means that we use perfectly suitable ones for each dishwasher we fix. This way, we make your appliance perform properly for a long time without any unpleasant signs. We add a 1-year guarantee for all used details. Our team works with the best professional tools, equipment, and materials. Thus, we conduct the most precise and tidy Carlsbad Washing Machine Repair and Service. 
Our specialists know all the subtleties of working with commercial and household dishwashers of all types, brands, and models. And to stay up to date with the latest ones, they have regular training and licensing. With over 20 years of tireless development, they have got brilliant skills and knowledge. It lets our team provide the best Washing Machine Repair in Carlsbad, CA even to luxury, oldest, or rarest units. The highest quality of their work is beyond doubt, and we back their labor up with a 90-day warranty.
The highest proficiency and responsibility always mean that we do not waste your time on long waits. We finish almost each Carlsbad Washing Machine Repair the same day you apply. Our team is 24/7 ready to react to your request and eliminate any issues. Even if you need us urgently late at night or on a day off, you can rely on us! In such cases, our technician sets off to your address within 15 minutes for just a little additional payment. The closest local office of our company is always available for providing you with the quickest assistance.
Our company is client-focused and reliable. And that is why our customers are happy for picking us. We provide them with the best services, including Washing Machine Repair in Carlsbad, CA. And after it, they come back to us when they have other issues. We have gained the trust of hundreds of people because they get from us even more than expected. They share this opinion in tons of 5-star reviews on our Google page and recommend us to others.
When you apply to Oceanside Appliance Repair Service Center, you choose the best solutions for your electronics. Our friendly team arranges quick and high-quality Carlsbad Washing Machine Repair and Service for you. Just call us or fill in the form on our website and we call you back in a minute. After it, your washer will run like a brand-new one again in a little while.
Our specialist carries out repairs, works carefully in the process, so as not to leave behind any traces of equipment repairs, and not to spoil the appearance. After the repair is completed, our company will back it up with a 90-day labor warranty. If you encounter the same problem during the warranty period, rest assured we will return to get an appliance back up to perfectly working condition.
$30 OFF ON FIRST TIME SERVICING
Frequently asked questions
What if I have a complex repair of equipment?
Our specialist will come to your home, conduct diagnostics and offer solutions to the problem. And only after your consent, the repair will begin.
Do you have customer support?
Our managers will always listen carefully to you and give you initial recommendations on the malfunction of your equipment to determine the cost of repair. Call:
(858) 224-0022
Is the expert's visit free of charge?
If you order a call to the master through our website, you are guaranteed to get a free diagnosis of your device, and detection of breakage.