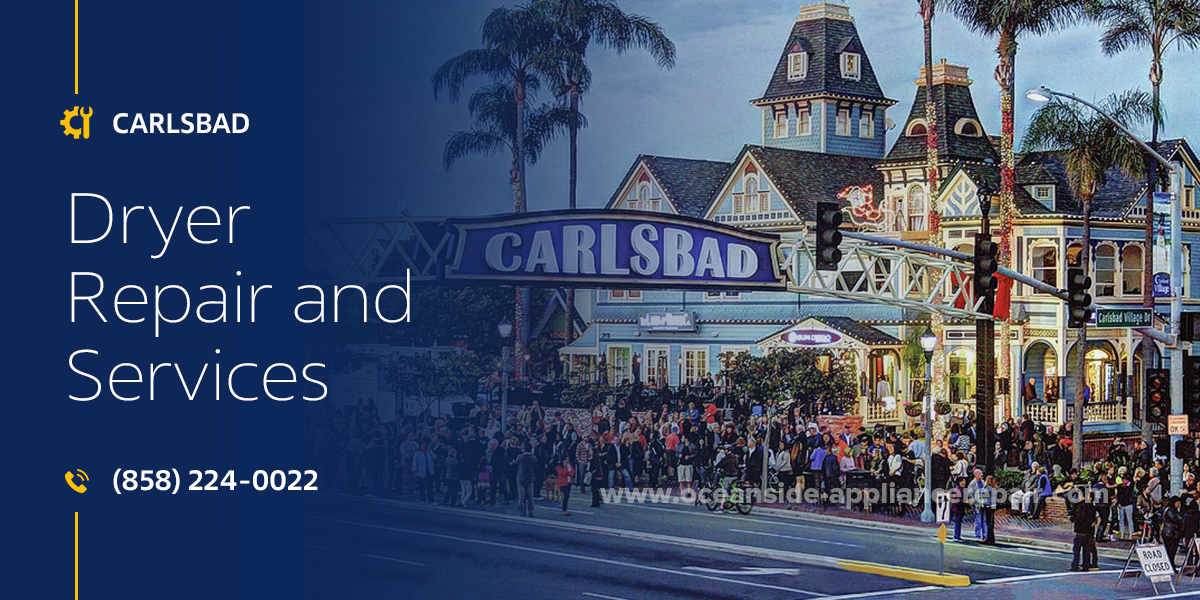 Sooner or later, each owner of a dryer faces a need to check, maintain, or fix this item. And it often makes people terrified, as contacting a service center seems to be an expensive and stressful action. But it is completely different if you apply to Oceanside Appliance Repair Service Center. We care for your comfort, time, and money, so offer the best ways to solve any troubles. Our professional team conducts the most reliable and high-quality Dryer Repair in Carlsbad, CA for over 20 years so far. We offer the swiftest results at the most affordable price.
We think that electronics should bring you comfort but not stress. Thus, we look for the most suitable conditions for you, and it includes a favorable price for work. We adjust to any budget and have discounts for veterans, seniors, and returning clients. You also pay $25 less for booking the order online. Our company has the most reasonable rates for any Carlsbad Dryer Repair. We do not overcharge or offer irrational services to you. Our work is always cost-effective, as you see the result and know what you pay for.
The quality of work is a significant aspect. We treat each order responsibly and aim to make your appliance perform smoothly for a long time. It always happens this way, as our team is the most competent, skilled, and experienced. 
They conduct any Dryer Repair in Carlsbad, CA flawlessly as know the construction and functioning of these items perfectly. Our team always develops, stays up-to-date, and has licenses that prove their greatest qualifications. Thus, they easily cope with household and commercial dryers of all brands and models, including luxury and the latest ones.
The quality of work also depends on the quality of the details and materials we use. Thus, we pick the best ones from original and alternative manufacturers. Our team has all the needed professional equipment to proceed with any Carlsbad Dryer Repair and Service accurately. The proper approach and craftsmanship of our team bring brilliant results. And we are in charge of it. You should be confident in the future of your item, as we back up our work with a long-term guarantee. It is 90 days for our labor and 1 year for the details we use. 
And thinking not about the future, but about now, you probably want to get your dryer back to normal sooner. It is possible with us, as we always spend minimum time on any Dryer Repair in Carlsbad, CA. It takes less than a single day to resolve any issues in the absolute majority of orders. 
And in urgent ones, the specialist departs to your place within 15 minutes for a small additional payment. With us, you never have to wait for days or listen to the answering machine for a long. By applying to our company, you get the swiftest assistance. Our department in your area is available even during days off and non-working hours.
As a reliable company, we pay much attention to providing you with the best Carlsbad Dryer Repair and other services. And, as time shows, we do great in it. Our customers are absolutely satisfied with everything we do. They apply to us again as we offer the most comfortable conditions for everyone and do our work perfectly. The opinion of our clients is the clearest indicator of our reliability. They recommend us to friends and leave many 5-star reviews on the net. Their trust helps us successfully develop and compete with other companies since 2001.
We can find the most effective solution to any situation. To do it in the swiftest and most efficient way, you can get a free consultation. Ask anything about the condition of your dryer or cooperation with us and get any needed information from our specialists. If the appliance is already out of order, there is a sense of requesting a remote diagnostic. This way, we detect what is wrong, how to fix it, and how much approximately it costs. And after it, we offer the most effective Dryer Repair in Carlsbad, CA the way it is suitable for you.
In some cases, it may appear that the repair is not cost-effective, or the appliance is not repairable. If so, we clearly inform you and help to pick the best replacement according to your needs. Not to let the situation get that serious, you should not ignore any issues, even the smallest ones. Your dryer requires help not only when it stopped drying or turning on. There are many other troubles with this appliance, and you can see the list of the most common ones below.
The dryer stopped turning on.

It does not dry clothes at all or not completely. 

The clothes go out wet, covered with lint, or damaged.

The door assembly is damaged, has cracked glass, or got its springs, joints, hinges, gaskets, interlocks, latches, hooks, or lid switches out of shape.

The tub has a filthy smell or mold.

The item is drying too long or non-stop, cannot start or complete the wash cycle, stops midway, or goes on and off repeatedly.

The tub is unbalanced, misplaced, or cracked.

The item is working too loudly (squealing, humming, buzzing, humming, gurgling, grinding, thumping, rumbling, clicking, knocking, vibrating, etc.).

It is shaking or bouncing while spinning.

Glides, drum support rollers, fan blades, baffles, leveling feet, belts, seals, bearings, knobs, buttons, start switches, safety valves, wiring, or other components are broken, missing, or worn off.

Unstable electricity or gas supply.

The control panel malfunctions, controllers do not respond, or the screen shows an error or is blank.

The item is not spinning or/and heating.

The exhaust vent, ductwork, moisture sensor strips, lint filter, pipes, or hoses are clogged and dirty.

The bulbs, lamps, or indicators are flickering or not glowing.

Timers, heating elements, thermal resistors, cycling/high-limit thermostats, circuit/fuse breakers, motors, blower wheels, igniters, or other parts are out of order.

The body of the unit gets too hot.

It was installed incorrectly.

While on, the appliance produces an electrical, gas, or burning smell.
It does not matter to us how complex the issue is, as we easily deal with any of them. The Oceanside Appliance Repair Service Center team conducts each procedure neatly, precisely, and at the highest quality level. We always care for providing you with the best results at the fairest price. Just reach us out by phone or through our website and get an instant reaction. Our company deals with any Carlsbad Dryer Repair and Service in the shortest terms. With us, your electronics are in reliable hands!
Our specialist carries out repairs, works carefully in the process, so as not to leave behind any traces of equipment repairs, and not to spoil the appearance. After the repair is completed, our company will back it up with a 90-day labor warranty. If you encounter the same problem during the warranty period, rest assured we will return to get an appliance back up to perfectly working condition.
$30 OFF ON FIRST TIME SERVICING
Frequently asked questions
What if I have a complex repair of equipment?
Our specialist will come to your home, conduct diagnostics and offer solutions to the problem. And only after your consent, the repair will begin.
Do you have customer support?
Our managers will always listen carefully to you and give you initial recommendations on the malfunction of your equipment to determine the cost of repair. Call:
(858) 224-0022
Is the expert's visit free of charge?
If you order a call to the master through our website, you are guaranteed to get a free diagnosis of your device, and detection of breakage.