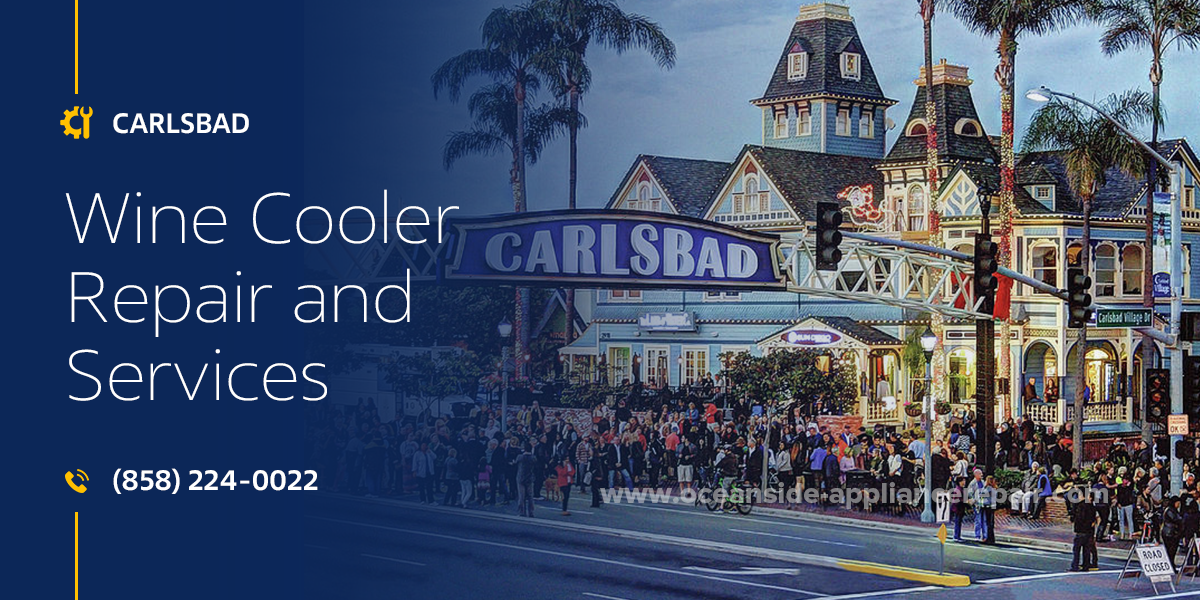 Wine Cooler Repair in Carlsbad
Wine is one of the most popular alcoholic beverages in the whole world. Some people love it so much that they have special cellars for storing the collection in proper condition. But technologies are developing, and now everyone can keep their favorite bottles unharmed in a special appliance, a wine cooler. As it has a unique and important mission, it deserves proper care. Oceanside Appliance Repair Service Center offers the best services for these devices and the best conditions for their owners. With us, each Wine Cooler Repair in Carlsbad, CA is fair-priced, swift, and high-quality.
We believe if you have a wine cooler in your house or restaurant, you are a responsible and engaged person. Thus, you cannot ignore any worsening in the performance of this appliance. If you contact the experts as soon as notice the problem, you can avoid getting more serious issues. Feel free to get in touch with us if your wine cooler has some of these or other bad signs.
The door is not closing tightly or opening easily because of damaged gaskets, springs, hinges, joints, interlocks, lit switches, or latches.

The door glass or shelves are damaged/cracked.

The appliance is vibrating, buzzing, humming, bubbling, gurgling, squealing, thumping, or making other unusual noises.

The item stopped cooling.

It has an improper temperature or cools unevenly.

You cannot adjust the temperature or any settings, as the control panel functions incorrectly.

The controllers do not respond or are broken/lost.

The screen shows an error message or is not glowing.

Buttons, knobs, keys, switches, belts, leveling feet, belts, bearings, or other details require replacement.

The refrigerant is missing, leaking, or dripping.

The moisture accumulates inside the appliance or under it, so the humidity is too high and it spoils corks and labels.

The inner or outer lights are blinking or not shining.

The ventilation, condenser fan, or coils require cleaning from dust, debris, or ice.

Ice or snow-like accumulation is covering the coils, bottles, or inner walls.

The thermostat, evaporator, condenser, compressor, capacitor, starter, Peltier module, sensors, fan, process control block, or other components are dysfunctional.

Troubles with the electricity supply due to ruined wiring.

The wine cooler shuts off itself, cannot turn on, or goes on and off repeatedly.
None of them can scare us. Our specialists are qualified enough to detect the reason for the breakage even remotely during diagnostic. After it, we can pick suitable details, plan the needed services, and announce their approximate cost. We also offer free consultations and are always ready to provide you with any needed information. Our friendly team helps you in the most efficient way. And mostly it means arranging the perfect Carlsbad Wine Cooler Repair for you!
First of all, each work should be rational and efficient. Thus, if we indicate that it is not cost-effective or recommendable, we honestly inform you. One of our aims is to offer you the most affordable Wine Cooler Repair in Carlsbad, CA. Thus, we adjust to any budget and have pleasant special deals. The returning clients get 15% discounts, for veterans and seniors it is $30 off, and for booking online – $25 off. Our rates are the most reasonable, as we clearly report what you pay for.
But a low price never means poor quality if the talk is about our company. We just concentrate on the number of happy clients but not on high bills for a few ones. Getting flawless results, our customers apply to us again for maintenance and fixing other electronics too. They recommend us to friends because they are absolutely satisfied with our professionalism, client focus, and responsibility. Our customers post tons of positive reviews about our Carlsbad Wine Cooler Repair and Service on the net. It is the most honest estimation of our reliability and the best motivation for us to keep developing.
And since 2001, we never stop becoming better daily. Our team raises their skills and qualifications to provide the best Wine Cooler Repair in Carlsbad, CA. It applies to all aspects of our work, starting with management and finishing with eliminating the most complex breakages. To prove our trustworthiness, we back up our work with a long-term guarantee. For our labor it is 90 days, and for the details – 1 year.
The quality of our services is at the highest level, as it corresponds to the highest proficiency of our specialists. They know everything about commercial and household wine coolers, so easily deal with units of all brands and models. Our technicians are licensed for coping even with the luxury and the latest items. We have a proper and effective approach in any case!
Our team uses the most proper tools for each Carlsbad Wine Cooler Repair. We have top-rank professional materials and equipment, which helps us deal with any task fluently and tidily. And to make your appliance serve you properly for a long, we pick perfectly fitting details to specifically your item. We make any wine cooler run like a brand-new one in the best way! Having over 20 years of experience in resolving issues of any complexity, we always know what to do.
When your wine cooler malfunctions, you cannot ignore this situation, as it contradicts the aim of buying this appliance. You cannot just put the bottles in the fridge, because they require specific conditions. 
Do not worry about it if you apply to us. Our Wine Cooler Repair in Carlsbad, CA is always the quickest. In the absolute majority of orders, we make your appliance run perfectly again the same day you apply. When you cannot wait even a couple of hours, you can pick an option of urgent arrival. It means that the technician rushes to your place immediately, even at night or on a day off. Our local office is available 24/7 to help you whenever you need us!
Starting with a proper installation and finishing with the most complex fixing – Oceanside Appliance Repair Service Center deals with anything. Our team knows how to make any wine cooler run like a brand-new one for a long. With us, you get a high-quality solution for your electronics at the most favorable price. We complete any Carlsbad Wine Cooler Repair and Service in the shortest terms whenever you need it. Just call us or place an online application and we assist you in the best way!
Our specialist carries out repairs, works carefully in the process, so as not to leave behind any traces of equipment repairs, and not to spoil the appearance. After the repair is completed, our company will back it up with a 90-day labor warranty. If you encounter the same problem during the warranty period, rest assured we will return to get an appliance back up to perfectly working condition.
$30 OFF ON FIRST TIME SERVICING
Frequently asked questions
What if I have a complex repair of equipment?
Our specialist will come to your home, conduct diagnostics and offer solutions to the problem. And only after your consent, the repair will begin.
Do you have customer support?
Our managers will always listen carefully to you and give you initial recommendations on the malfunction of your equipment to determine the cost of repair. Call:
(858) 224-0022
Is the expert's visit free of charge?
If you order a call to the master through our website, you are guaranteed to get a free diagnosis of your device, and detection of breakage.