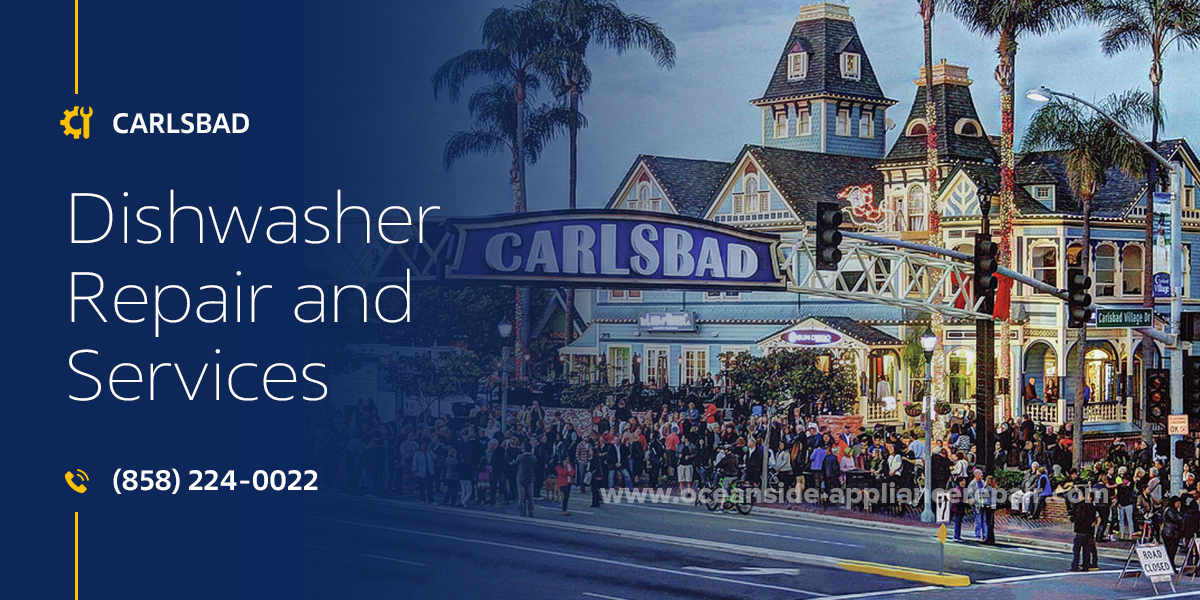 Dishwasher Repair in Carlsbad
A dishwasher is an appliance that makes your routine much more comfortable and saves a lot of time for you. If you are interested in decent maintenance and repair for it, you can rely on Oceanside Appliance Repair Service Center. Our team provides the best services for over 20 years so far. We adjust to the requirements of all clients and offer comfortable conditions for everyone. With us, you get the most fair-priced and swift Dishwasher Repair in Carlsbad, CA of the highest quality.
A dishwasher is a delicate appliance that can react to the wrong detergent, quality of water, and other things. Thus, it is not a surprise that this item requires regular maintenance and can fail without it. Depending on your situation, the solution may be to clean some parts, replacing, or do other procedures. To indicate and arrange the most effective Carlsbad Dishwasher Repair, just contact us. For that, we offer free consultations and remote diagnostics. You get all the needed information swiftly and get a clear vision of the condition of your item.
We swiftly understand the reason for the breakage if you let us know what goes wrong with your appliance. The most common troubles you may face with the dishwasher are…
It does not wash or dry the dishes properly, so they remain dirty, oily, or covered with pieces of food or foam.

The detergent cannot reach the tub.

The appliance cannot supply water properly, so does not fill or does not stop filling.

The wash cycle cannot start, stops without completing, pauses midway, goes on and off repeatedly, takes too long, or goes endlessly.

The dishwasher does not turn on.

A puddle of water or foam appears under the appliance.

A slide arm or drawer mechanism is damaged, so racks do not roll out.

Some of the hardware components are dysfunctional (heating elements, timers, thermostats, pumps, motors, etc.).

The dishwasher cannot drain.

The appliance cannot be powered with electricity because of spoiled wiring, isolation, or plug.

The item gets extremely hot when it is working.

When the dishwasher is on, it makes out a burning or electrical smell.

The item is too noisy (gurgling, bubbling, humming, thumping, grinding, gurgling, hooting, squealing, buzzing, vibrating, etc.).

The control panel is faulty and requires recalibration.

The controllers (touchpads, buttons, keys, knobs, switchers) do not respond.

Some of the details are worn off or broken and require replacement (controllers, belts, leveling feet, float switch, water inlet valve, pipes, hoses, holders, cutlery baskets, etc.).

Faulty or burned-out bulbs or LED indicators.

The door has cracked glass or deformed springs, hinges, joints, latches, interlocks, lid switches, or seals.

Filters, pipes, spray arms, hoses, or sump strainers are dirty or clogged.
We find the best way out in any of those and other situations. Unless the recommended solution is to replace your item, we announce the price of the work beforehand. After it, the only thing left is to tell us about your requirements and plan a convenient Dishwasher Repair in Carlsbad, CA.
The most common wish of clients is to get their units working properly again as soon as possible. And we care about your time, so provide the quickest Carlsbad Dishwasher Repair and Service. In over 90% of cases, you do not wait even until tomorrow, as we finish the same day you apply! 
Our proficient and perfectly organized team resolves any issues fluently. Plus, our local department is conveniently situated to reach any address shortly. Thus, we also are the swiftest when you request an urgent arrival. In this case, we rush to your place immediately for just a small additional payment.
Still, the main reason for spending minimum time conducting any Dishwasher Repair in Carlsbad, CA is the proficiency of our team. They find and eliminate any issues fluently and easily, as have vast experience, refined skills, and broad knowledge. Their highest qualification lets them resolve problems even with luxury and the latest items. Our team knows everything about dishwashers, so copes with commercial and household items of all brands and models. Their craftsmanship makes us confident in the flawless quality of each procedure they conduct.
Our team has a complex approach to their work. They not only have amazing skills but also use the best equipment, tools, and materials for work. It helps us proceed with each Carlsbad Dishwasher Repair neatly, dustless, and accurately. We want you not to doubt our reliability and responsibility. Thus, we solidify our work with a long-term warranty: 90 days for labor and 1 year for details. The spare parts we use are top-quality original or alternative ones. By picking matching details for each appliance, we guarantee the smooth performance of your dishwasher for a long time.
People who already applied to us, never hesitate about picking a repair company the next time. They are absolutely satisfied with all aspects of our work and attitude. Thus, our clients apply to us again with other issues. They share their opinion with others and post tons of positive reviews on the net. 
One of the most common concerns of people is that the repair is expensive. But our customers never face such trouble. We offer the most affordable Dishwasher Repair in Carlsbad, CA, and can adjust to any wallet. While some companies try to offer you useless services and add weird fees, we are always honest. 
With us, you pay the most reasonable price for a decent job. Our company prefers having more satisfied clients than a few customers who pay a fortune. And we also have nice discounts for veterans, seniors, returning clients, and online booking.
Oceanside Appliance Repair Service Center is a service provider that cares for your comfort. We offer the flawless quality of work, conduct any needed services swiftly, and set favorable rates. There is nothing we cannot deal with, so you can be calm if entrust your dishwasher to us. Just let us know if you need to install, fix, or maintain your item. We provide the best Carlsbad Dishwasher Repair and Service and make your appliance perform perfectly soon!
Our specialist carries out repairs, works carefully in the process, so as not to leave behind any traces of equipment repairs, and not to spoil the appearance. After the repair is completed, our company will back it up with a 90-day labor warranty. If you encounter the same problem during the warranty period, rest assured we will return to get an appliance back up to perfectly working condition.
$30 OFF ON FIRST TIME SERVICING
Frequently asked questions
What if I have a complex repair of equipment?
Our specialist will come to your home, conduct diagnostics and offer solutions to the problem. And only after your consent, the repair will begin.
Do you have customer support?
Our managers will always listen carefully to you and give you initial recommendations on the malfunction of your equipment to determine the cost of repair. Call:
(858) 224-0022
Is the expert's visit free of charge?
If you order a call to the master through our website, you are guaranteed to get a free diagnosis of your device, and detection of breakage.