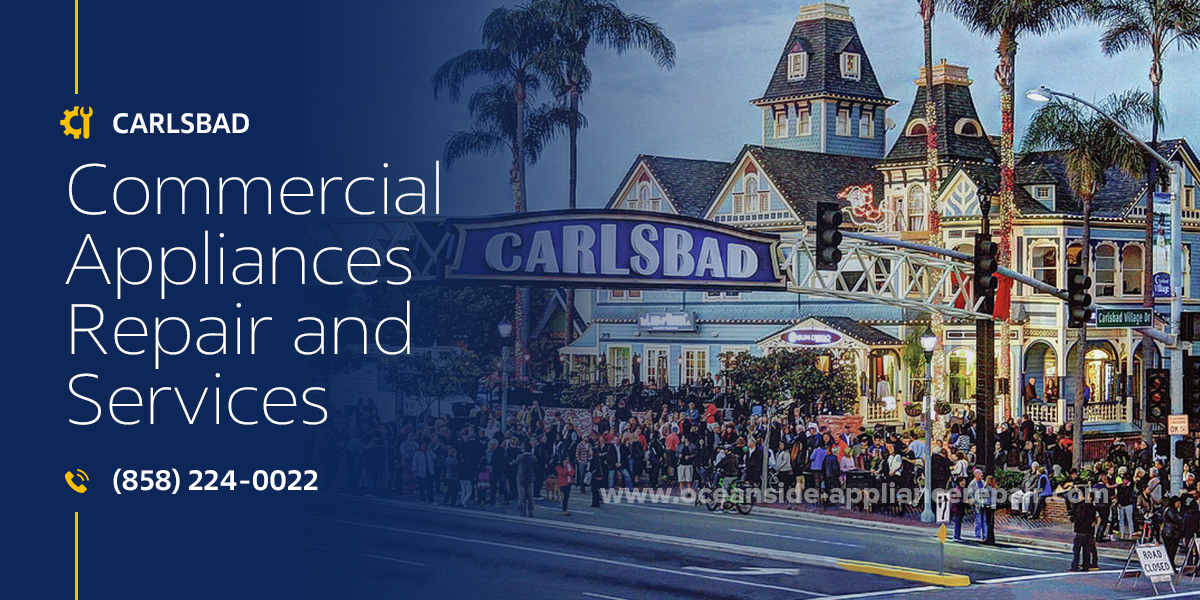 Commercial Appliances Repairs in Carlsbad
To make our work and rest more effective and comfortable, we use appliances in all spheres of our lives. It means not only our houses but also public places, offices, or factories. If you need to install, maintain, or fix your electronics, you can rely on Oceanside Appliance Repair Service Center. Since 2001, we assist residential clients and companies to have their items perform perfectly. Our proficient and responsible team provides the highest quality Commercial Appliances Repair in Carlsbad, CA the most comfortable way. We offer the quickest solutions at the most reasonable prices.
Any appliance has its role for the place where you allocate it. Therefore, a failed range in a cafe, fridge in the mall, or AC in an office will bring many inconveniences. 
With us, the downtime in such cases decreases to a possible minimum. We offer the swiftest Carlsbad Commercial Appliances Repair in any situation. Our local office is conveniently situated, and our staff has outstanding organization, management, and responsibility. Thus, we do not waste time and arrive exactly when you need us. In over 90% of orders, your item is back to normal within a single day. And for urgent cases, we depart to your address immediately! It costs a bit more but is available during non-working hours and days too.
A great way to avoid many breakages is to have regular check-ups and maintenance for your electronics. For companies, we offer to sign a long-term contract, so you are always calm about the condition of your appliances. 
Having any questions or issues, you can anytime call us and get a free consultation. We also offer free remote diagnostics for everyone who applies for Commercial Appliances Repair in Carlsbad, CA to us. It helps detect the reason for the breakage, the best solution, and its approximate cost. But it also may show that the repair is not cost-effective or advisable. Or that it may vanish if you follow our simple instructions.
Not to make things even more serious, we recommend you apply to specialists when you notice the smallest changes. We provide the best Carlsbad Commercial Appliances Repair and Service for 20+ years, so can deal with anything. Our specialists know the subtleties of the functioning and construction of any items. Thus, we know how to help your…
Refrigerators.

Freezers.

Stoves.

Ovens.

Cooktops.

Ranges.

Dishwashers.

Washing machines.

Dryers.

Microwaves.

Air conditioners and climate control systems.

Humidifiers.

Thermometers.

Scales.

Vacuum cleaners.

Office equipment.

Wine coolers.

Ice makers.

Hoods, etc.
Regardless of the complexity of the issue and the type, brand, or model of your item, we find the solution. Our specialists have outstanding skills and vast knowledge. They also go on developing all the time and regularly undergo training. Our team is insured and licensed for serving even luxury and the latest units. By picking us, you always get a high-quality result!
To conduct each Commercial Appliances Repair in Carlsbad, CA accurately and tidily, we use the best professional equipment and materials. We carefully select the best manufacturers of tools and components to ensure the smooth and durable performance of your electronics. We stock a huge number of original details and their analogs to pick a perfect match for any unit. And we are in charge of this choice and provide a 1-year guarantee for the spare parts we use. Plus, we back up our labor with a 90-day warranty.
We never doubt the highest quality of any Carlsbad Commercial Appliances Repair we conduct. And the main reason for that is the feedback from our clients. They are absolutely satisfied with each aspect of our work. Thus, they apply to us again and recommend the same to friends. You can see tons of 5-star reviews from them on our Google page. Client focus, friendly attitude, and professionalism – are just some of the many traits that our customers appreciate about us! And that is why we successfully compete with other service centers and go on developing daily.
A delicate moment for many people is the price of work. No one wants to pay much but there is a stereotype that a decent job work is expensive. If you apply to us, this issue vanishes. We set the most favorable rates for any Commercial Appliances Repair in Carlsbad, CA. With us, you clearly know what you pay for and get a report of all the expenses. We have special deals for each client and find the most affordable solution for everyone.
You do not have to stress about your electronics anymore if apply to Oceanside Appliance Repair Service Center. Our reliable and highly qualified team conducts any procedures flawlessly. We have the fairest prices and bring you the swiftest solutions. All you need to do is to call us or place an online application. We provide you with the most effective Carlsbad Commercial Appliances Repair and Service the way it is suitable for you.
Our specialist carries out repairs, works carefully in the process, so as not to leave behind any traces of equipment repairs, and not to spoil the appearance. After the repair is completed, our company will back it up with a 90-day labor warranty. If you encounter the same problem during the warranty period, rest assured we will return to get an appliance back up to perfectly working condition.
$30 OFF ON FIRST TIME SERVICING
Frequently asked questions
What if I have a complex repair of equipment?
Our specialist will come to your home, conduct diagnostics and offer solutions to the problem. And only after your consent, the repair will begin.
Do you have customer support?
Our managers will always listen carefully to you and give you initial recommendations on the malfunction of your equipment to determine the cost of repair. Call:
(858) 224-0022
Is the expert's visit free of charge?
If you order a call to the master through our website, you are guaranteed to get a free diagnosis of your device, and detection of breakage.