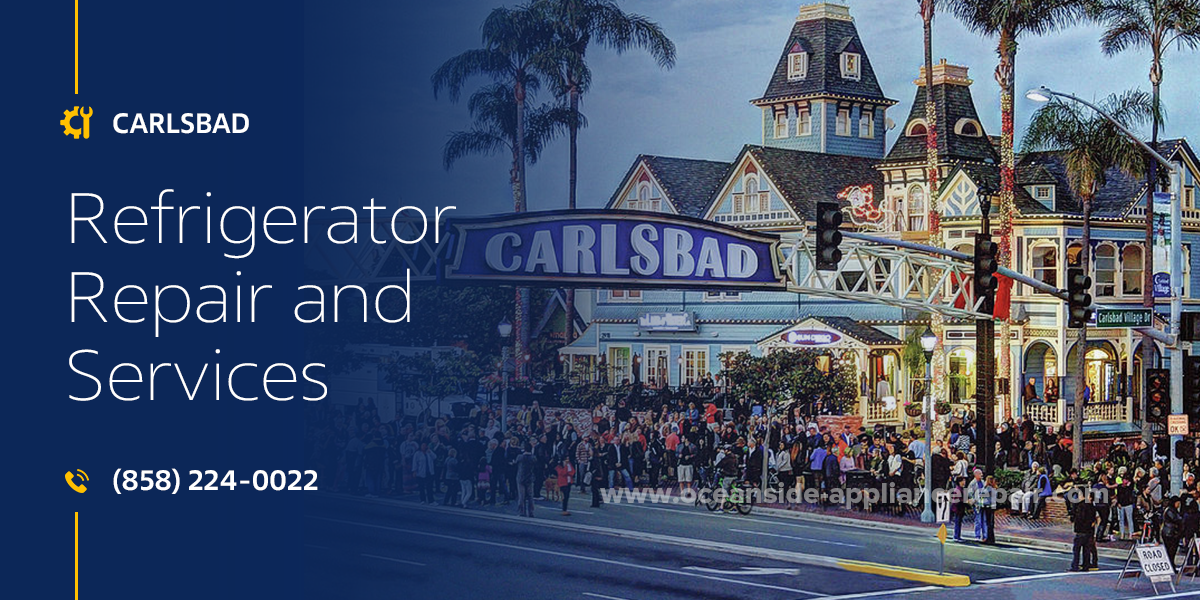 Refrigerator Repair in Carlsbad
You use it every day. It is running 24/7 to keep your food fresh. Yes, the talk is about a refrigerator. It is the most popular appliance which is obligatory for each house, office, store, and other place. Its failure causes many inconveniences, thus it is important to get timely maintenance and fixing. Oceanside Appliance Repair Service Center is the company that you need if want to have your fridge always running perfectly. Our team knows how to provide you with the best Refrigerator Repair in Carlsbad, CA swiftly! We offer the highest quality at the lowest price.
Our company makes clients happy with our work since 2001. We know what people are looking for when their fridges fail. 
And thus, we offer the highest quality of reach Carlsbad Refrigerator Repair. And we provide it in a comfortable and stressless way. We comfort you by adding a long-term guarantee for each procedure. Therefore, you have no doubts that we are right when claiming that our team has outstanding proficiency, knowledge, and skills. Their qualification is rising all the time, as they have regular training. Our specialists get licenses for serving fridges of all types, brands, and models, including luxury and the latest ones.
No matter how minor the issues seem to be, you should better contact specialists. If you ignore it, the trouble may get serious with time and lead to the failure of your appliance. Our team finds the way out of any situation in the most rational and effective way. Here is the list of the most common issues you may face with your refrigerator.
The control panel failed, has software issues, and requires recalibration.

Touchpads, keys, knobs, buttons, or switchers have unstable connections, do not function as they should, are damaged, or got lost.

The display board or screen is not glowing or shows an error.

The appliance freezes insufficiently or too much, and you cannot change it.

It does not freeze at all.

The fridge cannot turn on or off, goes on and off repeatedly, or shuts off on its own.

It loses cold as the door cannot properly close.

The door gaskets, joints, hinges, springs, interlocks, lid switches, or latches are out of shape.

The inner shelves, body surfaces, or doors are cracked.

The hardware components are dysfunctional, like the compressor, expansion device, defrost timer or heater, control relay, evaporator or condenser coils or tans, thermostat, temperature controls, fan motor, etc.

The lamps or indicators are burned out.

Water or freon leaks/drips inside or outside the refrigerator.

The appliance is too noisy (it is knocking, humming, gurgling, squealing, buzzing, vibrating, thumping, grinding, or making other wrong sounds).

The water dispenser, freezer, or ice maker malfunction.

The walls, coils, or products are covered with snow-like accumulation or pieces of ice.

The electricity supply is disturbed.

Broken, lost, or worn-off details (leveling feet, belts, seals, controllers, handles, holders, fan blades, baffles, wires, etc.).
To provide the best Refrigerator Repair in Carlsbad, CA, we use the best tools. It is about equipment, materials, and spare parts. We pick top-quality and perfectly fitting original or alternative details for any commercial and household fridge. It leads not only to smooth but also to durable work of your appliance. There is nothing that our specialists could not deal with. In over 20 years of fixing various electronics, they have successfully reanimated tons of refrigerators. Thus, our team knows what to do in any situation.
And they are always happy to share this experience and use it to help you. Thus, you can anytime get advice or free consultation. We answer any of your questions and help arrange any Carlsbad Refrigerator Repair and Service the way you need. We also conduct remote diagnostics to indicate the reason for the breakage and the way to eliminate it. After this talk, we are ready to announce the approximate price of such work. If it is not cost-effective, we honestly recommend you a replacement. In some cases, we can just instruct you on resolving the smallest troubles with your units.
As we care for offering only efficient Refrigerator Repair in Carlsbad, CA, we are always honest about your situation. You know what is wrong with your item and what procedures you pay for. We do not offer useless repair, so clearly inform you if it makes no sense. With us, you get only the best results at the most reasonable and affordable price. 
And if you book the order online, the price gets $25 lower! We also have a $30 discount for veterans and seniors. The special deal for returning customers is 15% off for the next applications! We adjust to any budget and offer a maximum stressless way to make things back to normal.
So why do customers return to us if we provide them with a durable and reliable repair? To order other services and fix other units! They appreciate us for our client focus, responsibility, and professionalism. Thus, our customers are absolutely satisfied with picking us for Carlsbad Refrigerator Repair or other work. And they share this opinion with friends and other people. You can see tons of 5-star reviews on our Google page. We believe that the reviews from clients are a great indicator of a trustworthy company.
You can rely on us whatever and whenever happens. Due to the highest professionalism and great management, we never make you wait long. We finish any Refrigerator Repair in Carlsbad, CA the same day you apply in over 90% of orders. Being always open and available, we are ready to assist you at any needed moment. It means that you can also request an urgent arrival on non-working days or hours. This option costs just slightly more, but then the technician rushes to your address within 15 minutes. We make your troubles vanish sooner than you face the unpleasant consequences of the breakage!
If a perfect Carlsbad Refrigerator Repair and Service for you is swift, fair-priced, and high-quality, we are what you need. Oceanside Appliance Repair Service Center has the friendliest team of highly qualified specialists. We provide you with brilliant results without any stress. All you need to do is just call us or fill in a contact form on our website. We make your refrigerator run like a clock again in the shortest terms!
Our specialist carries out repairs, works carefully in the process, so as not to leave behind any traces of equipment repairs, and not to spoil the appearance. After the repair is completed, our company will back it up with a 90-day labor warranty. If you encounter the same problem during the warranty period, rest assured we will return to get an appliance back up to perfectly working condition.
$30 OFF ON FIRST TIME SERVICING
Frequently asked questions
What if I have a complex repair of equipment?
Our specialist will come to your home, conduct diagnostics and offer solutions to the problem. And only after your consent, the repair will begin.
Do you have customer support?
Our managers will always listen carefully to you and give you initial recommendations on the malfunction of your equipment to determine the cost of repair. Call:
(858) 224-0022
Is the expert's visit free of charge?
If you order a call to the master through our website, you are guaranteed to get a free diagnosis of your device, and detection of breakage.