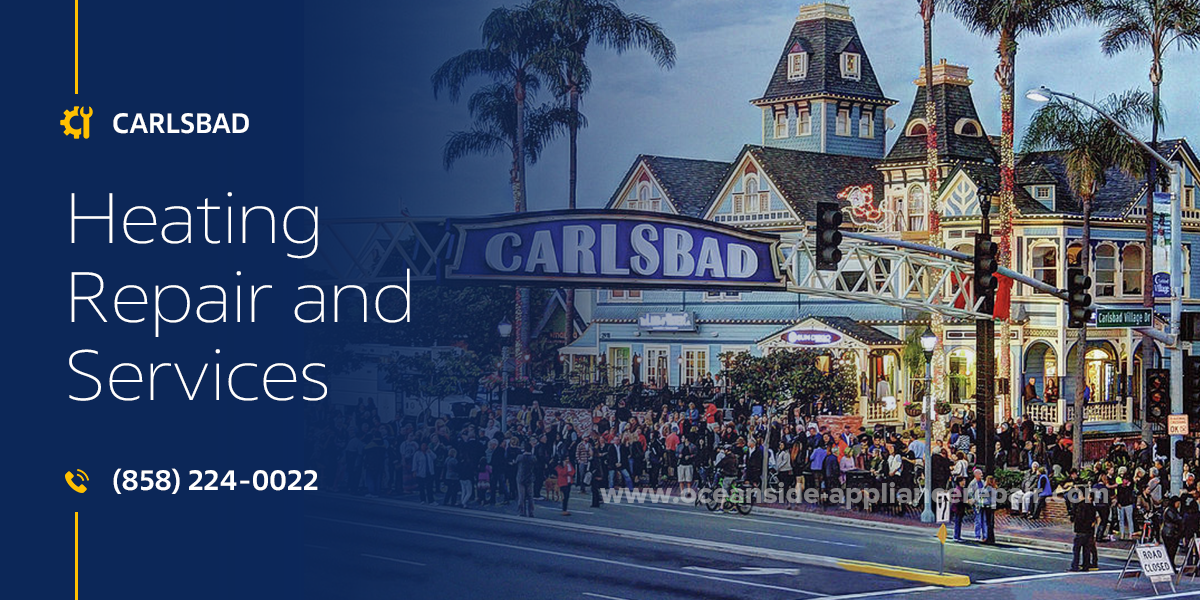 Heating Repair in Carlsbad
It is not possible to imagine a cozy house or comfortable workplace without heating during cold periods. Thus, various types of warming appliances are essential helpers for creating proper conditions indoors. Whenever your appliance requires maintenance or fixing, you can get it with Oceanside Appliance Repair Service Center. Since 2001, our company provides customers with top-quality services at the most affordable prices. With us, you get the most effective Heating Repair in Carlsbad, CA at any needed moment.
A common situation is noticing that your heater is down after downtime. You can avoid or eliminate it in this or other situations if get the appliance timely checked and fixed. Contact us for a free consultation anytime and we gladly provide you with any needed information. Over the phone, we can also offer remote diagnostics if you already observe that the item works wrong. Name us the symptoms and we detect the issue and find the solution and its approximate cost. Below, you can see the most common troubles that happen to heaters.
The appliance does not turn on or it goes off itself.

The indicator shows it is on, but the item produces no heat.

It heats too slowly, not enough, or not evenly.

When heater is on, it is humming, buzzing, rattling, grinding, thumping, squealing, popping, knocking, buzzing, or making other awkward noises.

The appliance produces a burning, electrical, or gas smell.

It gives out humid air or a foul smell.

Some of the components require replacement (belts, seals, wires, leveling feet, plug, safety valve, reversing valve, limit switch, buttons, knobs, keys, handles, bearings, etc.).

There is no airflow from the heating vents/registers.

The item does not react to remote control commands, the control panel is faulty, the controllers do not respond, or the screen is blank/shows an error.

You cannot adjust any settings, like temperature or mode.

The ductwork is leaking, obstructed, or damaged.

Dirty or blocked dampers, outdoor units, vents, air handlers, coils, burners, flue pipes, igniters, condensate drains, flame sensors, or HVAC filters.

Faulty ignition or gas/electricity supply.

Dysfunctional hardware (evaporator or condenser coils, fan motor, thermostat, igniters, flame sensors, compressor contactor, heat pump, etc.).

The heat transfer liquid is missing or leaking.
When we clarify the situation, we can plan the most effective Carlsbad Heating Repair. But we honestly recommend a replacement in those cases when the fixing is not cost-effective or rational. Or if we can help you with phone instruction with a simple solution, we gladly do it! 
By applying to our company, you always get the most efficient and reliable services. We care for the highest quality of each Heating Repair in Carlsbad, CA we provide. Thus, our team always keeps developing. They are insured and licensed, so their highest qualifications let them deal with anything. They know the structure and functioning of household and commercial heaters of all types. Therefore, they properly serve items of all brands and models, including luxury, the latest, and the rarest ones. 
Our technicians have all the needed professional equipment for Carlsbad Heating Repair and Service of any type. With the best tools and materials, they proceed with any task fluently, neatly, and precisely. A wide choice of original and alternative details in stock lets us pick perfectly fitting ones for any unit. 
As a result, your heater serves you perfectly for a long! You have no reasons to worry about its future functioning. We back up our work with a long-term guarantee. It lasts 90 days for our labor and 1 year for the details we use.
Quality is the major aspect of a decent job, but not the only one. Our company never makes you wait long before your heater works fine again. We complete an absolute majority of tasks within a single day. 
Our team is perfectly organized and responsible. With the greatest management and convenient location, we spend minimum time to reach any address. It also helps us to offer the quickest Heating Repair in Carlsbad, CA in urgent situations. When you need us to arrive right now, we depart immediately! This option is available for a small additional payment even during days off and non-working hours.
And in any case, the cost of our work is the most affordable and reasonable. With us, you do not overpay or face any hidden fees. We are honest about the condition of your appliance, the needed procedures, and their cost. Thus, you pay the best price for the best Carlsbad Heating Repair. And if you book the order online, you get a $25 discount. For returning clients, we have another special deal, which is 15% off. Veterans and seniors pay $30 less for our work.
We offer the best conditions for all tasks, including Heating Repair in Carlsbad, CA. Thus, our clients have no doubts about applying to us to serve other appliances too. They note our responsibility, professionalism, honesty, and flexibility in tons of 5-star reviews on the net. And their honest opinion is the best estimation of our quality and reliability. 
As our customers recommend us to friends, it means that they trust us. The same is why, our company successfully competes with other service centers around for over 20 years so far. We become better for you every day!
Oceanside Appliance Repair Service Center is around 24/7 if you need our help. Our team of top-level professionals knows what to do in any situation. We offer high-quality solutions at the fairest prices and in the shortest terms. To get the most effective Carlsbad Heating Repair and Service, just call us or place an online application. We will make any worries about your electronics vanish!
Our specialist carries out repairs, works carefully in the process, so as not to leave behind any traces of equipment repairs, and not to spoil the appearance. After the repair is completed, our company will back it up with a 90-day labor warranty. If you encounter the same problem during the warranty period, rest assured we will return to get an appliance back up to perfectly working condition.
$30 OFF ON FIRST TIME SERVICING
Frequently asked questions
What if I have a complex repair of equipment?
Our specialist will come to your home, conduct diagnostics and offer solutions to the problem. And only after your consent, the repair will begin.
Do you have customer support?
Our managers will always listen carefully to you and give you initial recommendations on the malfunction of your equipment to determine the cost of repair. Call:
(858) 224-0022
Is the expert's visit free of charge?
If you order a call to the master through our website, you are guaranteed to get a free diagnosis of your device, and detection of breakage.