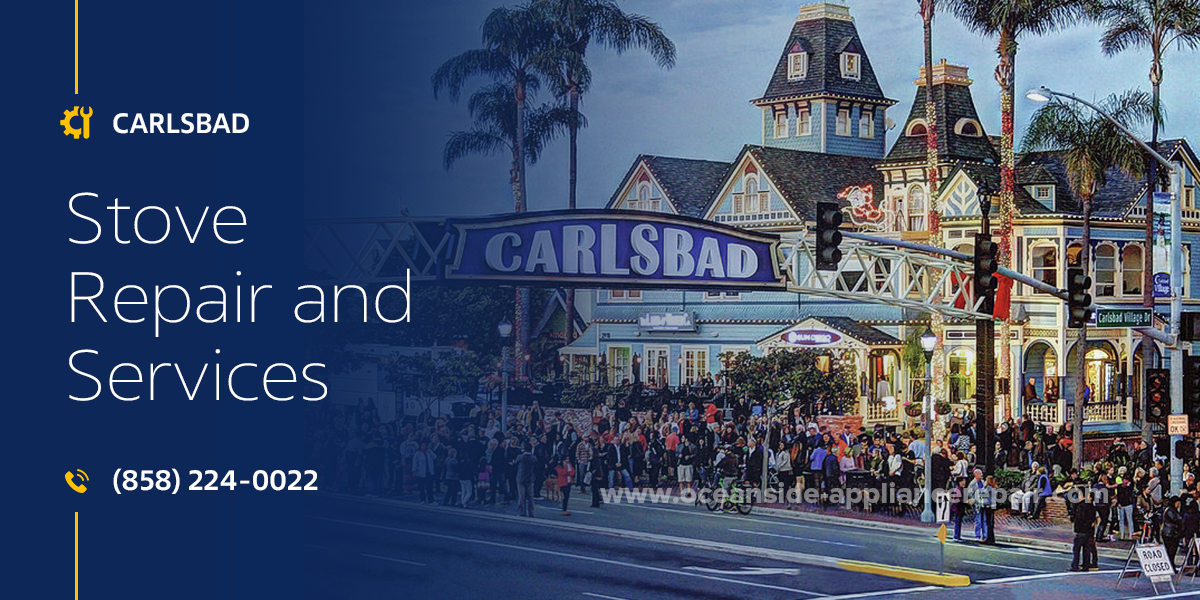 The failed stove may mean downtime for a bakery, lack of cooking/heating opportunities for your home, or even danger. In any case, it is not a pleasant situation, and you probably want to resolve it sooner. With Oceanside Appliance Repair Service Center, it takes the minimum possible time. We provide our clients with any Stove Repair in Carlsbad, CA at the highest quality level and at the best prices.
We easily cope with any situation in the most comfortable way for you. As many people claim, they stress when they think that have to spend a lot of money on services. Gladly, it does not worry our clients, as we have the most affordable prices. With us, you never face any hidden fees or useless procedures. You see the greatest results, so clearly know what you pay for. We provide only cost-effective and rational Carlsbad Stove Repair. For returning clients, the price is 15% lower. Veterans and seniors get a $30 discount. And if you book the order online, you get $25 off.
We also announce the price of work beforehand and plan the most effective and convenient Stove Repair in Carlsbad, CA. For that, our specialists offer you free consultations and remote diagnostics. These features help understand what is wrong with your stove and how to fix it. After, we take all the needed equipment and make things back to normal in the quickest way. But it may also appear that the repair is not cost-effective or advisable. If so, we honestly let you know. Any solution we offer is the best for your situation.
You should not postpone applying to specialists as notice the first signs of malfunctioning in your stove. Otherwise, the situation may get more serious and complicated. If you have any doubts, better call us and explain what makes you worry. The most common troubles that can occur to the stove are…

Heating elements got damaged or dysfunctional (broiler elements, bake elements, induction or electrical, coils, tans, grills).

You cannot turn the stove on.

The heating elements produce no heat/flame, or warm up not enough, not evenly, too much, or too slowly.

You cannot set the temperature to the needed level.

Some of the hardware components require replacement, like heaters, timers, convection fans, motors, thermostats, control modules, etc.

The controllers or coils have a loose connection to the control board.

Any of the front panel elements function not properly (touchpads, buttons, knobs, switchers, or keys do not respond; the screen is blank; the indicator is flickering, goes red, or not shining, etc.).

The lamp inside the stove is burned out.

The door is not latching, closing, or opening normally due to deformed or damaged gaskets, joints, springs, hinges, lid switches, latches, or interlocks.

Surface elements or door glass are cracked.

Scratched or damaged induction surface causes temperature sensors to flip.

The appliance makes out a burning, electrical, or gas smell (especially dangerous if the item is off).

Burners produce clicking, ticking, or hissing sounds while you are igniting them.

The stove is hooting, vibrating, squealing, rattling, thumping, pinging, buzzing, humming, grinding, or making other weird noises.

The flame is flickering, sparkling, or shutting off itself.

The flame color is different from normal (so it is red, orange, or yellow).

Certain details are worn off, broken, or lost (belts, leveling feet, drawer mechanisms, fan blades, baffles, light assembly, grates, burner covers, etc.).

Clogged or dirty vent tube, convention fan, gas ports, and gas lines.

Damaged igniter, safety valve, wiring, isolation, or plug cause issues with the gas or electricity supply.
And we can easily eliminate any of those and other problems!
We never doubt that our technicians have the best approach to any appliance. They perfectly know all the subtleties of any stove, as work with them for over 20 years so far. Our team provides flawless Carlsbad Stove Repair and Service, as their skills and knowledge are outstanding. Regardless of the brand, model, rareness, or oldness of your appliance, we make it function perfectly again and for long. Our specialists raise their qualifications constantly, regularly undergo training, and have licenses for serving luxury and the latest items.
Our proficiency and responsibility are the main reason why we provide the best Stove Repair in Carlsbad, CA. And for the most dustless, neat, and accurate proceeding with all tasks, we also have boosting stuff. That is top-rank professional equipment, tools, and materials. We use perfectly suitable spare parts for each appliance. Stocking tons of original and alternative ones, we have fitting details for any stove and wallet. Our work always has the highest quality, and we stand for it. Thus, you get a 90-day labor and 1-year detail guarantee.
Do you want more proof of our reliability? Then visit our Google page. There are hundreds of positive comments about Carlsbad Stove Repair and other services we provide. Since 2001, we have maintained and fixed tons of commercial and household stoves. Our clients entrust other electronics to us too and recommend us to others. It happens this way because we adjust to all the wishes of our customers and provide the best results. Our friendly team offers the most reliable solutions in a way it is comfortable for you!
And one of the most disturbing things for people's comfort is the long waiting. With us, you do not have to worry about it. Our team conducts the quickest Stove Repair in Carlsbad, CA in any situation! Over 90% of orders take us less than a single day to complete. We do not waste time on the road, as have a convenient location. 
Our management, organization, and logistics are on top levels, and we are available 24/7. Thus, we also offer urgent arrival even during days off and after hours. If you request it, we rush to your place immediately for a small additional payment.
If you decide to apply to Oceanside Appliance Repair Service Center, you never regret this choice. Our team deals with tasks of any complexity in the fastest and most effective way. The highest quality for a reasonable price – that is what people want and we give it to them! The only thing you should do is call us or apply online on our website. Our proficient team provides the best Carlsbad Stove Repair and Service. Picking us ensures the durable and smooth functioning of your electronics!
Our specialist carries out repairs, works carefully in the process, so as not to leave behind any traces of equipment repairs, and not to spoil the appearance. After the repair is completed, our company will back it up with a 90-day labor warranty. If you encounter the same problem during the warranty period, rest assured we will return to get an appliance back up to perfectly working condition.
$30 OFF ON FIRST TIME SERVICING
Frequently asked questions
What if I have a complex repair of equipment?
Our specialist will come to your home, conduct diagnostics and offer solutions to the problem. And only after your consent, the repair will begin.
Do you have customer support?
Our managers will always listen carefully to you and give you initial recommendations on the malfunction of your equipment to determine the cost of repair. Call:
(858) 224-0022
Is the expert's visit free of charge?
If you order a call to the master through our website, you are guaranteed to get a free diagnosis of your device, and detection of breakage.