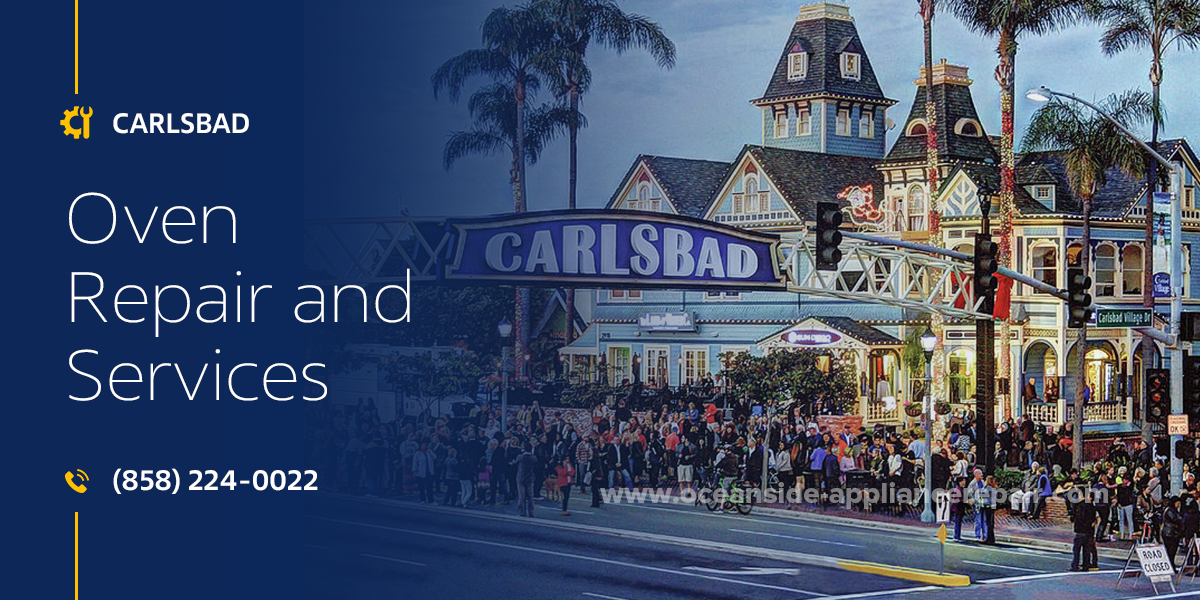 Here is an amazing offer for everyone who is looking for the best Oven Repair in Carlsbad, CA. Do you want to get high-quality and durable results shortly and at an affordable price? Not a problem! That is exactly what Oceanside Appliance Repair Service Center has been providing since 2001. Our team reaches brilliant results in situations of any complexity. You never have to worry about proper installation, maintenance, or fixing your oven if apply to us!
That may sound too ambitious, but we have solid ground to be confident in the quality of services we provide. Our company keeps blooming even in conditions of constant competition with numerous service providers around. Why so? Because we offer the most suitable and comfortable conditions for each Carlsbad Oven Repair. Our clients rate our work with the highest marks. So, you can see tons of positive reviews about us on the net. Our customers trust all their electronics to us and recommend us to other people. Nothing can prove our reliability even better!
The reason for that is our client focus, responsibility, and proficiency. Our company never stops developing, as we aim to be maximum helpful to you. Our specialists have perfectly refined skills, as they are constantly raising their proficiency and have regular training. They are licensed for coping even with luxury and the latest appliances. We provide the most effective Oven Repair in Carlsbad, CA, regardless of brand, model, or rareness of your item. The highest quality of each procedure we conduct is a must!
Another important moment for making your oven perform properly for a long time is picking suitable details. We stock tons of original parts and their top-rank analogs. Thus, we have a match for any item and budget. With the best professional tools, materials, and equipment, our work is always accurate and neat. When we finish the Carlsbad Oven Repair and Service, your unit work brilliantly and your room remains clean. For your calmness, we back up our work with a long-term guarantee. It is 90 days for our labor and 1 year for the details.
The best way to clarify the situation in minutes is to call us and request a consultation or remote diagnostic. You can do it to get advice about maintenance, ask about cooperation with us, or apply for the repair. If your item shows any signs of malfunctioning, do not try to fix it without consulting with a specialist! Contact us to find the solution if your oven has these or other troubles:

While the appliance is working, it produces gas, burning, or electrical smell.

You notice the gas smell even if the oven is off.

The door cannot properly open, close, or latch, as its hinges, springs, gaskets, joints, interlocks, latches, or lid switches are out of shape.

The door glass is cracked.

The heating elements do not heat or are damaged.

The electrical coils, tans, burners, bake elements, broiler elements, induction elements, timers, convection fan, energy regulator, timer, thermostat, fan motor, thermal fuse, igniters, or other components are dysfunctional.

It does not self-cleanse.

The item is heating too weakly, not evenly, too long, or too much, and you cannot control it.

The control module requires recalibration.

The screen is blank, writes incorrect information, or shows an error message.

The lamp inside or the indicator outside is not shining or is going on and off.

The drawer mechanism is damaged, so the racks do not roll out.

The gas lines, gas ports, filters, convention fans, or vent tubes are clogged with crumbs, grease, or dust.

The oven cannot turn on or off or it turns off on its own.

Damaged or lost details require replacement (knobs, buttons, keys, switches, belts, leveling feet, contactors, fan blades, baffles, grates, safety/gas valves, wiring, etc.).

Disrupted or unstable electricity or gas supply.

The item or its parts produces indistinctive loud noises, like humming, gurgling, clicking, ticking, hissing, knocking, buzzing, thumping, vibrating, squealing, etc.
When you inform us about the symptoms, we swiftly understand the reason for such behavior. After that, we arrange the most effective Oven Repair in Carlsbad, CA for you! That also lets us find out the approximate cost of such work. And if it appears to be too high, or the repair is not advisable for other reasons, we let you know. 
Our company never offers you irrational solutions. We are honest with you and want you to trust us. Thus, we have the fairest rates for any Carlsbad Oven Repair. You do not overpay or face any hidden fees if you apply to us. We adjust to any budget and always set a favorable price for our decent work. And it may be even more pleasant, as we have special deals! They are $25 off for booking online, $30 off for seniors and veterans, and 15% off for returning customers.
As we have over 20 years of experience in dealing with ovens and their owners, we know what clients want. Besides the greatest quality and adequate price, it is also a high speed. And we have significant results in it too! 
Our company has numerous conveniently located branches in different areas, so we never waste time on the road. Having perfect management and logistics, we provide the swiftest Oven Repair in Carlsbad, CA. In an absolute majority of cases, your item is back to normal the same day you apply. We also offer an urgent arrival during days off and after hours for a small emergency fee.
For the most high-quality Carlsbad Oven Repair and Service, you should apply to a reliable service center. And it is about our company. Oceanside Appliance Repair Service Center has the most professional specialists, who conduct each procedure neatly, precisely, and effectively. Thus, the quality of our work is always at the highest level. We make any commercial or household oven perform like a brand-new one again in the shortest terms. Just apply to us whenever needed and we make any troubles vanish at the most reasonable price.
Our specialist carries out repairs, works carefully in the process, so as not to leave behind any traces of equipment repairs, and not to spoil the appearance. After the repair is completed, our company will back it up with a 90-day labor warranty. If you encounter the same problem during the warranty period, rest assured we will return to get an appliance back up to perfectly working condition.
$30 OFF ON FIRST TIME SERVICING
Frequently asked questions
What if I have a complex repair of equipment?
Our specialist will come to your home, conduct diagnostics and offer solutions to the problem. And only after your consent, the repair will begin.
Do you have customer support?
Our managers will always listen carefully to you and give you initial recommendations on the malfunction of your equipment to determine the cost of repair. Call:
(858) 224-0022
Is the expert's visit free of charge?
If you order a call to the master through our website, you are guaranteed to get a free diagnosis of your device, and detection of breakage.