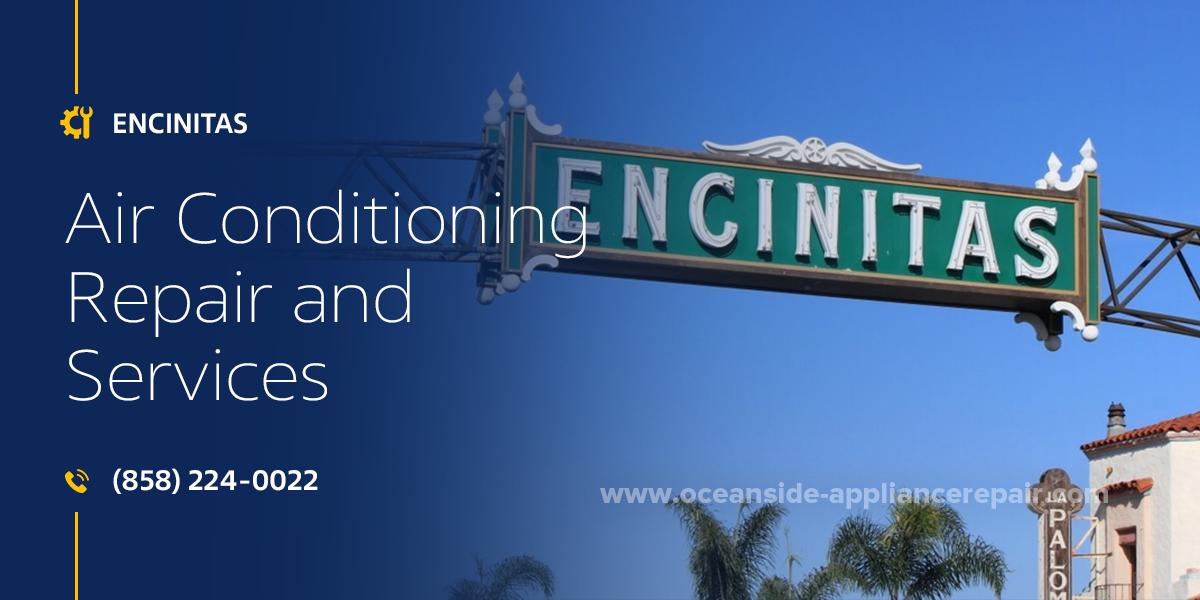 Air Conditioning Repair in Encinitas
Making your house or workplace comfortable is essential for your well-being. And it is the task of household and commercial air conditioners. They care for the climate in your room, but who will care for these items? Oceanside Appliance Repair Service Center! We install, maintain, and fix conditioners in the most effective way since 2001. Our company offers the best prices and the shortest terms for resolving any issues. If you need Air Conditioning Repair in Encinitas, CA, and care for its quality – picking us is the best solution!
Talking about a failed AC, we remember that you may suffer in a sweltering place. And we never let you stay long in such a situation. Thus, we offer the quickest Encinitas Air Conditioning Repair, which we mostly finish the same day you apply. We do not like wasting time, thus we have customized logistics and management perfectly. Our local office also has a convenient location and it is open 24/7. It helps us swiftly reach any address whenever needed. 
If you want us to rush to your address right now, apply to us for urgent arrival. The cost of this option is just slightly higher. But it means that your AC gets back to normal ASAP even on a day off or late at night.
Arriving at your place, our team eliminates any problems swiftly and fluently. With 20+ years of experience in fixing air conditioners of all brands and models, they always know what to do. Perfectly honed skills and great competence let them find and resolve troubles of any complexity. Thus, our company offers the most high-quality Air Conditioning Repair in Encinitas, CA. We are greatly qualified and have licenses for serving luxury and the latest electronics too.
Not to waste time and to clarify the situation in minutes, contact us whenever needed. Our experts can find the reason for the problem and the best solution swiftly during remote diagnostics. We also offer free consultations when you want to get advice about caring for your electronics or any other information. To make your item serve you properly for a long, apply for Encinitas Air Conditioning Repair and Service timely. It is better to fix a small malfunction before it gets serious. And even better is to prevent it with proper maintenance.
After a diagnostic, we know the best way out of your situation. Mostly, we announce the approximate cost of the needed work, pick the proper details, and arrive at the appointed time. But be sure that we pick the most effective solution for you even if it is not beneficial financially for us. Thus, when it is enough to provide you with free instructions, we do it. And if the appliance is only recommendable to replace, we also clearly let you know.
Each appliance and situation requires a personal approach. But talking about air conditioners in general, there is a list of the most common troubles with them. You can see this list below.

Worn-off or damaged details, like wiring, isolation, thermostat batteries, blower belt, registers, bearings, contactors, controllers, safety switches, pipes, filters, etc.

The ductwork is leaking, obstructed, or damaged.

The appliance goes on and off repeatedly, runs non-stop, shuts off on its own, or cannot turn on.

The AC does not affect the temperature in the room.

It cools or heats the room too slowly, too weakly, too much, or not evenly.

The light indicator is blinking red, coming on and off, or not glowing.

The appliance is pinging, squealing, squeaking, popping, rattling, hooting, buzzing, thumping, grinding, humming, knocking, ticking, or making any unusual noises and vibrations.

The air conditioner gives out an electrical or burning smell.

It makes the air humid or emits a filthy odor.

The thermometer, thermostat, fan, power switch, fuse, condensate pump, relay switch, start capacitor, motor, main control board, condenser, compressor, or other hardware component is dysfunctional.

The outdoor unit is faulty or blocked with leaves and dust.

The air is not going out of the registers or the airflow is too weak.

You cannot set the needed temperature, speed, or mode.

The item does not react to the remote control commands.

Switchers, knobs, buttons, touchpads, or keys do not respond.

The display board is blank or shows improper information.

Some of the parts are dirty and clogged, so require cleaning (coils, condensate pump reservoir, drain pipe, filters, etc.).

Freon is missing or leaking out.

The water drops are condensing under the appliance or leaking inside the room.

The item was installed incorrectly.

The electricity supply is unstable or disrupted.
Our specialists eliminate these and other problems fluently and accurately. They are equipped with the best professional tools and materials for any type of Air Conditioner Repair in Encinitas, CA. They always use top-notch spare parts from original and alternative manufacturers. It ensures the smooth and durable performance of your appliance. For all the components we use, we add a 1-year warranty. And we also provide a 90-day guarantee for our labor.
You never have to worry about your electronics if apply to us. Our company is a reliable provider of Encinitas Air Conditioning Repair and other services, which is proven with time. We successfully withstand competition with other companies since 2001 because we have gained the trust of many clients. They return to us to fix other appliances, as they always get brilliant results with us. You can see tons of their honest positive reviews on our Google page. Our clients also recommend us to others, as they are confident in our responsibility and professionalism.
Besides flawless results, returning customers also get a 15% discount. For veterans and seniors, a special deal means a $30 off price. And you pay $25 less if book the order online. Add the fairest and most transparent pricing system to that. As a result, our Air Conditioning Repair in Encinitas, CA is the most affordable. We set the most reasonable rates and clearly inform you about all the expenses and the condition of your item.
A decent service provider is a company that adjusts to your needs and provides top-quality work. And it is about Oceanside Appliance Repair Service Center. With us, you get your AC back to normal swiftly and at a favorable price. No extra stress, huge bills, or waiting for weeks. Our company provides the best Encinitas Air Conditioning Repair and Service in a way it is suitable for you.
Our specialist carries out repairs, works carefully in the process, so as not to leave behind any traces of equipment repairs, and not to spoil the appearance. After the repair is completed, our company will back it up with a 90-day labor warranty. If you encounter the same problem during the warranty period, rest assured we will return to get an appliance back up to perfectly working condition.
$30 OFF ON FIRST TIME SERVICING
Frequently asked questions
What if I have a complex repair of equipment?
Our specialist will come to your home, conduct diagnostics and offer solutions to the problem. And only after your consent, the repair will begin.
Do you have customer support?
Our managers will always listen carefully to you and give you initial recommendations on the malfunction of your equipment to determine the cost of repair. Call:
(858) 224-0022
Is the expert's visit free of charge?
If you order a call to the master through our website, you are guaranteed to get a free diagnosis of your device, and detection of breakage.