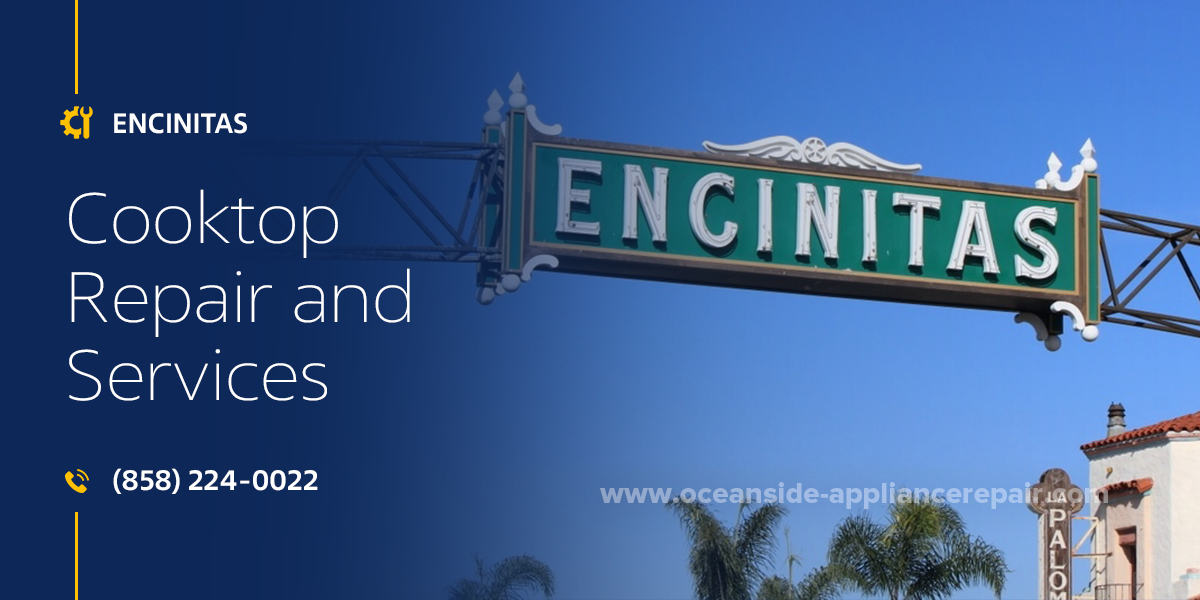 Cooktop Repair in Encinitas
If you are looking for effective, reliable, and swift Cooktop Repair in Encinitas, CA, stop here. Oceanside Appliance Repair Service Center focuses on quality work and customer satisfaction. Our company has been providing the best maintenance, fixing, and installation services since 2001. Regardless of the complexity of the issue and your requirements, we find a stressless and durable solution. With us, you get a brilliant result at a favorable price and in the shortest terms.
To ensure the longevity and proper functioning of any appliances, proper regular care is essential. If you missed it or want to get advice, feel free to contact our specialists anytime. We offer free consultations to share any information you may need. Also, contacts us ASAP if the unit fails. During remote diagnostics, we quickly assess the condition of your item and offer the best Encinitas Cooktop Repair. For the cases, when it is enough to provide simple instructions, we gladly help you restore the item's functioning quickly. 
It may also appear that the unit is beyond repair or it is not cost-effective. If so, we honestly recommend you a replacement. But those cases do not happen often. Mostly, after clarifying the situation, we plan the needed procedures and announce their cost to you. To get that information, pay attention to any changes in the behavior of the cooktop and contact us. Even the smallest malfunctions should not be ignored. You can see the most common issues that happen to these appliances below.

The appliance gives out a gas, burning, or electrical smell.

The temperature sensors are flipping because of a scratched induction surface.

The burners cannot ignite normally but are sparking, arcing, hissing, or ticking.

The flame has an incorrect color, like red, orange, or yellow.

The cooktop fails to turn on or it goes off abruptly while cooking.

The electric coils are damaged or have a poor connection.

The front control panel is faulty, and it bothers you to use the appliance or adjust the needed settings.

The display board shows an error code or is blank.

Timers and controllers function incorrectly.

The LED indicator is blinking red, flickering, or burned out.

The heating elements (burners, induction or electric coils), igniters, thermostats, thermometers, sensors, or other components are dysfunctional.

The cooktop produces no heat or flame.

The heating elements heat too slowly, too much, not enough, or unevenly.

Burner caps, grates, switches, buttons, knobs, or other details are worn off or damaged.

The gas lines or gas ports are clogged with dust, debris, or crumbs.

Spoiled wiring, isolation, plug, gas valve, or ignition control cause issues with the gas or power supply.

The item is operating too loudly, vibrating, knocking, ticking, squealing, buzzing, whining, grinding, etc.
Our team fluently eliminates any of those and other problems in commercial and household cooktops of all brands and models. They have been developing all the time, to be maximum useful for you. Our specialists have licenses also for coping with luxury and the latest units. With 20+ years of experience in providing the best Cooktop Repair in Encinitas, CA, there is nothing we cannot resolve. Our technicians possess honed skills and extensive knowledge, which brings the highest quality to each procedure.
The proficiency of our team also translates into the quickest Encinitas Cooktop Repair and Service. We are well-organized and conveniently located, ensuring the fastest arrival to any address. In over 90% of cases, we complete orders in less than a day. We even offer an expedited option for a small additional fee. It means that the specialist departs at your place within 15 minutes. It is also available during days off and after hours.
We are flexible not only with arrival time but also with pricing. We can accommodate various budgets by using different materials and components. With our extensive inventory of original and alternative spare parts, we find the perfect match for any appliance and requirements. Regardless, we only utilize high-quality, time-tested tools and equipment for every procedure. It ensures the most precise, accurate, and efficient result for each Cooktop Repair in Encinitas, CA. 
We want you to be confident that our work is reliable and durable. Being in charge of every action, we back up our labor with a 90-day guarantee. And for the details we use, we also have a 1-year warranty.
You get the best result without paying a fortune if apply to us. We do not offer useless services and clearly inform you what you pay for. Thus, our Encinitas Cooktop Repair is always fair-priced and affordable. If you place an order online, you also get a $25 discount. Plus, the price is $30 lower for veterans and seniors. And returning clients pay 15% less when applying to us again.
There are many reasons why our customers trust us. They always get the most comfortable conditions and friendly attitude. They know that we honestly pick the most effective solution, focusing on the client's satisfaction first. It makes them pick us again if they get other issues with electronics. Our customers also recommend us to others and place tons of positive reviews on the net. They are absolutely happy with all aspects of our work. Their opinion shows that we offer the best Cooktop Repair in Encinitas, CA, and other services.
For any issues regarding your electronics, apply to Oceanside Appliance Repair Service Center. Our specialists are always ready to help with making your cooktop run like a clock for long years. We adjust to all your requirements, offering flawless quality and reasonable prices. Call us or place an online application on our website to get the best Encinitas Cooktop Repair and Service shortly!
Our specialist carries out repairs, works carefully in the process, so as not to leave behind any traces of equipment repairs, and not to spoil the appearance. After the repair is completed, our company will back it up with a 90-day labor warranty. If you encounter the same problem during the warranty period, rest assured we will return to get an appliance back up to perfectly working condition.
$30 OFF ON FIRST TIME SERVICING
Frequently asked questions
What if I have a complex repair of equipment?
Our specialist will come to your home, conduct diagnostics and offer solutions to the problem. And only after your consent, the repair will begin.
Do you have customer support?
Our managers will always listen carefully to you and give you initial recommendations on the malfunction of your equipment to determine the cost of repair. Call:
(858) 224-0022
Is the expert's visit free of charge?
If you order a call to the master through our website, you are guaranteed to get a free diagnosis of your device, and detection of breakage.