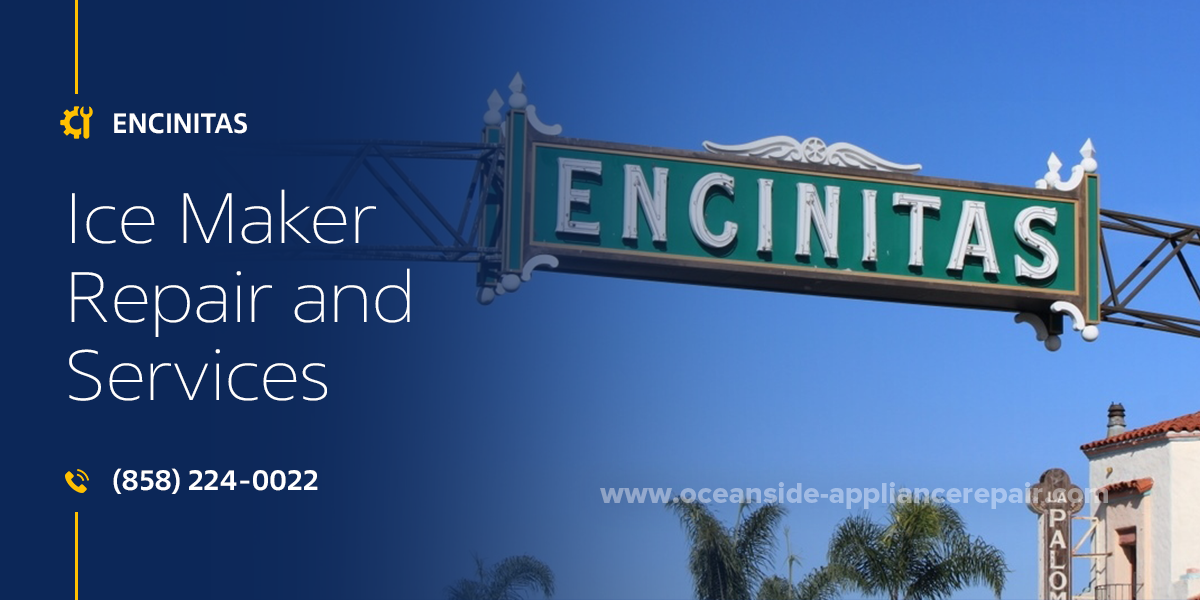 Ice Maker Repair in Encinitas
Even the best electronics may start functioning worse with time or other internal and external factors. The ice maker is not an exception. If you care for the proper and durable performance of your appliance, contact Oceanside Appliance Repair Service Center. We offer the best solutions for maintenance, installing, and fixing any electronics. With over 20 years of experience, our team provides top-quality results regardless of the complexity of the issue. Our Ice Maker Repair in Encinitas, CA is always the swiftest and most fair-priced.
To get the best service, apply to the best company. But how to indicate a reliable one? The most objective indicator is the opinion of people who already faced similar issues. If you visit our Google page, you will see the answer. We provide our clients with the most effective Encinitas Ice Maker Repair in a comfortable way. And, surely, getting brilliant results, they entrust other electronics to us too. You may also have heard about us already, as our clients often recommend us to friends and relatives.
So, why are our customers so happy with our work? First of all, our Ice Maker Repair in Encinitas, CA is high-quality and reliable. Our technicians know all the subtleties of working with units of all brands and models. Their excellent up-to-date knowledge is confirmed with licenses for dealing with luxury and the latest items too. We have restocked the smooth performance of tons of commercial and household ice makers since 2001. There is nothing that we cannot deal with.
We are in charge of each action. Thus, we back up our labor with a 90-day guarantee. And it is 1 year for the details we use. Our team pays much attention to picking the best components for your appliance. Thus, we stock a huge variety of original parts and their analogs. It helps us pick perfectly suitable details for each unit and budget. Our specialists also have all the needed equipment for Encinitas Ice Maker Repair and Service of any type. We conduct procedures neatly, precisely, and dustless with proper tools and materials.
There are many different situations in which your ice maker requires professional assistance. It may start with cleaning or replacing a button and finish with fixing some inner hardware. Below, you can see the most common troubles that may happen to this appliance.

The item cannot provide a proper temperature.

It is not possible to adjust any settings as the controllers do not respond or are broken.

The display board shows improper information or error or is not shining.

You cannot adjust any settings as needed, because the controllers, like touchpads, buttons, knobs, keys, or switches, are dysfunctional, do not respond, or are damaged.

The appliance stopped producing any ice.

The cubes have the wrong size, shape, or consistency.

The item cannot supply water normally due to damaged or obstructed hoses, pipes, water lines, water inlet valves, reservoirs, filters, or pumps.

The ice has a foul smell or taste.

It is not possible to eject the cubes easily as they are covered with ice mold.

The ice does not fall or does not stop falling into the ice basket.

Power switch, compressor, control panel, ice-cutting mechanism, motor, gearbox, control arm, fan, thermostat, or other hardware functions improperly.

The refrigerating coolant is leaking.

The drops of water are condensing under the appliance or drip outside.

Some of the details are worn, damaged, or lost (inner tubes, inlet pipes, leveling feet, seals, belts, baffles, fan blades, flaps, bearings, etc.).

The ice maker turns off abruptly or cannot turn on at all.

Deformed hinges, springs, joints, interlock, lid switches, gaskets, or latches do not let you close or open the door normally.

The power supply is disrupted due to spoiled wiring, isolation, or plug.

The item makes out loud indistinctive noises, like buzzing, humming, squealing, knocking, grinding, vibrating, etc.
Facing any of these or other unpleasant signs, do not hesitate to call us. Depending on the situation, our team swiftly understands what to do. For everyone who needs advice or wants to know more details about cooperation with us, we offer free consultations. And to plan the most effective Ice Maker Repair in Encinitas, CA for your case personally, we offer remote diagnostics. After you explain to us what is wrong, we find a problem and its solution in no time. Our specialists announce the approximate cost of the needed work and adjust comfortable conditions for you.
Sometimes the only way out is to replace an appliance. It means that the item is beyond repair or fixing it is not cost-effective. We know that some companies use it to make more money on clients. But it never happens if you apply to us. Our team offers only rational and affordable Encinitas Ice Maker Repair. We inform you what you pay for and you see the brilliant result of your investment. You get the most efficient solution, even if it means following our instructions by phone. We also have a 15% off price for returning clients, $25 for online booking, and $30 for veterans and seniors. 
Another way we care for your comfort is by not making you wait long. A normal situation for us is to complete Ice Maker Repair in Encinitas, CA the same day you apply. We imagine how much the failed item may influence your rest or the workflow of your cafe during a hot day. Thus, our company is working round the clock and is ready to react to your urgent application instantly. For a small additional payment, the technician starts his way to your address within 15 minutes. Such an option lets you get the swiftest solution even during days off and after hours.
Oceanside Appliance Repair Service Center is about the best attitude to clients and electronics. Our friendly, skilled, and competent team helps minimize your stress related to a failed ice maker. You can contact us by phone or on the website whenever needed. We call you back in a minute and help arrange the best solution. Our company is a reliable provider of high-quality and quickest Encinitas Ice Maker Repair and Service at a reasonable price.
Our specialist carries out repairs, works carefully in the process, so as not to leave behind any traces of equipment repairs, and not to spoil the appearance. After the repair is completed, our company will back it up with a 90-day labor warranty. If you encounter the same problem during the warranty period, rest assured we will return to get an appliance back up to perfectly working condition.
$30 OFF ON FIRST TIME SERVICING
Frequently asked questions
What if I have a complex repair of equipment?
Our specialist will come to your home, conduct diagnostics and offer solutions to the problem. And only after your consent, the repair will begin.
Do you have customer support?
Our managers will always listen carefully to you and give you initial recommendations on the malfunction of your equipment to determine the cost of repair. Call:
(858) 224-0022
Is the expert's visit free of charge?
If you order a call to the master through our website, you are guaranteed to get a free diagnosis of your device, and detection of breakage.