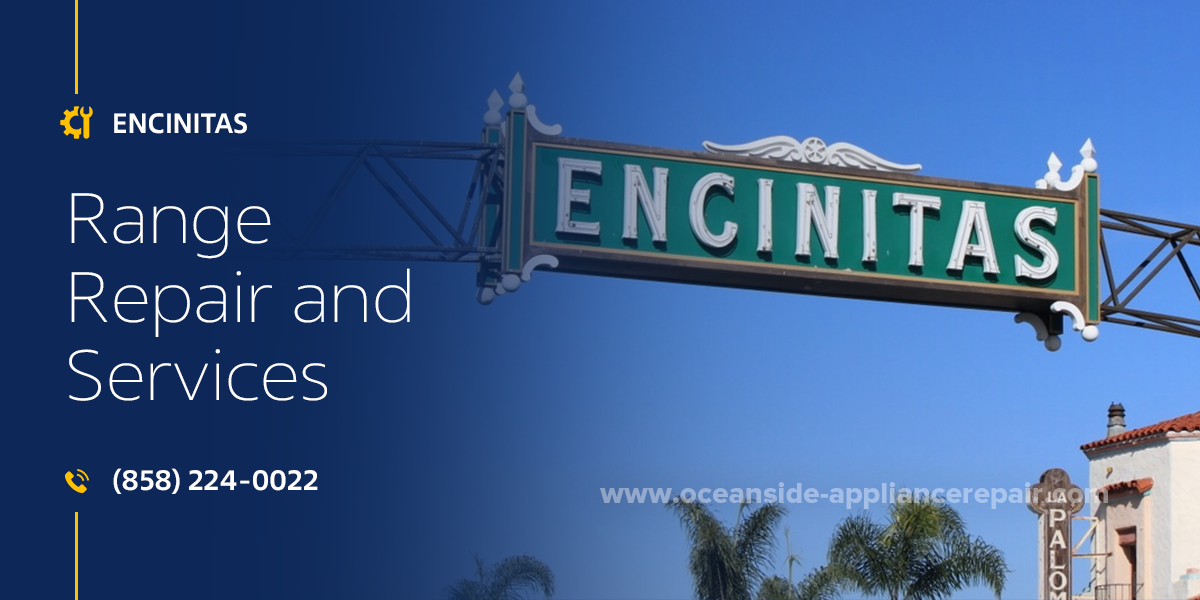 Range Repair in Encinitas
Our kitchens are stuffed with various electronics, helping us in cooking and eating well. For each house and restaurant, a proper range is the best multifunctional tool. Sooner or later, this item may start coping with its tasks worse because of many internal and external factors. And with Oceanside Appliance Repair Service Center, you can prevent and eliminate it. Our team provides the most effective Range Repair in Encinitas, CA since 2001. The highest quality, swiftest arrival, and reasonable prices – that is about the fixing, installation, and maintenance services we offer!
Remember that the range may be a dangerous item, as it deals with gas and high temperatures. And it means that you should be careful when notice it malfunction. In such a case, contact our specialists. We offer free consultations and remote diagnostics to find out what assistance you need. We gladly share useful advice and instructions with you. And if we indicate that the only way out is a replacement, we also clearly inform you. But mostly, the most effective solution is planning our arrival for Encinitas Range Repair.
To clarify which is the best way to help your appliance, let us know what makes you worry. The most common troubles that may happen to your range are listed below.

The burners fail to ignite or they are hissing, clicking, or ticking.

The flame is sparking, arcing, flickering, or has an unusual color, like red, orange, or yellow.

The temperature does not match the set/desired one and you cannot control it.

The heating elements (induction or electrical coils, burners, broilers, bake elements, grills) do not emit any heat or do it insufficiently, too slowly, or unevenly.

You notice a burning, electrical, or gas smell.

The gas lines or gas ports are clogged, the safety valve is damaged, or the igniter is defective, so the item has issues with the gas supply.

The indicator shows the item is on but it does not respond.

The lamp in the cavity or the LED indicator on the front panel is flickering or not shining.

The display board shows an error message or does not glow at all.

Timers and controllers do not work properly, so you cannot adjust any settings.

The control module is faulty and it requires recalibration.

The door glass or any surface elements are cracked.

You cannot close, open, or latch the door, due to deformed hinges, springs, gaskets, joints, lid switches, or interlocks.

The vent tube or convention fan is clogged.

The appliance produces loud noises, like vibrating, humming, squealing, buzzing, knocking, thumping, grinding, gurgling, etc.

The racks cannot roll out as the drawer mechanism is damaged.

Buttons, knobs, keys, switches, handles, burner caps, grates, light assembly, leveling feet, belts, fan blades, baffles, bearings, wiring, isolation, plug, or other details are worn off.

Fans, thermostats, thermometers, or other components are out of order.

The power supply is disrupted or unstable.

You cannot turn the range on or off.

The item shuts off itself while cooking.

The induction surface is scratched, so the temperature sensors are flipping.
Our team has successfully resolved these and other troubles many times before. Thus, we swiftly understand what to do, announce the cost of work, and pick the proper details. In some cases, it has sense to use top-rank alternative parts instead of original ones. We store a vast variety of any of them, so pick a match for each appliance and budget. Our technicians also use the best tools, materials, and equipment for any Range Repair in Encinitas, CA. Thus, you can be confident of getting accurate, tidy, and durable services.
With the greatest qualification of our specialists, the quality of our work is always flawless. For over 20 years so far, we provide the most effective Encinitas Range Repair and Service. Our team is insured and licensed. Thus, we easily cope with items of all brands and models, including luxury and the latest ones. With perfectly honed skills and broad knowledge, we swiftly restore the proper functioning of any commercial and household range. Plus, we provide all our work with a long-term warranty: 1 year for details and 90 days for our labor.
Your comfort means much to us. Thus, we never make you wait long before we resolve any troubles with your electronics. Our team completes over 90% of orders the same day you apply! And, surely, you can pick any other suitable moment. We are always ready to provide you with the swiftest Range Repair in Encinitas, CA. Even if you want it late at night or during a day off. We are open 24/7 for such urgencies. For a slightly higher price, the technician departs to your place within 15 minutes. We do not waste time, as have a convenient location and perfectly customized logistics and management.
When it comes to the cost of our Encinitas Range Repair, we offer competitive rates to fit your budget. We believe in fair pricing without hidden fees or unnecessary charges. Additionally, we provide discounts for our commercial clients, including special offers for returning customers, veterans, and seniors. With us, everyone can get the best services at an affordable and favorable price. We report all the expenses, so you clearly know what you pay for.
Our client focus, friendly attitude, responsibility, and professionalism are the traits that make our clients come back. We offer the most comfortable and efficient Range Repair in Encinitas, CA, and other services. Thus, our customers entrust other electronics to us too and do not doubt getting brilliant results. They recommend us to friends and share their opinion with others. To see what they think about our company, visit our Google page, where we have tons of 5-star reviews.
To get a decent fixing, installation, or maintenance service, apply to us. Oceanside Appliance Repair Service Center knows how to provide you with flawless results in a swift and cost-effective way. Just call us or place an order on our website. Our team will arrange an effective solution regardless of the complexity of the issue. Our clients get top-quality Encinitas Range Repair and Service in the most comfortable conditions..
Our specialist carries out repairs, works carefully in the process, so as not to leave behind any traces of equipment repairs, and not to spoil the appearance. After the repair is completed, our company will back it up with a 90-day labor warranty. If you encounter the same problem during the warranty period, rest assured we will return to get an appliance back up to perfectly working condition.
$30 OFF ON FIRST TIME SERVICING
Frequently asked questions
What if I have a complex repair of equipment?
Our specialist will come to your home, conduct diagnostics and offer solutions to the problem. And only after your consent, the repair will begin.
Do you have customer support?
Our managers will always listen carefully to you and give you initial recommendations on the malfunction of your equipment to determine the cost of repair. Call:
(858) 224-0022
Is the expert's visit free of charge?
If you order a call to the master through our website, you are guaranteed to get a free diagnosis of your device, and detection of breakage.