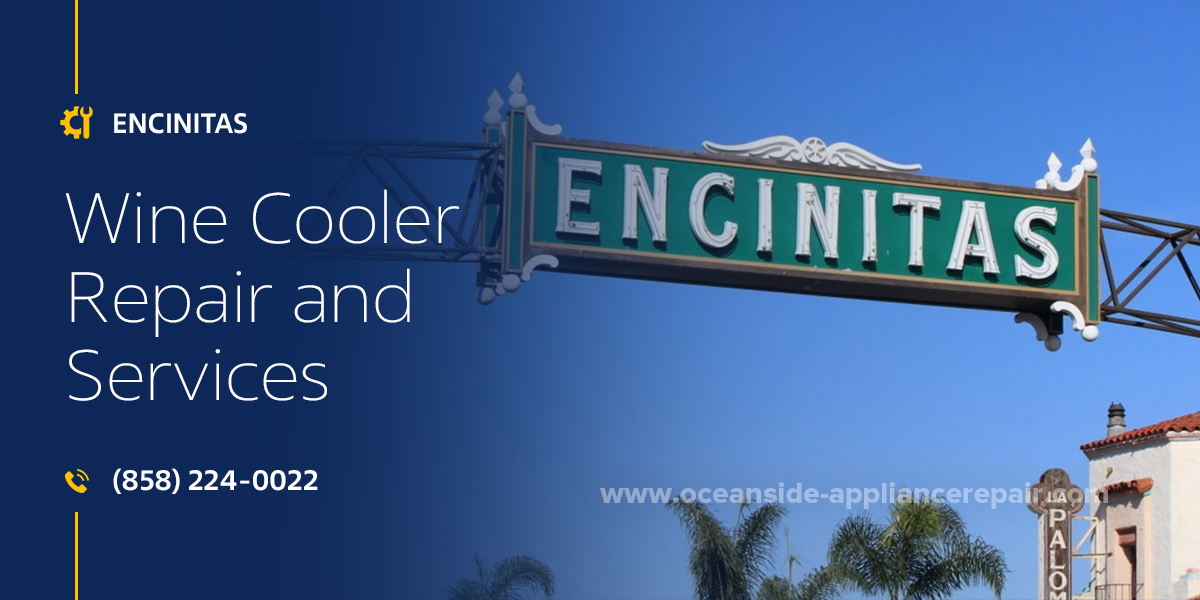 Wine Cooler Repair in Encinitas
A failed wine cooler means not only the risk of having the beverage spoiled. Many people stress more about applying for repair than about the very broken appliance. But it never happens to clients of Oceanside Appliance Repair Service Center. They know that to make any issue vanish, they just need to inform us. All the other things will be completed easily and swiftly by our competent specialists. We offer the most effective Wine Cooler Repair in Encinitas, CA at affordable prices and in the shortest terms.
For real wine lovers and responsible restaurant owners, it is not acceptable to store the bottles incorrectly. Thus, it is essential to get a wine cooler back to normal as soon as possible. If you apply to us, this task will be resolved within a single day. It happens this way in over 90% of orders, as our team is fluent, greatly managed, and responsible. Our convenient location also lets us spend minimum time on the road. It is especially useful for urgent Encinitas Wine Cooler Repair. Our technician sets off to your address immediately at any moment of day and night for a small emergency fee.
If you want to clarify the situation before applying or need any advice, just call us. We offer free consultations and remote diagnostics, which help understand what assistance is required. We gladly answer your questions and quickly indicate the reason for the problem. It helps us arrange the most effective Wine Cooler Repair in Encinitas, CA in a suitable way for you. We also honestly inform you if our arrival is not needed. It happens when our instructions are enough to resolve minor trouble. Or if we detect that the repair is not recommended or cost-effective.
There is no such a situation when you should ignore changes in the behavior of your wine cooler. Even the smallest malfunction may lead to a total failure soon. Below, you can see a list of the most common troubles with this appliance.

The temperature is not at the proper level and you cannot adjust it.

It is too humid inside, which affects the condition of bottles, corks, and labels negatively.

The moisture accumulates inside or underneath the appliance.

The internal or external lights, lamps, or bulbs are burned out, going on and off, or not shining at all.

The item stopped cooling.

The wine cooler is buzzing, bubbling, gurgling, grinding, thumping, knocking, squealing, humming, vibrating, etc.

The refrigerant is leaking or missing.

Some of the components are working incorrectly or not working at all (capacitors, starters, sensors, fans, thermostats, thermometers, compressors, evaporators, the Peltier modules, process control blocks, etc.).

The unit cannot be powered with electricity because of worn cords, isolation, or plug.

The door gasket, joints, springs, hinges, interlocks, lid switches, or latches are out of shape, which does not let to close or open the door properly.

The door glass, shelves, or body surfaces are cracked.

The condenser fan, coils, or ventilation is blocked with dust or debris.

Pieces of ice or snow-like accumulation appear on the condenser coils, bottles, or inner walls.

You cannot turn the wine cooler on or off.

The appliance goes on and off repeatedly or shuts off abruptly.

Leveling feet, belts, fan blades, baffles, bearings, handles, holders, buttons, keys, switchers, knobs, or other details are spoiled.
Any of these problems vanish in no time if you apply to us. We have experienced, skilled, and competent technicians, who know everything about the construction and functioning of wine coolers. They can restore the proper functioning of commercial and household units of all brands and models. Do not worry if your appliance is brand-new or the latest one. We have licenses for serving any of them! With us, you should be confident in getting top-quality Encinitas Wine Cooler Repair and Service.
The smooth and durable performance of any electronics depends on the condition of the components. Thus, we carefully pick the best original and alternative details and stock them to match each unit. Together with perfectly suitable spare parts, our team uses top-notch professional equipment, tools, and materials. As a result, we provide the most accurate and neat Wine Cooler Repair in Encinitas, CA. You can be sure of its reliability, as we provide a long-term guarantee for each procedure. It lasts 1 year for the details and 90 days for our labor.
And you get decent service in comfortable conditions without breaking the bank. We set the most reasonable rates, as we want to provide many people with great solutions. Our Encinitas Wine Cooler Repair is affordable and we can adjust to any budget. Plus, returning clients pay 15% less. For seniors and veterans, the discount is $30. And when you book an order online, you get a $25 off price. With us, you always know and observe what you pay for. No senseless charges or hidden fees. Only effective procedures and favorable costs!
Surely, people like applying to companies that charge adequate money. But that is not the only reason why customers come back to us. They trust our team because they know firsthand that we provide stressless and efficient ways out of any situation. You can see tons of their appraising comments on our Google page. Such an opinion of clients has helped us successfully withstand competition with other service centers since 2001. Thus, we can confidently claim to be a trustworthy provider of Wine Cooler Repair in Encinitas, CA.
For proper installation, maintenance, and fixing of your wine cooler, rely on Oceanside Appliance Repair Service Center. We provide the best solutions for over 20 years so far. All you need to do is just call us or place an online application. Our friendly, proficient, and hardworking team makes any issues disappear shortly. Our clients get the most high-quality Encinitas Wine Cooler Repair and Service at the most favorable price.
Our specialist carries out repairs, works carefully in the process, so as not to leave behind any traces of equipment repairs, and not to spoil the appearance. After the repair is completed, our company will back it up with a 90-day labor warranty. If you encounter the same problem during the warranty period, rest assured we will return to get an appliance back up to perfectly working condition.
$30 OFF ON FIRST TIME SERVICING
Frequently asked questions
What if I have a complex repair of equipment?
Our specialist will come to your home, conduct diagnostics and offer solutions to the problem. And only after your consent, the repair will begin.
Do you have customer support?
Our managers will always listen carefully to you and give you initial recommendations on the malfunction of your equipment to determine the cost of repair. Call:
(858) 224-0022
Is the expert's visit free of charge?
If you order a call to the master through our website, you are guaranteed to get a free diagnosis of your device, and detection of breakage.