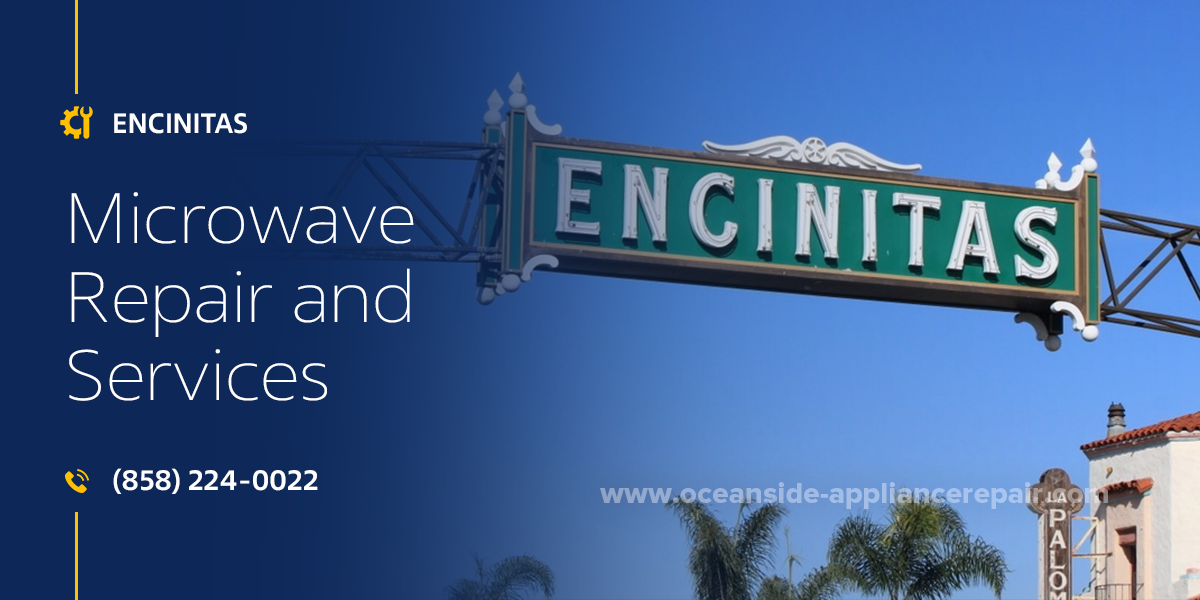 Microwave Repair in Encinitas
Microwave in each house, office, or other place is the swiftest and easiest way to get a warm meal. Thus, you barely want it to work improperly or fail completely. And these unpleasant situations may happen because of various reasons. It includes frequent or incorrect usage, time, voltage surges, etc. But if you apply to Oceanside Appliance Repair Service Center for maintenance or fixing, you have nothing to worry about. We provide you with the best services at the most reasonable prices with minimum expectance time. Our Microwave Repair in Encinitas, CA is always high-quality and durable!
You can be confident of getting flawless results if apply to us. The experience of our team exceeds 20 years and their skills and knowledge are outstanding. Regardless of the brand and model of your item, we conduct the most effective Encinitas Microwave Repair. Our team regularly undergoes training and licensing. It shows their highest qualification and lets them easily deal even with luxury and the latest unit. We reanimate any commercial and household microwaves, regardless of the complexity of the breakage.
Still, there are some cases when we rather advise you a replacement. It happens when the repair is not cost-effective or recommendable because of the condition of the item. To indicate what solution is needed, we recommend conducting remote diagnostics. Just inform us of the symptoms and we prescribe the best treatment for your sick microwave! It lets us plan the most effective Microwave Repair in Encinitas, CA. So we can pick the proper details and announce the cost of the work beforehand. If the item works fine and you want to discuss other issues about it, call us for a free consultation.
We strongly recommend you not try fixing a broken appliance yourself. If the issue is minor, it is still better to ask for advice and follow the instructions of our specialists. Do not hesitate to contact us if face even the smallest malfunction. Below, you can see the most common troubles with microwaves.

The appliance stopped heating at all.

It heats the food too slowly, too weakly, too much, or not evenly.

The microwave is sparking, arcing, or smoking while heating.

It has issues with hardware components (high-voltage capacitor or transformer, thermal fuse, waveguide, magnetron, diode, cooling fan, main control board, thermal protector, vent, heating element, drive motor, etc.).

Timers and controllers do not function properly.

The item stops heating midway or goes on heating after the time is off.

The door cannot latch, open, or close normally, as it has its hinges, springs, joints, hooks, interlocks, lid switches, or gaskets out of shape.

The door glass or body surface is cracked.

The screen shows an error, is blank, or not glowing at all.

The control panel functions wrong, has a loose connection with controllers/touchpads or heating elements, and requires recalibration.

The microwave has issues with the power supply.

The bulb inside the cavity or the LED indicators outside the unit is flickering or not glowing.

The roller ring does not rotate.

Buttons, knobs, keys, switches, wires, plugs, waveguide covers, belts, rack mounts, turntable rings, couplers, or other details are worn off, damaged, or lost.

The heating tan or air vent is blocked with dust, grease, or pieces of food.

The microwave is humming, thumping, buzzing, knocking, grinding, squealing, or making other weird noises while working.

It is not possible to turn the appliance on or off.
Many issues happen because of worn or spoiled components. Thus, we pay much attention to using the proper ones. With a wide selection of original details in stock, we have perfectly fitting ones for each microwave. We use the best professional tools, equipment, and materials to proceed with Encinitas Microwave Repair and Service tidily and precisely. And the result of our work is always flawless. For your calmness and to show our reliability, we provide a long-term guarantee for each order. It is 90 days for labor and 1 year for the details we use.
And that is not the only thing showing our trustworthiness. Since 2001, we have been successfully competing with other service centers. And in such conditions, we keep on growing and developing. It happens because we gained the trust of our clients. They never regret picking us, because get brilliant Microwave Repair in Encinitas, CA in a convenient and comfortable way. It makes them apply to us when other electronics need assistance too. Our customers give the highest rates for our services and write tons of positive comments on the net.
And when our customers apply to us again, they get a 15% discount. We set the most favorable and affordable rates for each Encinitas Microwave Repair. Our goal is to make a high-quality service available to many people. Thus, the cost of our work is always fair and you clearly know what you pay for. We also have a $25 discount for online booking. Veterans and seniors always pay $30 less for our work. With us, you get only rational and efficient solutions without any overcharging or hidden fees. We can adjust to any budget when needed.
Another thing we are flexible about is time. To offer the fastest Microwave Repair in Encinitas, CA, we care for proper organization. Our local office in your area has a convenient location and our team has a perfectly customized management. It lets us reach any address exactly at the time you want. Not to make you unable to use your microwave for a long, we strive to resolve the issue ASAP. In over 90% of orders, our team completes your task within a single day. 
We also have an option for urgent situations during days off and non-working hours. It costs slightly more but means that the specialist sets off to your place immediately!
With our reliable, friendly, and responsible team, you get the best service for your microwave. We deal with various electronics for a long, always caring about your comfort and the highest quality of work. Oceanside Appliance Repair Service Center is a company that provides the most effective solutions at the best price. Our Encinitas Microwave Repair and Service are always durable, accurate, and swift!
Our specialist carries out repairs, works carefully in the process, so as not to leave behind any traces of equipment repairs, and not to spoil the appearance. After the repair is completed, our company will back it up with a 90-day labor warranty. If you encounter the same problem during the warranty period, rest assured we will return to get an appliance back up to perfectly working condition.
$30 OFF ON FIRST TIME SERVICING
Frequently asked questions
What if I have a complex repair of equipment?
Our specialist will come to your home, conduct diagnostics and offer solutions to the problem. And only after your consent, the repair will begin.
Do you have customer support?
Our managers will always listen carefully to you and give you initial recommendations on the malfunction of your equipment to determine the cost of repair. Call:
(858) 224-0022
Is the expert's visit free of charge?
If you order a call to the master through our website, you are guaranteed to get a free diagnosis of your device, and detection of breakage.