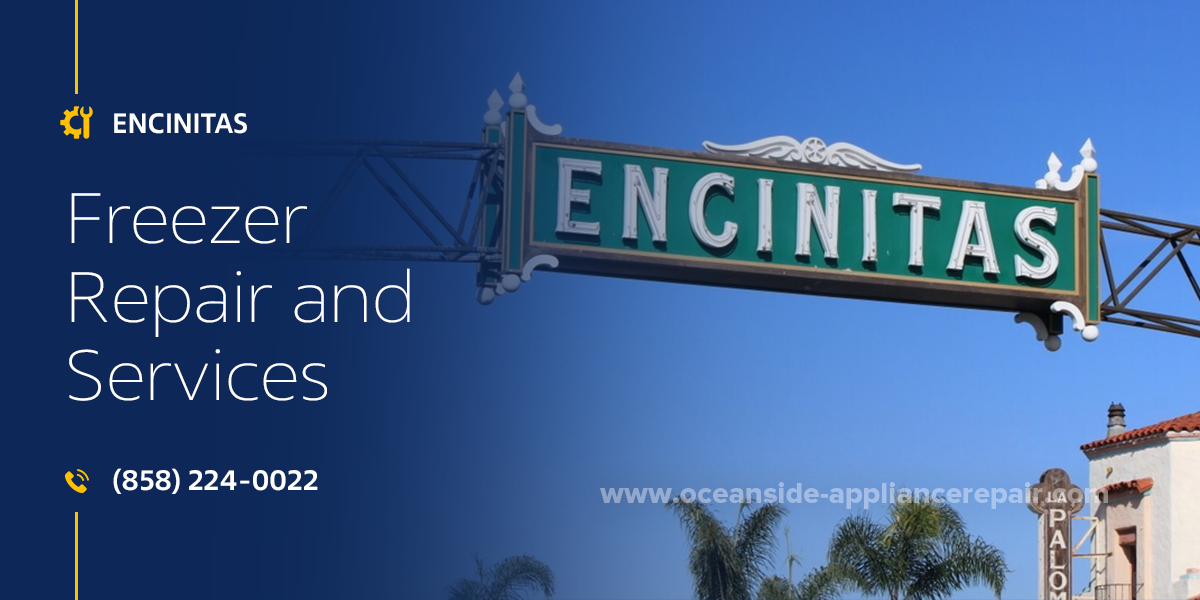 Freezer Repair in Encinitas
The major role of freezers is a long storing of food without losing its quality and freshness. The peculiarity of their functioning means that when the item fails, you face many issues. To avoid or eliminate a puddle on the floor and melting products, rely on Oceanside Appliance Repair Service Center. Since 2001, we provide our clients with high-quality fixing, maintenance, and installation for their electronics. Our Freezer Repair in Encinitas, CA is always the swiftest and fair-priced.
We can claim to provide decent services because we are confident in the proficiency of our team. With 20+ years of experience, brilliant skills, and outstanding knowledge, they can deal with anything! Our technicians know all the subtleties of serving household and commercial freezers of all brands and models. They always update their competence by having regular training and licensing. Thus, we offer effective Encinitas Freezer Repair to any unit, including luxury and the latest ones.
The list of issues that may happen to your appliance is wide. And none of them can scare off our team. Surely, the best idea is to inform specialists about even the smallest problem. Confidently call us if notice any of these or other troubles:

The item does not freeze, or it freezes insufficiently.

The appliance shuts off itself, goes on and off repeatedly, or cannot turn on.

Some of the hardware components are out of order, such as the condenser fan, evaporator fan, compressor relay, compressor motor, condenser/evaporator coils, relay switch, overload protector, expansion device, thermostat, defrost heater or timer, icemaker, vent, etc.

The appliance does not defrost automatically.

The door glass/surface, body, or shelves are cracked or damaged.

You cannot close or open the door properly because of its spoiled lid switches, interlocks, gaskets, joints, springs, or hinges.

The freezer produces a burning or electrical smell.

The freezer compartment has a filthy odor or mold inside.

Compressor mounts, water inlet valves, fuses, buttons, keys, knobs, switches, leveling feet, belts, fan blades, baffles, handles, hoses, or other details and worn off and require replacement.

There is a leakage of refrigerant or water under the item.

Ice or frost buildup or snow-like accumulation appears in the inner walls, coils, or products inside the freezer. 

The electricity supply is disturbed, as wiring, isolation, or plug is damaged.

The appliance is making weird vibrations or sounds, like knocking, gurgling, humming, buzzing, squealing, grinding, thumping, etc.

The display board or screen shows an error code or does not glow.

The lamp inside the freezer or the LED indicator outside of it goes on and off or does not shine.

The controllers and timers do not respond.

The defrost drainer, drain tube, drain pan, or condenser/evaporative coils require cleaning.
We make any of them vanish in the best way, so you soon forget that your freezer was working incorrectly!
The reasons for the flawless quality of our work are the craftsmanship of our team, proper choice of details, and the best professional equipment. We have selected the best manufacturers of components and tools. Thus, we have all the needed materials for providing the most precise and neat Freezer Repair in Encinitas, CA. You have no reasons to worry about the future functioning of your item. We provide a 1-year guarantee for the details and a 90-day one for our labor.
But it also may happen that the solution is simple and swift or not recommendable at all. In any scenario, we offer only the most effective way out. To clarify the situation, we recommend you call us whenever you get any questions or face even the smallest malfunction. Our competent and friendly team analyzes your situation and requirements and plans the most convenient Encinitas Freezer Repair and Service. But if it is enough to instruct you by phone, we pick this timesaving solution. And when the appliance is beyond repair or the work is not cost-effective, our team clearly informs you.
One of our principal rules is to provide each customer with the most comfortable and rational solution. It means that you never overpay or face hidden fees or useless services. With us, you get the most affordable and reasonably priced Freezer Repair in Encinitas, CA. We aim to provide many clients with decent work instead of working with several ones for a high price. Plus, returning customers receive a 15% discount. For veterans and seniors, the cost of work is $30 lower. And for online booking, you get $25 off the price.
If you apply to us for Encinitas Freezer Repair, you get the swiftest result. We adjust to any time you need and never waste time. Our local department is 24/7 open and has a convenient location. With the greatest management and logistics, we complete over 90% of orders within a single day. And we also offer an even quicker option. When you need our assistance right now during days off or after hours, just let us know. The specialists will rush to your address immediately for just a small additional payment.
We pay attention to all the wishes of our clients to provide everyone with the best Freezer Repair in Encinitas, CA. And that is not just empty words! The best proof of that is our successful development and competition with other local service providers. The reason for that is the trust of our customers. They get brilliant results and are happy to pick us. Thus, they apply to us again when having issues with other electronics too. They leave tons of 5-star reviews on our Google page and recommend us to other people. Nothing can be a better reliability indicator!
There is nothing to worry about if you entrust your freezer to Oceanside Appliance Repair Service Center. We have a professional, effective, and personal approach to each situation. With us, you have no stress in caring for your electronics and fixing them. All you need to do is just call us or place an online application. Our team provides you with top-quality Encinitas Freezer Repair and Service at a favorable price and in the shortest terms.
Our specialist carries out repairs, works carefully in the process, so as not to leave behind any traces of equipment repairs, and not to spoil the appearance. After the repair is completed, our company will back it up with a 90-day labor warranty. If you encounter the same problem during the warranty period, rest assured we will return to get an appliance back up to perfectly working condition.
$30 OFF ON FIRST TIME SERVICING
Frequently asked questions
What if I have a complex repair of equipment?
Our specialist will come to your home, conduct diagnostics and offer solutions to the problem. And only after your consent, the repair will begin.
Do you have customer support?
Our managers will always listen carefully to you and give you initial recommendations on the malfunction of your equipment to determine the cost of repair. Call:
(858) 224-0022
Is the expert's visit free of charge?
If you order a call to the master through our website, you are guaranteed to get a free diagnosis of your device, and detection of breakage.