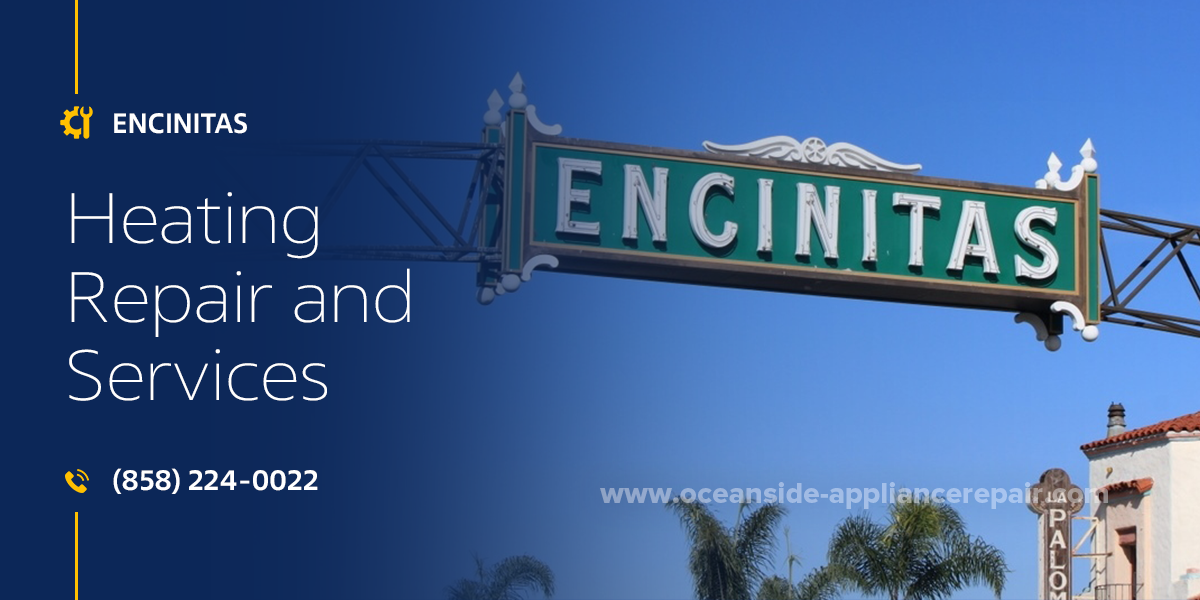 Heating Repair in Encinitas
Proper maintenance is essential for heaters of all types. And if you are interested in the long and proper functioning of these items, you should entrust them to professionals. Oceanside Appliance Repair Service Center has a team of top-level experts. We know how to avoid and fix any troubles that may happen to your heater. We are committed to ensuring customer satisfaction, so guarantee the highest quality of all services. Our company provides excellent Heating Repair in Encinitas, CA swiftly and at the most reasonable prices since 2001.
To make our services more convenient for you, we offer free consultations and remote diagnostics. This way, we can give you advice, instructions, and a clear understanding of the situation. Just inform us what makes you worry and our specialists indicate the best way out. Below, you can see a list of the most common issues that occur to heaters.

The appliance shuts off abruptly, goes on and off repeatedly, or cannot turn on.

Troubles with a pilot light or ignition control.

The control panel is faulty.

The item does not react to the remote control or pressing controllers.

The screen is blank, not shining, or shows an error message.

The heater fails to provide heat or distributes it unevenly.

Issues with the thermostat, fan motor, compressor contactor, heat pump, sensors, or limit switch.

You are not able to adjust the desired temperature or switch the mode.

The heater is operating too loudly (thumping, humming, squealing, pinging, popping, rattling, squeaking, vibrating, etc.).

You notice leakages of heat transfer liquid.

The moisture is condensing under or in the appliance.

There is an obstruction or blockage in HVAC filters, dampers, condensate drain, evaporator or condenser coils, ignition, flame sensor, flue pipe, outdoor unit, burner, air handler, or vents.

The airflow from the heating vents is weak or non-existent.

The appliance emits a gas, burning, electrical smell, unpleasant odor, or excessive humidity.

The duct system is leaking, causing air loss, or is damaged or clogged.

Disrupted electricity or gas supply.

The knobs, switches, keys, buttons, leveling feet, fan blades, baffles, registers, belts, bearings, gas/reversing valves, or other details are worn off.
Ignoring any changes in the performance of your heater can lead to further complications, especially for gas-type heaters. Reach out to us as soon as you notice any issues. We honestly estimate the situation and offer the most effective solution. We offer only rational Encinitas Heating Repair, so if it is not advisable, we rather recommend a replacement.
Talking about the most cost-effective Heating Repair in Encinitas, CA we offer, it is important to mention our price system. You never face hidden fees or overcharging if apply to us. On the contrary, we aim to make our services affordable for everyone! The same is why, we have discounts for our dear customers. Seniors and veterans get a $30 off price. For online booking, it gets $25 lower. And when you apply to us the next time, you get a 15% discount as a returning client.
Your comfort is the main thing for us. Thus, we also aim to make you not get cold while your heater is not working for a while. Our team finishes with over 90% of orders the same day you apply. Due to the responsibility, perfect organiation, and a convenient location, we offer the quickest Encinitas Heating Repair and Service. You can rely on us at any time of day and night, as we are available for urgencies during non-working periods. In such cases, the specialist rushes to your address within 15 minutes. The team from our local office in your area never makes you wait long.
The best time and price offers are pleasant. But we believe that the main thing about each procedure is its quality. And to provide you with the best Heating Repair in Encinitas, CA, our company never stops developing. Having perfectly honed skills and broad knowledge, our technicians undergo regular training and rise their qualification level all the time. Their highest qualifications let them easily resolve issues of any complexity. It does not matter, what is the brand or model of your item or how old or rare it is. We provide the highest quality results in any case!
Our team has insurance and licenses for serving luxury and the latest heaters too. The proficiency of our specialists is the main reason for the flawless quality of our work. You can be sure that with us, your commercial or household heater is in reliable hands. To show you our reliability and responsibility, we back up our work with a long-term warranty. It is 90 days for our labor and 1 year for the details we use.
The proper usage of perfectly fitting spare parts has a vast influence on the result. And that is why, we keep only the best original and alternative components in stock. By picking suitable ones, we ensure the durability of each Encinitas Heating Repair. For any procedure, we also have top-rank equipment, materials, and tools. Thus, we fluently make your unit back to normal and leave the room neat and tidy.
When picking the most trustworthy provider of Heating Repair in Encinitas, CA, the best is to look through people's opinions. Our customers leave numerous positive reviews on the net, as they are happy with our friendly attitude, professionalism, and reliability. They also confidently recommend us to others and return to us with other tasks. The trust of our clients is the main appraisal and motivation for us!
The team of Oceanside Appliance Repair Service Center is always interested in your comfort first. We appreciate your time and money, so offer the swiftest and most fair-priced completion of any task. For over 20 years so far, we are providing clients with the best Encinitas Heating Repair and Service. Thus, we know how to help your appliance too. All you need to do is call us or place an online application. Our experts will make your heating unit perform perfectly again!
Our specialist carries out repairs, works carefully in the process, so as not to leave behind any traces of equipment repairs, and not to spoil the appearance. After the repair is completed, our company will back it up with a 90-day labor warranty. If you encounter the same problem during the warranty period, rest assured we will return to get an appliance back up to perfectly working condition.
$30 OFF ON FIRST TIME SERVICING
Frequently asked questions
What if I have a complex repair of equipment?
Our specialist will come to your home, conduct diagnostics and offer solutions to the problem. And only after your consent, the repair will begin.
Do you have customer support?
Our managers will always listen carefully to you and give you initial recommendations on the malfunction of your equipment to determine the cost of repair. Call:
(858) 224-0022
Is the expert's visit free of charge?
If you order a call to the master through our website, you are guaranteed to get a free diagnosis of your device, and detection of breakage.