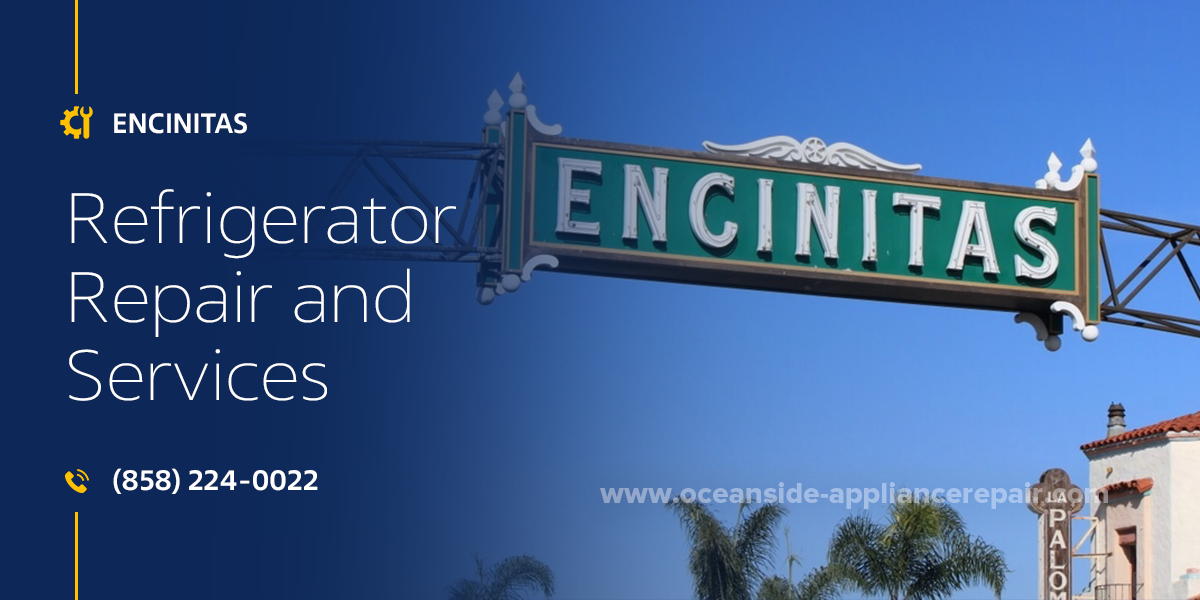 Refrigerator Repair in Encinitas
That moment when your refrigerator starts misbehaving is an unpleasant and stressful one. But for the clients of Oceanside Appliance Repair Service Center, things swiftly get back to normal. If you already experience issues with your fridge or want to avoid facing them, feel free to contact us anytime. Our competent and responsible team specializes in providing the most reliable Refrigerator Repair in Encinitas, CA. We offer a wide range of services and conduct them at the highest quality level and in the shortest terms. With us, you get a brilliant result at the fairest price!
Our technicians possess perfectly honed skills and deep knowledge, ensuring top-notch services every time. We take pride in delivering Encinitas Refrigerator Repair of flawless quality due to their proficiency. Our team has 20+ years of experience in fixing and maintaining household and commercial fridges of all brands and models. With their outstanding skills and knowledge, any issue vanishes in no time. Our specialists are licensed for serving luxury and the latest items too. By applying to us, you can be confident of getting reliable and effective solutions.
Apart from our professionalism, we excel in organization and logistics. Our local office is conveniently situated and open round the clock. It allows us to promptly provide you with any Refrigerator Repair in Encinitas, CA. We understand the inconvenience of a malfunctioning appliance and strive to minimize downtime. Our team completes over 90% of orders within a single day. For urgent situations, we offer an expedited service option for a small additional fee. In such cases, our specialist will dispatch from the office within 15 minutes of your request.
In addition to our highest speed, we offer the most reasonable rates for Encinitas Refrigerator Repair and Service. Our pricing system is transparent, and we never overcharge our clients. We value customer loyalty and have special offers for returning clients, who receive a 15% discount. We also offer a $30 discount to veterans and seniors. If you prefer online booking, you get a $25 lower price. We are dedicated to conforming to any budget and providing the most affordable rates for everyone. And you can find out the cost of the required work beforehand by contacting us anytime.
Our friendly and proficient specialists are always ready to answer any of your questions. During a free consultation, you can get useful advice or details about effective cooperation with us. We also offer remote diagnostics which helps to understand why your fridge is malfunctioning. Our technicians swiftly find the reason for the breakage and the most effective solution. It also helps us announce the approximate cost of the needed Refrigerator Repair in Encinitas, CA. But if it is not cost-effective or the item has too bad condition, we honestly recommend you a replacement.
We strongly recommend not waiting until your appliance completely fails. Resolving unpleasant changes in its behavior promptly makes it easier to restore its proper functionality. Consult with our specialists if you notice any of the following issues with your refrigerator:

The walls, coils, or products inside the fridge are covered in ice, ice mold, or snow-like accumulation.

The refrigerating coolant is leaking outside or requires refilling.

The control panel needs to be recalibrated.

The information screen is blank or shows an error message.

The controllers (touchpads, buttons, keys, knobs, switchers) have a loose connection, are lost or broken, or do not respond.

The fridge stopped freezing.

It has improper temperature inside (too high or too low) and you cannot change it.

The item produces a burning or electrical smell.

The door cannot close, latch, or open normally due to deformed hinges, springs, joints, latches, interlocks, lid switches, or gaskets.

The shelves, door, or body surface are cracked or damaged.

The appliance goes on and off repeatedly, shuts off abruptly, or cannot turn on at all.

The item produces weird vibrations and sounds, like squealing, bubbling, knocking, humming, buzzing, grinding, thumping, gurgling, etc.

Water drops are condensing under the unit.

The bulb inside the refrigerator or the light indicator on the item is not shining.

The controllers, handles, belts, leveling feet, fan blades, baffles, wires, isolation, plugs, or other details got spoiled.

The ice maker, freezer, water dispenser, or other part of the unit is faulty.

Troubles with power supply.

Fan, evaporator/condenser coils. control relay, defrost heater or timer, temperature controls, expansion device, compressor, or other hardware is out of order.
To eliminate any of those and other problems, our technicians use the best professional tools, materials, and equipment. They conduct the neatest and most dustless Encinitas Refrigerator Repair. For the highest quality of each procedure, we pay much attention to the proper picking of spare parts. We use perfectly fitting original or alternative details, as have a vast choice of them in stock. It assures the durable and smooth performance of your fridge. You should never worry about it, as we are responsible for our work. It means a 1-year guarantee for details and a 90-day one for our labor.
Since 2001, we have been gaining the trust of hundreds of clients. Our team provides the most comfortable conditions for everyone, offering stressless solutions in any case. Our customers entrust all their electronics to us after experiencing perfect service when applying for the first time. They leave tons of positive reviews on the net. They evaluate our company as the best provider of Refrigerator Repair in Encinitas, CA, and other services. 
Many customers become regular ones and recommend us to others, as they appreciate our attitude and professionalism. It helps us successfully withstand harsh competition with other local companies.
Oceanside Appliance Repair Service Center is your trusted partner in any issues with electronics. You can anytime rely on us and expect perfect solutions regardless of the situation. Just call us or leave an application on our website. Our team helps you arrange the most convenient Encinitas Refrigerator Repair and Service, adjusting to all your requirements. We easily resolve any issues in the quickest and most high-quality way and at the most favorable price.
Our specialist carries out repairs, works carefully in the process, so as not to leave behind any traces of equipment repairs, and not to spoil the appearance. After the repair is completed, our company will back it up with a 90-day labor warranty. If you encounter the same problem during the warranty period, rest assured we will return to get an appliance back up to perfectly working condition.
$30 OFF ON FIRST TIME SERVICING
Frequently asked questions
What if I have a complex repair of equipment?
Our specialist will come to your home, conduct diagnostics and offer solutions to the problem. And only after your consent, the repair will begin.
Do you have customer support?
Our managers will always listen carefully to you and give you initial recommendations on the malfunction of your equipment to determine the cost of repair. Call:
(858) 224-0022
Is the expert's visit free of charge?
If you order a call to the master through our website, you are guaranteed to get a free diagnosis of your device, and detection of breakage.