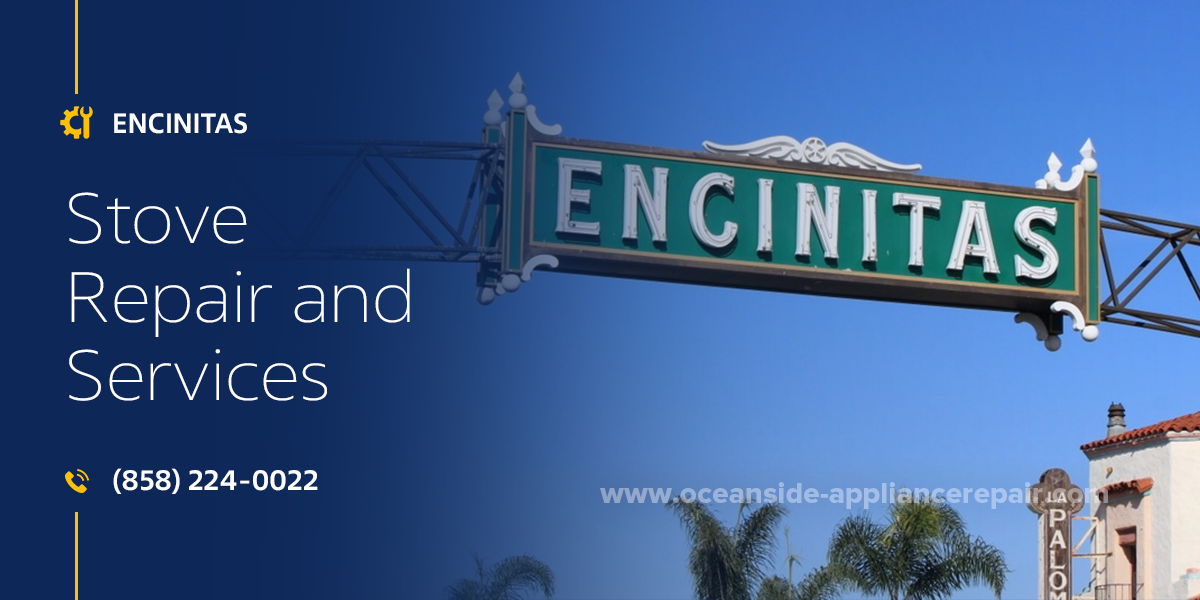 Stove Repair in Encinitas
When you need a reliable Stove Repair in Encinitas, CA, you have a great solution around. The local office of Oceanside Appliance Repair Service Center is 24/7 ready to provide your item with proper care. Our proficient and responsible team restores the proper functionality of any commercial and household stove easily and fluently. Having over 20 years of experience, we know what to do in any situation. Just apply to us to get the most cost-effective, swift, and high-quality services.
You should be especially careful with your stove. This appliance provides high temperatures and fire, which may be a source of danger. Thus, even the smallest issue means that it requires a checkup from a specialist. With us, you can anytime get the most swift and precise estimation of the situation. We offer free consultations and remote diagnostics which help us pick the best solution for you. Almost always it means arranging Encinitas Stove Repair the way it is convenient for you. '
Sometimes we can also indicate that it is not recommendable to fix your unit. It may happen if the needed procedures cost too much or if the item is beyond repair. It also happens that we can instruct you and resolve the issue without arriving. In any case, our team picks the most effective and suitable solution for you personally. To get a clear vision of the condition of your item and the needed service, just call us anytime. 
The list of the issues that may happen to your stove is pretty wide. But none of them can puzzle our experienced and skilled team. Do not hesitate to reach us out if you face any of the following troubles.

Impossibility to turn the stove on or off.

Abrupt shutting off the item or some of the heating elements.

The unusual color of the flame (red, orange, or yellow).

Malfunctioning knobs, keys, buttons, switchers, or touchpads.

Faulty control panel.

A blank information screen or an error code on it.

Flickering, sparking, or arcing flame.

Cracked surface elements or door glass.

Gas leakages.

The burning or electrical smell from the stove.

Burned our light indicators, lamps, or bulbs.

Bent out, deformed, or broken door joints, springs, hinges, lid switches, interlocks, latches, or gaskets.

Dysfunctional induction or electrical coils, burners, tans, broilers, bake elements, convection fans, motors, timers, thermostats, thermometers, igniters, or other parts.

Uneven cooking.

Insufficient or too high temperature or flame level.

Impossibility to adjust temperature or time as needed.

Lost, damaged, or worn controllers (buttons, knobs, keys, switches), burner caps, grates, fan blades, leveling feet, bearings, baffles, light assembly, isolation, wiring, plug, or other details.

Deformed slide arm or drawer mechanism, so the racks cannot roll out.

Clogged gas ports, gas lines, convention fans, or vent tubes.

Strange noises from the burners (clicking, hissing, ticking), or the whole unit (squealing, thumping, grinding, gurgling, buzzing, humming, vibrating, knocking, etc.).

Disrupted electricity or gas supply.
To conduct any needed procedures accurately and tidily, we use only the best equipment. Professional materials and tools let us provide fluent and dustless Stove Repair in Encinitas, CA. And to make it also durable and efficient, we carefully select the best components. We pick perfectly fitting details for each unit and wallet. For that, we have a vast variety of original spare parts and their alternatives in stock. And for any of them, we add a 1-year warranty, as we are in charge of our choice.
Anyways, the proficiency of our team is the main reason for the brilliant results we reach. We provide the best Encinitas Stove Repair and Service to units of all brands and models. The outstanding skills of our technicians are getting better all the time, as they undergo regular training. They have licenses and are up-to-date with the newest technologies. Thus, they know a proper approach to luxury and the latest items too. With us, you get high-quality results, solidified with a 90-day guarantee for labor.
Besides that, your item returns to its perfect condition and functioning in the shortest terms. You can pick any suitable moment but we always aim to complete your task as soon as possible. In over 90% of applications, we finish the Stove Repair in Encinitas, CA within a single day. We care for your time so cannot make you wait if your case is urgent. Thus, we have an option of instant departure of the technician. It is possible anytime, including days off and after hours for just a small extra payment.
Even in that case, our rates are the most affordable. With us, you pay the fairest price for the best Encinitas Stove Repair. We respect and appreciate our clients, so we are always honest about the expenses for your order. Our team never offers you useless services or overcharges for anything. We also have pleasant discounts. For online booking, you pay $25 less. Veterans and seniors have a $30 off price. And returning customers get a 15% discount for the next order.
There are many reasons why our clients get back to us. And it is not only about the most reasonable prices. We offer the most comfortable conditions, adjusting to any requirements and providing flawless services. Thus, our customers confidently apply to us again and recommend us to friends. Since 2001, we made a reputation as a reliable provider of Stove Repair in Encinitas, CA. You can see the honest opinions of our customers on our Google page.
The safest, swiftest, top-quality Encinitas Stove Repair and Service is easy to get. With Oceanside Appliance Repair Service Center, you never have to worry about the condition of your electronics. Our professionals always reach the highest quality for each procedure they conduct. And with the highest speed and the best prices, we make each client satisfied. All you have to do is just call us or place an online application. We make your unit back to normal soon again!
Our specialist carries out repairs, works carefully in the process, so as not to leave behind any traces of equipment repairs, and not to spoil the appearance. After the repair is completed, our company will back it up with a 90-day labor warranty. If you encounter the same problem during the warranty period, rest assured we will return to get an appliance back up to perfectly working condition.
$30 OFF ON FIRST TIME SERVICING
Frequently asked questions
What if I have a complex repair of equipment?
Our specialist will come to your home, conduct diagnostics and offer solutions to the problem. And only after your consent, the repair will begin.
Do you have customer support?
Our managers will always listen carefully to you and give you initial recommendations on the malfunction of your equipment to determine the cost of repair. Call:
(858) 224-0022
Is the expert's visit free of charge?
If you order a call to the master through our website, you are guaranteed to get a free diagnosis of your device, and detection of breakage.