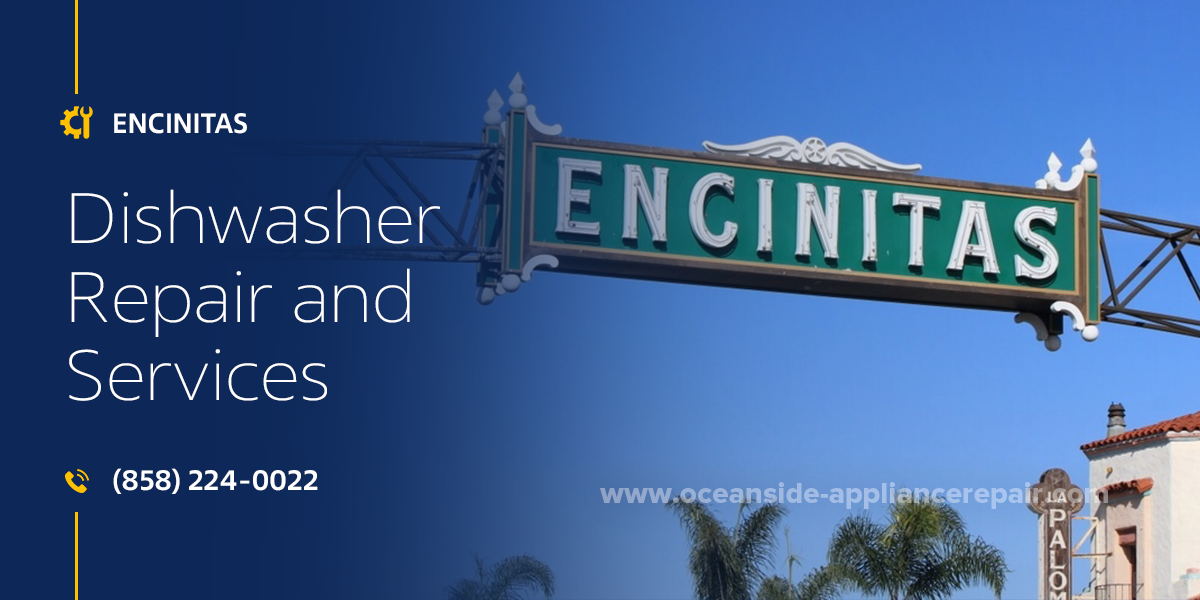 Dishwasher Repair in Encinitas
A dishwasher belongs to that type of electronics, which is not essential for everyone. But many people appreciate how much time and effort it can save. To avoid or eliminate the breakage of this item, you can anytime rely on Oceanside Appliance Repair Service Center. Our team is dedicated to providing the most effective and convenient solutions for each client. We offer swift and affordable Dishwasher Repair in Encinitas, CA since 2001.
We have everything needed for the highest quality services. It includes a greatly qualified team and state-of-the-art equipment. Our specialists conduct any Encinitas Dishwasher Repair fluently, neatly, and precisely. Doing it for over 20 years so far, they perfectly know all the subtleties of serving any household and commercial units. Regardless of the brand and model of your dishwasher, we find a proper approach. To stay always up-to-date and competent, our team has regular training. They have licenses for working even with luxury and the latest items.
The highest quality and durability of work also depend much on the details we use. Thus, we pick perfectly fitting ones and stock a huge amount of original and alternative spare parts. It lets us match any item and budget, making your dishwasher perform smoothly for a long. We are in charge of each Dishwasher Repair in Encinitas, CA, so provide a long-term warranty. It is 90 days for our labor and 1 year for the details.
If you call us for a free consultation or remote diagnostic, we swiftly understand the situation. Depending on the condition of your appliance, there may be different solutions. Sometimes, it is enough to follow our simple instructions. In other cases, the best way out is to replace the item. But what mostly helps is planning our arrival and conducting Encinitas Dishwasher Repair and Service. Our team indicates the needed option according to the issues you name during the remote diagnostic. And be sure, it is better to contact us with a minor issue than wait before it totally fails. 
There are many different troubles that may happen to your dishwasher. Here are the most common ones.

The door is cracked or has its gaskets, hinges, latches, springs, joints, interlocks, or lid switches out of shape.

The body of the item gets excessively hot while it is on.

You are unable to turn the dishwasher on or off.

The dishwasher cannot start or complete the washing cycle, washes endlessly or too long, stops midway, or shuts off abruptly.

The item cannot supply water or it fills with it non-stop.

Obstructed or dirty filters, hoses, spray arms, sump strainers, or pipes.

A disrupted electricity supply, which is caused by worn isolation, wiring, or plug.

The appliance is not draining, which may also cause a filthy odor and mold.

The dishwasher is not washing dishes properly, so they remain oily, covered with food or foam, or too wet. 

The detergent does not reach the tub.

Some of the hardware components, such as the thermostat, heating element, thermometer, pump, motor, etc., are out of order.

The information screen shows an error message or is not glowing.

Timers and controllers are functioning inadequately, not letting you adjust any settings. 

A puddle of water or foam appears underneath the dishwasher.

The racks cannot roll out due to malfunctioning slide arm or damaged drawer mechanism.

The appliance emits a burning or electrical smell.

The dishwasher is rumbling, buzzing, vibrating, humming, popping, squealing, grinding, thumping, or making other weird noises.

The float switch or water inlet valve is out of order.

Lost, broken, or worn leveling feet, belts, handles, buttons, switches, knobs, keys, cutlery baskets, holders, racks, hoses, etc.
We have resolved these and other problems many times before. Those who apply to us for Dishwasher Repair in Encinitas, CA, never regret this choice. Our clients are satisfied with our attitude, professionalism, and the brilliant results of our work. Thus, they confidently entrust other electronics to us too, and recommend the same to others. If you visit our Google page, you can see tons of positive comments from our customers there.
The greatest quality of work is essential, but it is not all we offer. As experience shows, people often stress about long expecting. It never happens to us. Our company provides any Encinitas Dishwasher Repair in the shortest terms and adjusts to any time you need. In an absolute majority of orders, your appliance runs like a clock again the same day you apply to us. To get assistance even swifter, you can request an urgent arrival. This option costs slightly more but is available even during non-working days and hours. With the perfect location, logistics, management, and responsibility, we never make you wait long!
Decent service and the highest speed…May sound expensive for someone. But again, not in our case! The rates for our Dishwasher Repair in Encinitas, CA are the most favorable and reasonable. We charge only fair money for our work, without any hidden fees or mysterious useless services. Plus, you can book the order online and get a $25 off price. We also have a $30 discount for seniors and veterans and a 15% discount for returning clients.
Oceanside Appliance Repair Service Center offers the most effective services and the friendliest attitude. With us, any issues with electronics vanish in the most stressless way for you. Our team is anytime ready to arrange the quickest Encinitas Dishwasher Repair and Service for you. Whenever you are looking for high-quality and cost-effective solutions, just contact us. We swiftly make your appliance perform great again!
Our specialist carries out repairs, works carefully in the process, so as not to leave behind any traces of equipment repairs, and not to spoil the appearance. After the repair is completed, our company will back it up with a 90-day labor warranty. If you encounter the same problem during the warranty period, rest assured we will return to get an appliance back up to perfectly working condition.
$30 OFF ON FIRST TIME SERVICING
Frequently asked questions
What if I have a complex repair of equipment?
Our specialist will come to your home, conduct diagnostics and offer solutions to the problem. And only after your consent, the repair will begin.
Do you have customer support?
Our managers will always listen carefully to you and give you initial recommendations on the malfunction of your equipment to determine the cost of repair. Call:
(858) 224-0022
Is the expert's visit free of charge?
If you order a call to the master through our website, you are guaranteed to get a free diagnosis of your device, and detection of breakage.