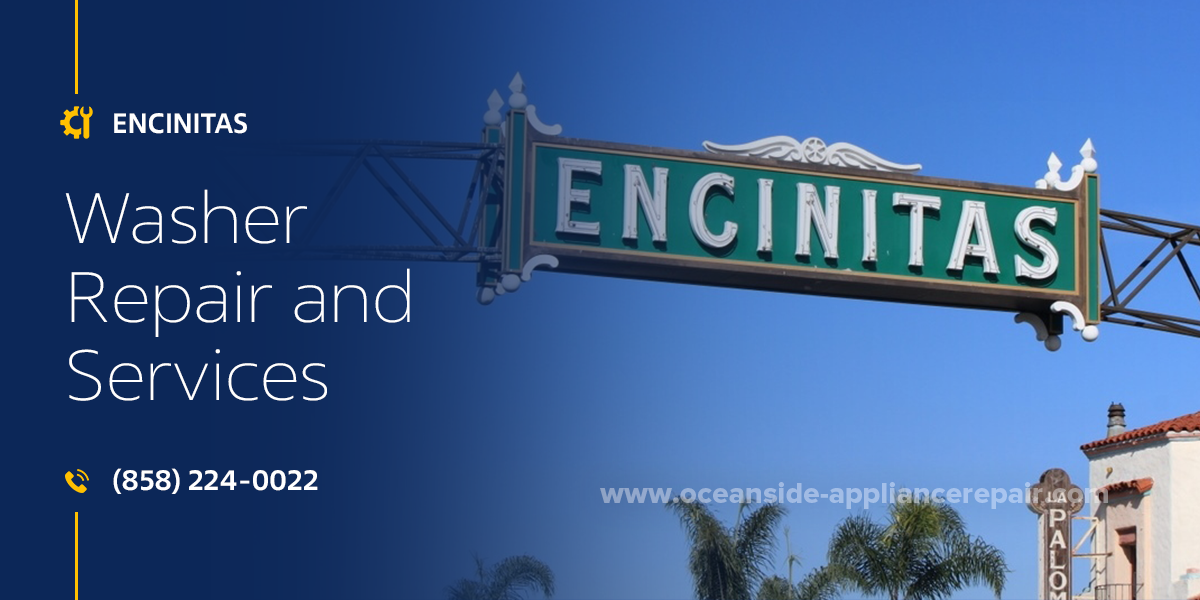 Washing Machine Repair in Encinitas
We can say so many good words about our washers. These items are essential helpers, making washing clothes effective, swift, and effortless. But they have so many enemies…Voltage surges, hard water, wrong detergent, and other impacts spoil the condition of the unit. But if you are a client of Oceanside Appliance Repair Service Center, you have nothing to worry about. Our professionals conduct the most effective fixing, maintenance, and installation services since 2001. With us, you get the most high-quality and quick Washing Machine Repair in Encinitas, CA at the fairest price.
Whether you are experiencing any issues with your washer, the first thing to do is to contact our specialists. The remote diagnostic is the best way to find the reason for the breakage and the approximate cost of the needed procedures. We plan the most effective Encinitas Washing Machine Repair for each individual situation. And when our arrival is not needed, we also let you know. It may mean that simple instructions are enough or that the only recommendable solution is to get a replacement. We also offer free consultations and are ready to answer any of your questions.
When arranging the most suitable Washing Machine Repair in Encinitas, CA for you, we adjust to your wishes. You can pick any time for us to arrive. It also means that we are available RIGHT NOW if you need it. Our local office is open 24/7 and situated in the most convenient way to reach any address shortly. Plus, our team is greatly organized. It lets us swiftly complete any tasks and quickly come to your place. It is especially useful for urgencies. For a small extra payment, we rush to your place immediately at any moment of day and night. And we complete over 90% of regular tasks within a single day!
We are also flexible about pricing and can fit any budget. Our company offers the most affordable prices and it never means poor quality. It just means that we are honest with our clients and do not try to cheat or overcharge you. On the contrary, we provide only cost-effective and rational solutions. By picking us, you pay a reasonable price for a decent Encinitas Washing Machine Repair and Service. There are also additional pleasant offers. Booking the order online, you pay $25 less. Veterans and seniors have a $30 discount, while for returning clients it is 15%!
Offering the highest speed and favorable prices, we never sacrifice quality. Regardless of the complexity of the issue, our team provides effective and durable services. Our team has over 20 years of experience in providing the best Washing Machine Repair in Encinitas, CA. They have perfectly honed skills and outstanding knowledge about all aspects of working with household and commercial washers. Our team has licenses that prove their qualifications and let them easily deal with luxury and the latest items too. 
Regardless of the issue, we can easily eliminate it. You can be sure of getting an effective solution if apply to us. And it is better to contact specialists sooner than the item completely fails. Pay attention even to the smallest changes in the behavior of your item. Here is the list of the most common troubles that happen to washers.

The appliance does not respond when you press a start button.

The washing machine fails to fill with water, overfills, or underfills, due to a faulty inlet valve or clogged water supply.

Water or foam is leaking out of the unit during the washing or spinning cycle.

The washer produces excessive vibrations or loud noises during operations (like buzzing, bubbling, grinding, gurgling, knocking, squealing, humming, rattling, thumping, etc.).

The item emits an electrical or burning smell while working.

The laundry comes out dirty, soaking wet, or damaged.

The item fails to drain properly, which may cause the appearance of mold and filthy odor in the tub and on the clothes.

The drum is not spinning or is unbalanced or cracked.

Issues with the control panel (it functions not properly), controllers (they do not respond), or display board (it is blank or shows an error).

The unit is shaking, bouncing, or moving around the room while working.

The timers are faulty.

The door glass is broken.

The door cannot close, latch, or open properly, as it has deformed gaskets, lid switches, latches, hooks, interlocks, springs, hinges, or joints.

The detergent cannot reach the tub.

The item goes on and off, washes too long or non-stop, pauses midway, or cannot start a washing cycle.

The appliance is tripping the power.

The electricity supply is unstable or disrupted.

Isolation, plug, wiring, buttons, keys, knobs, switches, hoses, filters, seals, leveling feet, bearings, connectors, off-balance switches, or other details require replacement. 

The installation was incorrect.

Some of the components are dysfunctional (the heating element, thermostat, motor, pump, transmission, agitator, water level controller, etc.).

The LED indicator is red, blinking, or not glowing.

The dispenser, water inlet valve, hose, pipes, or filters are dirty or clogged.
We restore the proper functionality of washers of all brands and models, no matter how old or rare they are. And for any of them, we pick perfectly matching original details or their analogs. Our team has all the needed to-rank equipment for any Encinitas Washing Machine Repair. The usage of professional tools and materials makes our work even more precise and neat. Our technicians use only high-quality components to ensure the smooth and durable performance of your item. We provide all the spare parts with a 1-year warranty. And for our labor, the guarantee lasts 90 days. 
You can be sure that by applying to us, you pick a reliable provider of Washing Machine Repair in Encinitas, CA. Tons of our clients are happy with choosing our company and they share this opinion on the net. You can see numerous 5-star reviews on our Google page. Our customers recommend us to friends and apply to us with other issues. Their trust is the best appraisal for us! It is also the reason why we successfully compete with other local service centers.
If a perfect Encinitas Washing Machine Repair and Service mean high-quality, fair-priced, and swift, our company is your option. Just call us or place an online application on our website. Oceanside Appliance Repair Service Center prioritizes the comfort of clients first. Thus, you get the best solution the way it is suitable for you. With us, your washer will run like a clock again soon!
Our specialist carries out repairs, works carefully in the process, so as not to leave behind any traces of equipment repairs, and not to spoil the appearance. After the repair is completed, our company will back it up with a 90-day labor warranty. If you encounter the same problem during the warranty period, rest assured we will return to get an appliance back up to perfectly working condition.
$30 OFF ON FIRST TIME SERVICING
Frequently asked questions
What if I have a complex repair of equipment?
Our specialist will come to your home, conduct diagnostics and offer solutions to the problem. And only after your consent, the repair will begin.
Do you have customer support?
Our managers will always listen carefully to you and give you initial recommendations on the malfunction of your equipment to determine the cost of repair. Call:
(858) 224-0022
Is the expert's visit free of charge?
If you order a call to the master through our website, you are guaranteed to get a free diagnosis of your device, and detection of breakage.