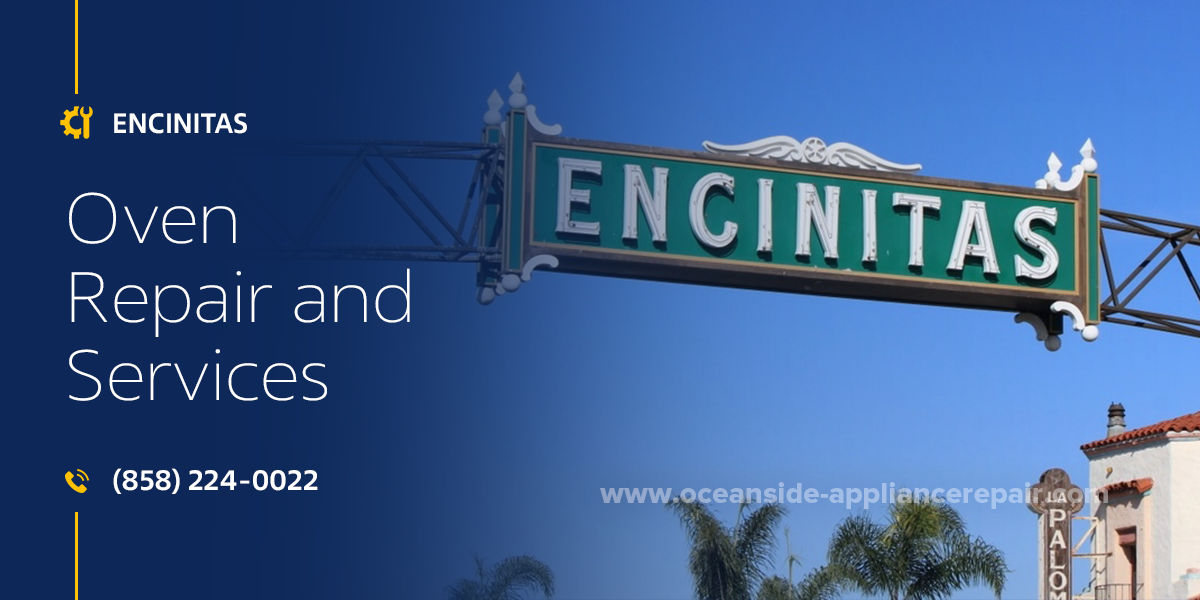 If you are thinking about Oven Repair in Encinitas, CA, probably something is wrong with your appliance. Surely, it does not mean that you have to panic or rush to buy a new one. Just apply to Oceanside Appliance Repair Service Center and soon your item will run like a clock again. Our team is dedicated to providing top-notch services not only for failed electronics but also for installation, checkups, and maintenance. We prioritize efficiency and affordability, ensuring that you receive exceptional service tailored to your needs. Thus, our work is always affordable and swift.
The speed of work is especially important if we talk about a failed oven. These items mostly deal with gas, and improper functioning may become a reason for danger. Thus, our strong recommendation is not to ignore any wrong behavior of your oven. Getting a free consultation from us before a bad thing happens is the best solution. Be confident to contact us if see any of these or other troubles:

The appliance cannot produce any heat or flame. 

Some of the components are faulty and require checking or replacement (induction element, electrical coil, heating tan, bake element, broiler, grill, burner, main control board, convection fan, motor, thermostat, thermometer, energy regulator, thermal fuse, igniter. etc.).

The flame is flickering, sparking, arcing, or going off itself.

The appliance emits a burning, gas, or electrical smell.

The control panel is faulty and needs recalibration.

Timers and controllers do not respond, so you cannot adjust any settings or start heating.

The display board or information screen is blank or shows an error code.

The item cannot turn on.

It shuts off abruptly while cooking.

The door glass or body/cavity surfaces are cracked.

You cannot close or open the door normally as it has deformed lid switches, hooks, interlocks, springs, hinges, joints, or gaskets.

The insulation is worn.

The gas supply is disrupted because of dirty, obstructed, or damaged gas lines, gas valves, or gas ports.

The self-cleansing function is not working.

The temperature in the oven is insufficient or too high.

It is heating too slowly or not evenly.

The controllers (touchpads, buttons, knobs, switches, keys) have a loose connection, so work improperly, do not react, or are damaged or lost.

The body of the oven gets excessively hot while it is on.

The racks cannot roll out due to a deformed drawer mechanism.

The appliance is gurgling, thumping, hissing, ticking, clicking, buzzing, humming, grinding, vibrating, squealing, or making other improper noises.

The bulb inside the oven is blinking or not shining.

The convection fan, vent tube, grates, or filters are blocked with dust or debris.

Fan baffles, blades, wires, isolation, plugs, leveling feet, or other details are worn off, damaged, or lost.

Unstable power supply.
When you explain what wrong signs your oven shows, we swiftly find the reason for the problem. For that, you can call us and request remote diagnostics. Thus, we plan the most effective Encinitas Oven Repair and announce its approximate cost to you. But if the item is only recommendable to replace, we do not offer useless services or trick you. 
With us, you get only cost-effective and durable solutions. We are providing the best Oven Repair in Encinitas, CA for over 20 years. Our specialists clearly know what is best for clients and their electronics. This is why, we do not sacrifice quality when offer a favorable price for our work. We just do not overcharge you and have no hidden fees. Your trust is the main thing, thus we are fair with you and have reasonable rates. Plus, if you book the order online, you get a $25 discount. We also have $30 off for veterans and seniors and 15% off for returning clients.
And clients come back to us really often. But not because they have to complain about our work. They entrust other electronics to us too because we serve perfect results in comfortable conditions. Our customers are absolutely satisfied with picking us for Encinitas Oven Repair and Service. And they show this opinion by posting tons of 5-star reviews on our Google page. When new clients come to us, they often say that their friends recommended us as a reliable and responsible company.
Our team is friendly and highly qualified. It means that you get a nice polite attitude and your oven gets the needed services of top quality. Regardless of the brand and model of your appliance, our technicians fluently find and eliminate any issues. With over 20 years of experience and regular training, the skills and knowledge of our team are flawless. We conduct the most careful and effective Oven Repair in Encinitas, CA even for luxury and the latest items. The competence of our team is proven with licenses and the quality of our work – with a long-term warranty. 
Providing 90-day labor and 1-year detail guarantees, we want you to be calm about the future functioning of your appliance. Our team copes with each procedure flawlessly due to their craftsmanship and proper equipment. We pick the best professional tools, materials, original components, and their analogs. Altogether, it makes our Encinitas Oven Repair the most precise and durable. With us, flawless quality, tidiness, and effectiveness of all work are guaranteed.
You can expect to get your appliance back to normal in the shortest terms. Our proficient specialists find and eliminate any issues fluently and swiftly. There is nothing they do not know about household or commercial ovens. Plus, our local department is open 24/7 and has a convenient location. It lets us arrive quickly at any address. In over 90% of orders, we finish your order within a single day. We also offer an option of urgent Oven Repair in Encinitas, CA for a small additional cost. If you pick this one, we rush to your place immediately, even during non-working days and hours.
Oceanside Appliance Repair Service Center is your trustworthy provider of the best fixing, maintenance, and installation procedures. Our friendly team finds the most comfortable way to resolve any issues with your oven. We offer the fairest prices and adjust to any time you need. With us, you get efficient and high-quality solutions, regardless of how complex is the situation. To get the most reliable Encinitas Oven Repair and Service, just call us or place an online application. Your item will perform perfectly for a long if you entrust it to us!
Our specialist carries out repairs, works carefully in the process, so as not to leave behind any traces of equipment repairs, and not to spoil the appearance. After the repair is completed, our company will back it up with a 90-day labor warranty. If you encounter the same problem during the warranty period, rest assured we will return to get an appliance back up to perfectly working condition.
$30 OFF ON FIRST TIME SERVICING
Frequently asked questions
What if I have a complex repair of equipment?
Our specialist will come to your home, conduct diagnostics and offer solutions to the problem. And only after your consent, the repair will begin.
Do you have customer support?
Our managers will always listen carefully to you and give you initial recommendations on the malfunction of your equipment to determine the cost of repair. Call:
(858) 224-0022
Is the expert's visit free of charge?
If you order a call to the master through our website, you are guaranteed to get a free diagnosis of your device, and detection of breakage.