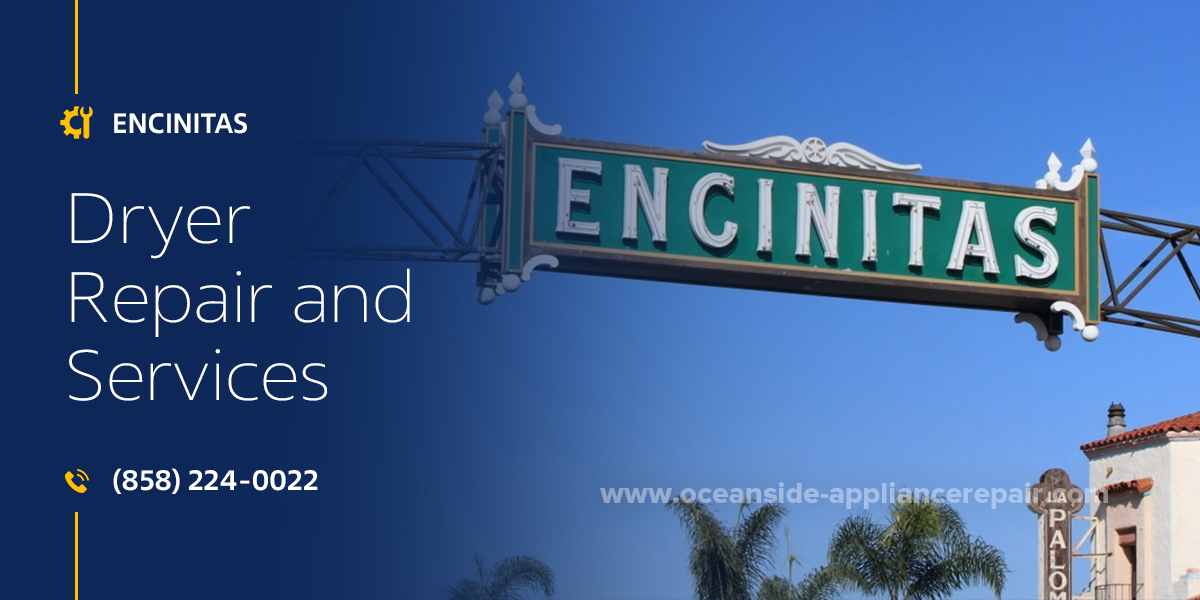 Dryer Repair in Encinitas
Dryers are useful and effective appliances. They save us from long waiting for dried clothes, hanging them around, and making the air in the room humid. And, as with any other electronics, they can start functioning worse because of voltage surges, wrong exploitation, accidents, or time. With Oceanside Appliance Repair Service Center, you never have to worry about it. Our team provides reliable and high-quality services for over 20 years. We offer the best results quickly and at a reasonable price. When you need the best Dryer Repair in Encinitas, CA, you can get it just by applying to us!
If you want to care for the long and proper performance of your dryer and avoid breakages, schedule regular maintenance. We gladly help you with it and provide a free consultation, answering any of your questions. And when anything seems to be wrong already, we conduct remote diagnostics for the swiftest clarifying the situation. Tell us what is wrong and we find the most efficient solution for your case. Here is the list of the most common troubles that may happen to your dryer.

The appliance fails to turn on or it shuts off on its own.

The drying cycle cannot start or complete, it takes too long or goes non-stop, or pauses midway.

It does not produce any heat.

The dryer is heating insufficiently or unevenly.

The item gets extremely hot while working.

While the item is working, it is vibrating, squeaking, squealing, grinding, thumping, grinding, gurgling, humming, knocking, buzzing, vibrating, clicking, rumbling, or making other weird noises.

The clothes remain damp or wet or get damaged after drying.

A burning, gas, or electrical smell is coming out from the dryer.

The drum cannot spin or is unbalanced.

The tub is cracked.

The item displays an error code on the information screen.

The display or LED indicator is not shining.

The control module requires recalibration.

The controllers (keys, knobs, buttons, touchpads, switches) malfunction, do not react, or are lost/broken.

Problems with the timer, motor, fuse or circuit breakers, start switch, blower wheel, cycling and high-limit thermostats, thermal resistor, or heating element (coils).

The moisture sensor strips are dirty or faulty.

Dysfunctional igniter, clogged gas lines, or damaged gas supply (for gas-type dryers).

Deformed springs, hinges, lid switches, interlocks, latches, gaskets, or joints do not let you close or open the door normally.

The door glass is cracked.

The ducting system, exhaust vent, pipes, hoses, or lint filter is obstructed.

The item has damaged wiring, isolation, or plug or other issues related to electricity.

Drum support rollers, belts, seals, leveling feet, handles, glides, fan blades, baffles, or other parts are worn off or spoiled.

The tub and clothes after drying got a foul smell.
Our competent technicians swiftly find the reason for the trouble even by phone. This way, we pick the needed procedures and details beforehand and can announce the approximate cost of work. After that, we are ready to come and conduct the best Encinitas Dryer Repair for you! But. In those cases, when the item is beyond repair or it is not cost-effective, we do not offer our services. Our team is always honest with you and we pick only rational and beneficial solutions. The same is why, in some cases, we can help you eliminate the issue by just providing a few simple instructions.
Consequently, we can also claim to have the fairest prices for any Dryer Repair in Encinitas, CA. With us, you always know what you pay for and face no overcharging or hidden fees. We also have pleasant discounts, like $25 off for online booking. Veterans and seniors pay $30 less. And for the returning clients, we have a 15% discount. We always strive to make a great service affordable to everyone! Thus, we can adjust to any budget and find suitable conditions for you personally.
One of the determining factors for setting the cost of work is the price for the needed components and materials. We carefully pick the best ones and stock a variety of original and decent-quality alternative details. It lets us use perfectly fitting parts for any unit and any wallet. And, surely, the quality of our work is flawless in any case! You can be calm about it, as we are responsible for what we promise and do. Thus, we provide each Encinitas Dryer Repair and Service with a long-term warranty. It is 90 days for labor and 1 year for the details we use. 
With top-level professional tools and equipment, our procedures are always neat, precise, and dustless. But it would mean nothing without the amazing skills and knowledge of our technicians. Their qualifications are on the highest level and always up-to-date, as they have regular training. Our team is insured and has licenses for serving luxury and the latest units too. Thus, we provide effective and proper Dryer Repair in Encinitas, CA for any appliance. Regardless of the brand, model, rareness, or oldness of your dryer, we make it run like a clock for a long.
Our company offers the most brilliant-quality Encinitas Dryer Repair for commercial and household items since 2001. In this term, we have made tons of our customers happy for picking us for fixing this and other appliances. With our client focus, responsibility, and friendly attitude, all the issues vanish in the most stressless and swift way. People entrust all their electronics to us and recommend us to others. Thus, the amount of returning and new clients is growing daily. They often share their opinion on the net, posting tons of 5-star reviews.
You can rely on our assistance at any moment. We know that a failed dryer may disrupt your routine at home or in the workplace. Therefore, we try to provide you with the swiftest solution. And in over 90% of orders, we complete Dryer Repair in Encinitas, CA the same day you apply. Our local office is available for urgencies 24/7. For a slightly higher price, we rush to your address within 15 minutes, even during non-working days and hours.
The best way to make your dryer serve you perfectly for a long is to entrust it to us. The Oceanside Appliance Repair Service Center team consists of skilled, component, and reliable specialists. We make any issues vanish sooner than they bring too much inconvenience to you. Just call us or place an application online. We provide you with the swiftest top-quality Encinitas Dryer Repair and Service at a favorable cost.
Our specialist carries out repairs, works carefully in the process, so as not to leave behind any traces of equipment repairs, and not to spoil the appearance. After the repair is completed, our company will back it up with a 90-day labor warranty. If you encounter the same problem during the warranty period, rest assured we will return to get an appliance back up to perfectly working condition.
$30 OFF ON FIRST TIME SERVICING
Frequently asked questions
What if I have a complex repair of equipment?
Our specialist will come to your home, conduct diagnostics and offer solutions to the problem. And only after your consent, the repair will begin.
Do you have customer support?
Our managers will always listen carefully to you and give you initial recommendations on the malfunction of your equipment to determine the cost of repair. Call:
(858) 224-0022
Is the expert's visit free of charge?
If you order a call to the master through our website, you are guaranteed to get a free diagnosis of your device, and detection of breakage.