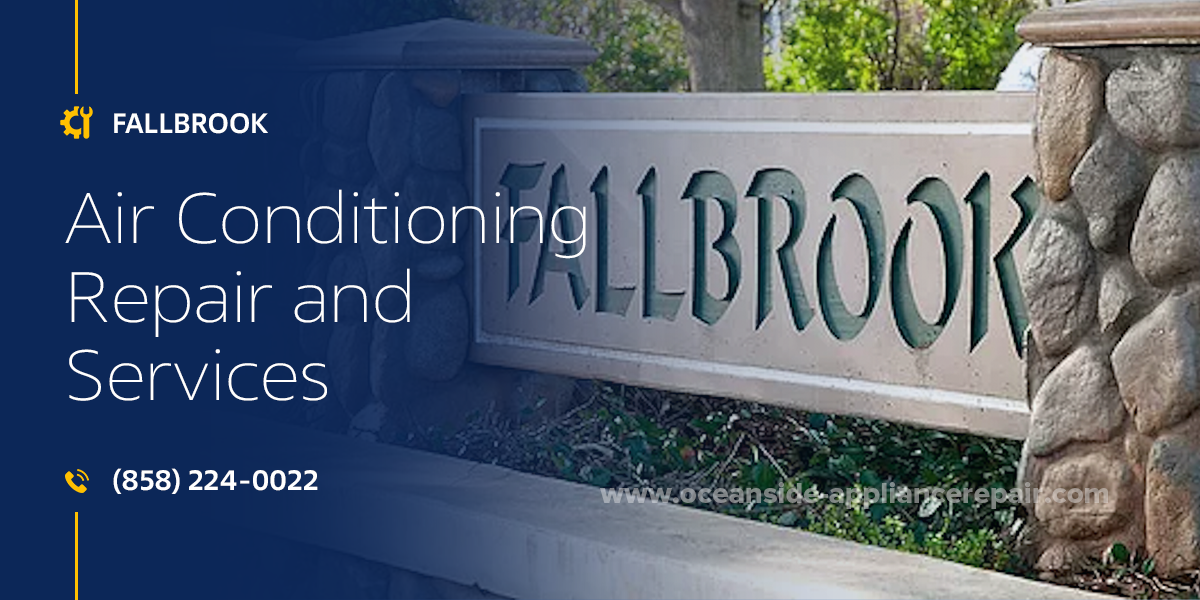 Air Conditioning Repair in Fallbrook
People use air conditioners to make their homes and workplaces more pleasant and comfortable. Regardless of the temperature outside, we may adjust our own environment, but only if we maintain the AC correctly. To care for your item effectively and order the best Air Conditioner Repair in Fallbrook, CA, just contact us. Oceanside Appliance Repair Service Center has the most affordable, swift, and high-quality solution to any situation!
There are a vast variety of problems that air conditioners might encounter. You also should not brush off instances in which your equipment does not act normally. Below, you can see the most common issues with air conditioners.

You cannot switch the air conditioning on or off, and it is not reacting to the remote.

The item powers on, but there is no airflow, and the indicator is flashing red.

The air conditioner is either too weak, too powerful, too uneven, or unable to cool or heat the room.

The control panel has failed and requires recalibration.

You cannot adjust any of the parameters.

Leaves, branches, mud, and other debris are clogging the outside unit (its fan) or preventing it from rotating.

There is leakage or dripping of the cooling agent.

The thermostat's batteries, fuses, fan blades, relay switch, power switch, ductwork, buttons, register, contactors, belts, bearings, or other details are too old or broken.

The LED lights stopped working or started flickering.

The air conditioner is producing strange sounds like buzzing, humming, grinding, vibrating, hooting, popping, screeching, rattling, clicking, banging, pinging, etc.

There is a burning or electrical odor coming from the AC.

It makes the air humid or smelly.

The appliance is continuously operating without stopping, shuts off on its own, or cycles on and off repeatedly.

There is a problem with the thermostat, control board, fan, condensate pump, compressor, motor, thermometer, start capacitor, or other component.

Damaged wiring disrupts the flow of power.

The filter, condenser drain pipe, condensate pump reservoir, or coil is dirty and clogged.

Accidental hitting, improper relocation, or incorrect installation affect the functioning of the item.
For over 20 years, our company has been providing efficient solutions to these and other problems. We get your air conditioner back to normal quickly, no matter what brand or model it is. Our experts have superb training and extensive background knowledge. And when combined with top-tier equipment and supplies, it gives amazing results. Professionalism and expertise characterize our team perfectly. We also provide the finest Fallbrook Air Conditioning Repair for luxury and the latest units. Our qualifications are proven with licenses for all types of services.
There are many components in an air conditioner. And for it to perform properly, all of them must be in a good state. It is not always easy to determine which one is to blame when a problem arises. But our experts can clarify it without even touching your appliance! We provide a remote diagnosis to determine the nature of the problem and the approximate price of any necessary procedure. We arrange the most convenient and effective Air Conditioner Repair in Fallbrook, CA for you. If you have questions regarding our services or how to properly care for your item, contact us for a free consultation.
Our Fallbrook Air Conditioner Repair and Service have perfect quality, as our workers are trained and competent. We provide a long-term warranty on all orders to put your mind at ease. Our labor warranty is 90 days, and the one for details is a full year. We only use top-rank components for your appliances. For that, we provide an extensive selection of original and alternative parts from top manufacturers. We use the most compatible parts, no matter how old or uncommon your commercial or household air conditioner may be.
Our team never sells you a service that is not worth your money or time. We will honestly inform you if the repair is not cost-effective or rational. Only efficient Air Conditioner Repair in Fallbrook, CA at a reasonable price is what we offer. Everyone may benefit from our low prices since we also provide a discount structure. Online bookings get a $25 discount, seniors and veterans receive $30 off, and returning customers save 15%.
Besides a favorable price, we are glad to mention the highest speed of our work. You never have to wait for the solution for too long. We complete over 90% of orders the same day you apply! It is possible owing to our perfect management and proper location. Never willing to make you suffer from heat for a long time, we also offer urgent Fallbrook Air Conditioner Repair. By picking this option, you pay a small additional fee for the instant departure of the technician. This feature is available even on days off and during non-working hours.
The attitude and professionalism we provide to our customers are what they value most. They are satisfied with our services since we create the most comfortable conditions for everyone. That is why our clients keep coming back to us whenever they have problems with any kind of electrical device. They rate our Air Conditioner Repair in Fallbrook, CA with 5 stars and recommend us to their friends. Our most significant accomplishment is earning and maintaining their trust since 2001.
When you are interested in the durable and smooth functioning of your AC, trust Oceanside Appliance Repair Service Center. Our helpful team has extensive experience and expertise and always delivers brilliant results. You may give us a call or submit an application here on our website whenever you need our help. We provide the swiftest solutions to any problem at the most favorable prices. If you need the best Fallbrook Air Conditioner Repair and Service, our team is the most reliable option!
Our specialist carries out repairs, works carefully in the process, so as not to leave behind any traces of equipment repairs, and not to spoil the appearance. After the repair is completed, our company will back it up with a 90-day labor warranty. If you encounter the same problem during the warranty period, rest assured we will return to get an appliance back up to perfectly working condition.
$30 OFF ON FIRST TIME SERVICING
Frequently asked questions
What if I have a complex repair of equipment?
Our specialist will come to your home, conduct diagnostics and offer solutions to the problem. And only after your consent, the repair will begin.
Do you have customer support?
Our managers will always listen carefully to you and give you initial recommendations on the malfunction of your equipment to determine the cost of repair. Call:
(858) 224-0022
Is the expert's visit free of charge?
If you order a call to the master through our website, you are guaranteed to get a free diagnosis of your device, and detection of breakage.