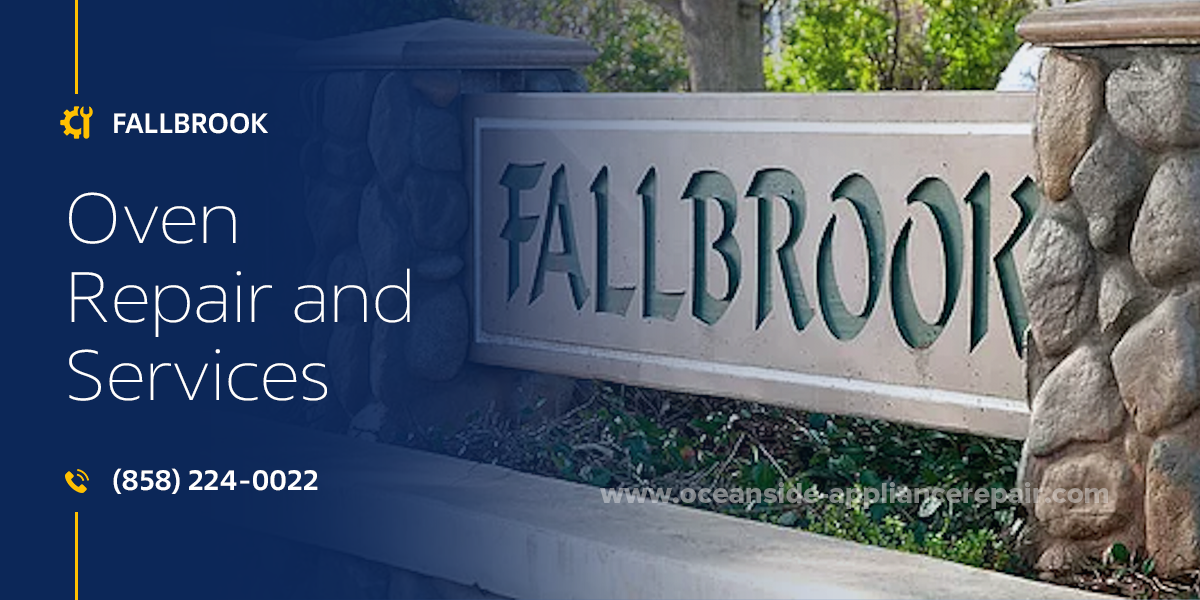 Ovens play a vital role in our kitchens, allowing us to prepare delicious meals and baked goods. And once you are looking for Oven Repair in Fallbrook, CA, it is crucial to rely on a reputable company. It means excellent quality, high speed, reasonable prices, and a proven record of satisfied clients. Oceanside Appliance Repair Service Center offers that and even more! Since 2001, our experienced team has been specializing in providing the best services and a range of customer-friendly options.
Each Fallbrook Oven Repair we conduct has outstanding quality. Our skilled technicians have extensive knowledge and expertise in diagnosing and fixing a wide array of oven issues. We fluently restore optimal functionality to units of all types, brands, and models, including luxury and the latest ones. The exceptional qualifications of our team are always growing and are proven with licenses. Regardless of the complexity of the issue, we will shortly restore any commercial or household oven to normal.
You may face many issues with your oven. It requires professional assistance not only when completely fails. Feel free to contact us if notice some of these or other troubles…

You cannot turn the appliance on or off.

The electricity supply is unstable or disrupted due to damaged wires, isolation, or plugs.

The item cannot be supplied with gas and produce flame because of clogged gas lines or gas ports, spoiled gas valves, or a dysfunctional igniter.

Any of the heating elements do not work.

The item is heating too weakly, too much, slowly, or not evenly.

The induction elements, burners, tans, electrical coils or tans, bake elements, broilers, grills, fan motors, thermostats, tans, convection fans, energy regulators, timers, thermal fuses, or other hardware parts are out of order.

The self-cleansing function fails.

The oven is vibrating, humming, buzzing, thumping, grinding, gurgling, knocking, squealing, hissing, ticking, or making other indistinctive noises.

The gas is leaking, so you can smell it regardless of whether the item is on or off.

While cooking, the appliance emits a burning or electrical smell.

The door glass, body surface, or cavity has dents or cracks.

You cannot close or open the door normally as it has deformed springs, hinges, joints, latches, interlocks, lid switches, or gaskets.

The LED indicator or bulb is blinking or not shining.

The display board is blank or shows an error code.

You cannot control any settings as the control module or its parts malfunction.

The flame shuts off itself, flickers, or has the wrong color, like yellow, red, or orange.

Buttons, keys, knobs, switches, handles, insulation, leveling feet, connectors, slide arms, belts, fan blades, baffles, or other details are worn off or damaged.

The racks cannot roll out because of a spoiled drawer mechanism.

Grates, filters, vent tubs, and convention fans are dirty or blocked with grease and dust.
To guarantee exceptional repair outcomes, we invest in the finest equipment and tools. Our technicians use advanced diagnostic technology and perfectly fitting original and alternative replacement parts, ensuring long-lasting and reliable results. Consequently, our Oven Repair in Fallbrook, CA, is always effective and accurate. We are in charge of each of our actions, so provide a long-term warranty. It is 90 days for labor and 1 year for the details we use.
We strive to make top-quality Fallbrook Oven Repair and Service affordable for everyone. Our transparent pricing structure ensures that you receive competitive rates without compromising the quality of our work. We aim to deliver cost-effective solutions tailored to your specific needs. Thus, we adjust to any budget and have special deals. For online bookings, the discount is $25. For veterans and seniors, it is $30, and for returning clients, it is 15%. With us, you pay the fairest price for a decent job and always know what you are investing in.
A malfunctioning oven means an inconvenient or even dangerous situation. Thus, it is important to get timely maintenance or repairs for it. With our dedicated team and efficient work processes, we complete most orders the same day you apply. Our local office is also open round the clock to offer Oven Repair in Fallbrook, CA, anytime you need it. For urgent situations, the technician sets off to your address immediately! It costs slightly more but minimizes any downtime and interruptions to your daily routine.
We prioritize customer comfort, so we offer the solutions that are the most rational in terms of time and money. We offer free consultations to clarify any information you need, give you advice, and estimate the situation. When the item is broken, our swift and effective remote diagnostic service saves you time and effort. It helps find out the reason for the breakage and the expediency of the work. Our team offers only cost-effective and rational Fallbrook Oven Repair. Thus, if phone instructions are enough, we provide you with them for free.
Our specialists pick the best solution, details, and materials beforehand, which lets us announce the approximate cost of work. But it may happen that it exceeds half the cost of a new item. In such a case, we help you pick the most suitable replacement according to your needs and budget.
Such honesty, a friendly personal attitude, and responsibility are the traits that our customers appreciate most. In over 20 years, we have earned the trust and loyalty of numerous clients who have benefited from picking us. They post tons of 5-star reviews about our Oven Repair in Fallbrook, CA, and other services. With a vast number of happy clients, our reputation speaks volumes. They often recommend us to friends and apply to us again, which is the best indicator of our reliability. 
If you need the best Fallbrook Oven Repair and Service, you will never make a mistake if you pick us. Oceanside Appliance Repair Service Center specializes in cutting-edge solutions. Applying to us ensures your appliance is in capable hands. Contact us today to get friendly and professional services. We resolve any issues in the quickest possible way, providing the highest quality at the most favorable prices.
Our specialist carries out repairs, works carefully in the process, so as not to leave behind any traces of equipment repairs, and not to spoil the appearance. After the repair is completed, our company will back it up with a 90-day labor warranty. If you encounter the same problem during the warranty period, rest assured we will return to get an appliance back up to perfectly working condition.
$30 OFF ON FIRST TIME SERVICING
Frequently asked questions
What if I have a complex repair of equipment?
Our specialist will come to your home, conduct diagnostics and offer solutions to the problem. And only after your consent, the repair will begin.
Do you have customer support?
Our managers will always listen carefully to you and give you initial recommendations on the malfunction of your equipment to determine the cost of repair. Call:
(858) 224-0022
Is the expert's visit free of charge?
If you order a call to the master through our website, you are guaranteed to get a free diagnosis of your device, and detection of breakage.