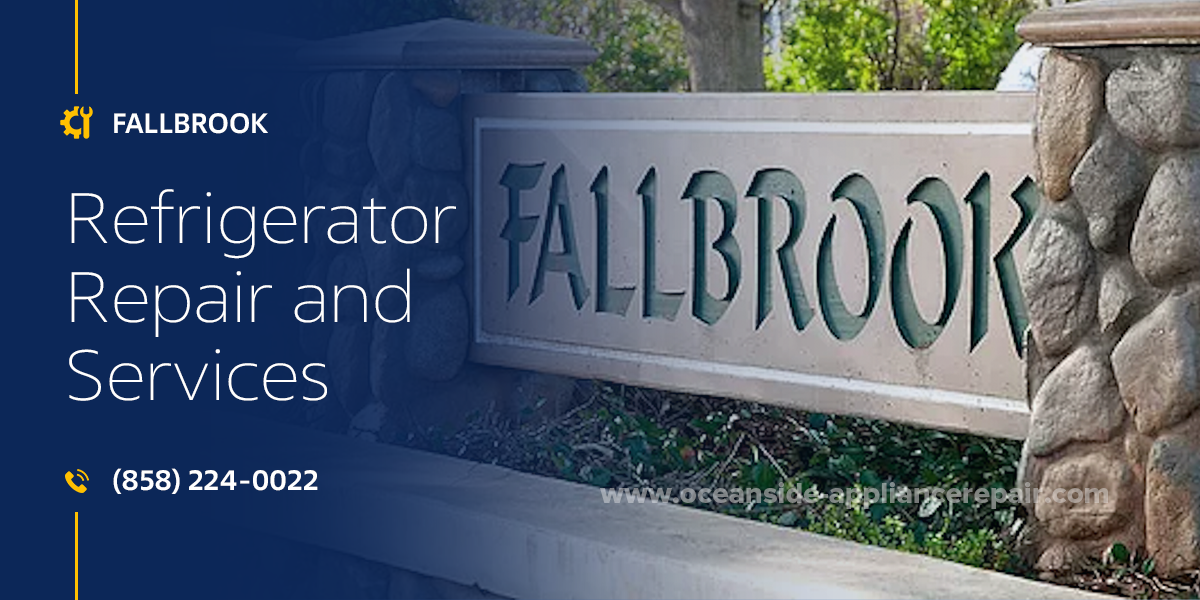 Refrigerator Repair in Fallbrook
Refrigerators are essential appliances that keep our food fresh and drinks cool. However, like any other electronics, they can encounter issues that require professional assistance, like fixing and maintenance. When facing such problems, it is crucial to choose a reliable repair provider. If you apply to Oceanside Appliance Repair Service Center, you get even better results than you expect. Our team has been providing the highest-quality Refrigerator Repair in Fallbrook, CA, for over 20 years so far. We resolve any issues swiftly and at reasonable prices.
Our company guarantees exceptional quality, ensuring that your appliance is in capable hands. Our proficient technicians have in-depth knowledge and expertise in diagnosing and resolving a wide range of refrigerator issues. With their experience, skills, and responsibility, there is nothing we cannot deal with. We provide proper and effective Fallbrook Refrigerator Repair regardless of the brand and model of your item. Our experts have licenses for working with all commercial and household units, including luxury and the latest ones.
We know how annoying it is when a refrigerator stops working. Thus, we put a high priority on finding quick and effective solutions. Our management, logistics, and convenient location let us spend the least amount of time on that. Offering same-day Refrigerator Repair in Fallbrook, CA, we minimize disruptions to your daily routine. We complete over 90% of orders within several hours. You can speed it up even more by choosing the option of emergent arrival. For a small extra payment, the technician departs at your place immediately, even during non-working hours and days. 
Our technicians are equipped with the necessary tools and expertise to complete most procedures in the shortest possible time. A proper choice of equipment and materials makes our work not only swift but also precise and dustless. We provide the most effective and durable Fallbrook Refrigerator Repair and Service in any situation. We have perfectly matching original and alternative details for each appliance. It helps us achieve the highest quality, durability, and smooth performance of your item.
We believe that top-quality refrigerator repair should be accessible to everyone. That is why we offer competitive and affordable pricing without compromising on the quality of our work. We strive to provide cost-effective options that are customized to your specific needs. Thus, we never offer useless or irrational solutions. With us, all clients get fair-priced Refrigerator Repair in Fallbrook, CA, and clearly know what they pay for. There is also a pleasant 15% discount for returning customers. Veterans and seniors pay $30 less. And you get a $25 off price for online booking.
With a vast number of satisfied customers, our reputation speaks for itself. Our commitment to delivering excellent service convinced numerous clients to rely on us for all their electronic issues. Their positive reviews on our Google page are a testament to our dedication and expertise. Besides that, we solidify each Fallbrook Refrigerator Repair with a 90-day labor warranty and a 1-year one for the details. Our reliability and client focus let us successfully withstand competition with other companies since 2001.
Do you have any questions? Do you need advice about proper maintenance for your fridge? Do you want to clarify why it works wrong and how we can fix it? In this and other cases, just contact us! Our friendliest team is always ready to provide you with any information. The consultation is free, and remote diagnostics are included in the price of Refrigerator Repair in Fallbrook, CA. It helps us quickly understand the reason for the problem and find the best way to fix it. We also announce the approximate cost of the needed work beforehand. 
To get the most effective solution, be sure to react even to the smallest malfunction. You should apply to specialists not only when the fridge fails completely. Here is a list of the most common troubles that happen to these appliances:

The fridge is operating too loudly (squealing, buzzing, humming, clicking, bubbling, gurgling, hooting, grinding, etc.).

You cannot turn the fridge on.

The item is going on and off repeatedly or turning off itself.

Dysfunctional hardware components (expansion device, defrost heater or timer, fan, temperature control, thermostat, thermometer, control relay, condenser or evaporator coils, compressor, etc.).

The freezer, ice maker, or water dispenser are not working.

The body surface, door, or shelves are cracked.

The system of opening and closing the door is damaged, as it has spoiled hinges, springs, joints, lid switches, interlocks, latches, or gaskets.

Water or refrigerating liquid is dripping or accumulating under the item or inside of it.

The temperature is too high or too low, and you cannot change it as needed.

The control panel is faulty and requires recalibration.

Buttons, switches, keys, or knobs do not respond, function wrong, or are lost or damaged.

The screen is blank or shows an error message.

Worn-off or lost leveling feet, belts, handles, wiring, isolation, plugs, fan blades, or other details should be replaced.

The electricity supply is disrupted.

The item has a layer of snow, pieces of ice, or ice mold covering the inner walls, products, and coils.

The interior lamp or exterior indicator is going on and off or not glowing.
When we know what happened and why it happened, we swiftly find out the best way to eliminate it. And this way is also the most beneficial for you. If your unit is beyond repair or the work cost is too high, we will clearly inform you. Your comfort is our main goal!
When your refrigerator is in need of repair, it is essential to choose a reputable provider. Oceanside Appliance Repair Service Center is a great option. We offer top-quality service, swift completion, affordability, and a strong history of customer satisfaction. With our reliable team, you can trust that your fridge will be in the hands of skilled professionals. We provide the best Fallbrook Refrigerator Repair and Service in a way that is suitable and comfortable for you. Contact us today to experience the excellence that has already delighted countless clients!
Our specialist carries out repairs, works carefully in the process, so as not to leave behind any traces of equipment repairs, and not to spoil the appearance. After the repair is completed, our company will back it up with a 90-day labor warranty. If you encounter the same problem during the warranty period, rest assured we will return to get an appliance back up to perfectly working condition.
$30 OFF ON FIRST TIME SERVICING
Frequently asked questions
What if I have a complex repair of equipment?
Our specialist will come to your home, conduct diagnostics and offer solutions to the problem. And only after your consent, the repair will begin.
Do you have customer support?
Our managers will always listen carefully to you and give you initial recommendations on the malfunction of your equipment to determine the cost of repair. Call:
(858) 224-0022
Is the expert's visit free of charge?
If you order a call to the master through our website, you are guaranteed to get a free diagnosis of your device, and detection of breakage.