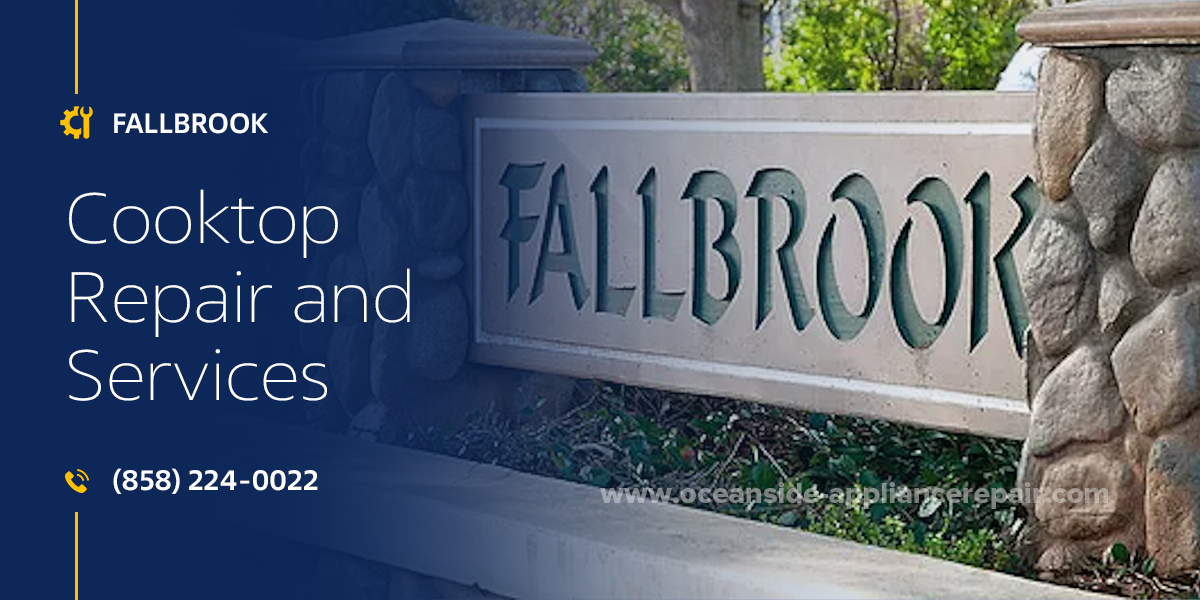 Cooktop Repair in Fallbrook
A cooktop is a great appliance that does not take up much space but helps cook various meals. Starting with simple fried eggs and finishing with stewed vegetables with meat or soups, you can do almost everything. Thus, if it fails, you may feel many inconveniences. To get the swiftest and most reliable Cooktop Repair in Fallbrook, CA, just contact us! Oceanside Appliance Repair Service Center offers the best solutions for fixing and maintaining electronics since 2001. Our team of dedicated experts is committed to providing only the highest quality work at reasonable prices. 
We are happy to say that our customers consistently express their satisfaction with the work we do. Our specialists are the most competent and friendly. Thus, by applying to us, you get not only brilliant results but also a polite, client-oriented attitude. Surely, it makes working with us easy and stressless. Thus, our customers apply to us again for other issues too. They recommend our Fallbrook Cooktop Repair and other services to friends. And for us, it is the best appraisal and motivation to become even better for you!
Our commitment to quality has earned us a reputation as a trusted service provider. And it is fair, as each Cooktop Repair in Fallbrook, CA we provide is reliable and of the highest quality. We pay much attention to the qualifications and proficiency of our specialists. They have perfectly honed skills and extensive knowledge. With over 20 years of experience in this field, they never stop developing. Our competence is proven with licenses for serving even luxury and the latest items. You can be sure that we will provide proper assistance for your cooktop, regardless of its brand and model.
Our state-of-the-art equipment allows us to easily diagnose and fix any issues that may arise. We are constantly updating our technology to ensure that we are always at the forefront of innovation. We have the best professional tools and materials. Thus, our Fallbrook Cooktop Repair and Service are the most accurate and precise. We also stock a great choice of original and alternative details for any commercial or household cooktop. The use of perfectly fitting ones means that your item will perform perfectly for a long time.
We are responsible for the quality and durability of each procedure we conduct. Thus, we provide a long-term warranty for all of them. It lasts 90 days for our labor and 1 year for the spare parts we use.
We care for your time and strive to be as useful as possible for you. Thus, we offer free consultations and remote diagnostics to swiftly clarify the best way to help you. Our team gladly provides you with advice and instructions for proper care of your cooktop. And if the appliance behaves incorrectly, we strongly recommend that you not try to fix it yourself. Just let us know what makes you worry so we can plan the most effective Cooktop Repair in Fallbrook, CA. Our specialists find the reason for the problem and the way to eliminate it in minutes. 
We also announce the cost of the needed work beforehand. You can be sure that this price is never going to be irrational. If it is higher than the cost of a new item, we will clearly inform you. We also help you pick the best replacement if your cooktop appears to be beyond repair.
To avoid making the situation too serious, you should apply to specialists for regular maintenance. And, of course, even the smallest malfunctions also require timely fixing. The list of troubles with cooktops includes many different issues. Below, you can see the most common ones.
It is required to replace the grates, burner caps, switches, contactors, buttons, knobs, or other details.

Dust, debris, and food particles obstruct gas lines and gas ports.

There is a problem with the electricity or gas supply due to damaged wiring, isolation, plug, gas valve, or ignition.

You detect an electrical or burning odor while the cooktop is on.

The induction surface is scratched, so temperature sensors are flipping.

Even when the item is off, you can smell the gas leaking.

Control module, circuit board, sensors, electrical coils, induction coils, thermostat, or other elements that are not working properly.

The appliance is unable to turn on.

It powers on but does not generate heat or flame.

The flame or the entire cooktop unexpectedly goes out.

The electrical coils have a loose connection.

The burners are hissing, sparking, arcing, clicking, or ticking.

The appliance is knocking, humming, buzzing, squealing, popping, vibrating, or making other unusual noises.

It is not possible to adjust the temperature or level of flame as needed.

Timers and controllers do not respond.

The control panel is faulty, which does not let you use the appliance normally.

The information screen shows nothing or an error message.

The cooktop is heating unevenly, too slowly, or too weakly.

The flame has the incorrect color, like red, yellow, or orange.
Any of them will vanish in the shortest terms if our team tackles the problem. With a convenient location and organized logistics, we offer the swiftest results. Our specialists finish over 90% of orders the same day we get your application. We know that sometimes even several hours of downtime are not acceptable. Thus, we also offer urgent Fallbrook Cooktop Repair, which includes days off and after hours too. The cost of this option is just slightly higher, but it means that we depart at your place immediately.
Most people think that high-quality and quick services cost a fortune. But this stereotype does not apply to our company. We have the most affordable rates for each Cooktop Repair in Fallbrook, CA. With us, you pay the fairest price without any hidden fees. Our team is honest about the condition of your appliance and the expenses for fixing it. And with our special deals, we confidently claim to have the most favorable rates. Returning clients get a 15% discount, and veterans and seniors get a $30 one. For booking online, the cost of work is $25 lower.
We take pride in providing our clients with effective and personalized services. Our Fallbrook Cooktop Repair and Service have brilliant quality, which we are responsible for. You should never doubt getting flawless solutions at the best price and in the shortest terms. All you need to do is just call us or place an online application on our website. Oceanside Appliance Repair Service Center is always available to make your cooktop run like a clock again!
Our specialist carries out repairs, works carefully in the process, so as not to leave behind any traces of equipment repairs, and not to spoil the appearance. After the repair is completed, our company will back it up with a 90-day labor warranty. If you encounter the same problem during the warranty period, rest assured we will return to get an appliance back up to perfectly working condition.
$30 OFF ON FIRST TIME SERVICING
Frequently asked questions
What if I have a complex repair of equipment?
Our specialist will come to your home, conduct diagnostics and offer solutions to the problem. And only after your consent, the repair will begin.
Do you have customer support?
Our managers will always listen carefully to you and give you initial recommendations on the malfunction of your equipment to determine the cost of repair. Call:
(858) 224-0022
Is the expert's visit free of charge?
If you order a call to the master through our website, you are guaranteed to get a free diagnosis of your device, and detection of breakage.